We use affiliate links. If you buy something through the links on this page, we may earn a commission at no cost to you. Learn more.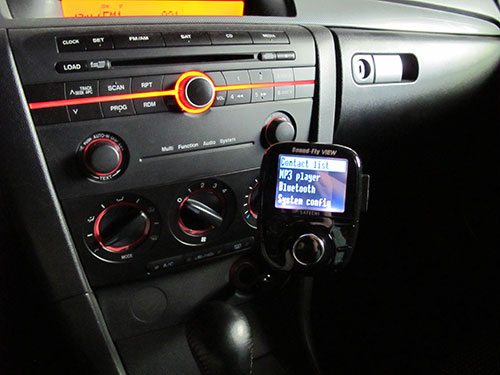 The SoundFly VIEW Bluetooth FM Transmitter from Satechi is a car gadget for those of us that are not fortunate enough to own a Bluetooth enabled vehicle (like my 2006 Mazda 3). Here at The Gadgeteer, we've reviewed Bluetooth speakerphones before and we've reviewed FM transmitters. But I think this might be the first Bluetooth FM transmitter that we've reviewed. Let's take a look.
Note: Click the images in this review to see a larger view.
Hardware Specifications
Bluetooth A2DP & AVRCP
3.5mm auxiliary input & output
USB charging port
SD card reader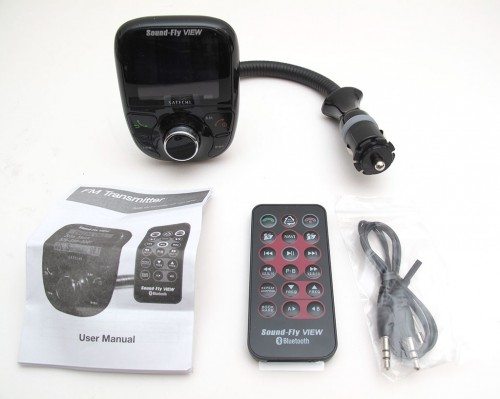 Package Contents
Satechi SoundFly VIEW Bluetooth FM Transmitter
IR remote
3.5mm patch cord
User Manual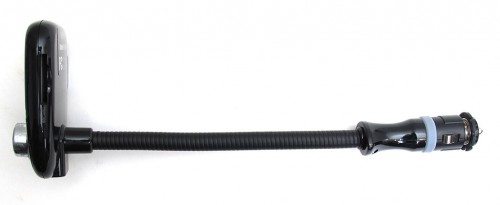 The SoundFly has a sturdy construction. The main controls are on one end, while the other end has a standard 12V cigarette lighter connector. Between the ends is a 6 inch gooseneck that can be bent, twisted, turned and formed however you like.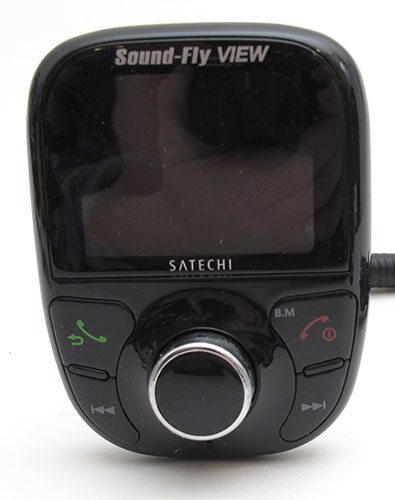 The device has a 2 inch LCD display, 4 buttons and a jog button/knob. The buttons all have multiple functions that control phone features and audio features. The jog knob brings up menus and also allows for scrolling through them.
Below the jog knob is the microphone. However, there are no speakers built into the SoundFly itself. Audio has to be routed through the FM transmitter or the 3.5mm Audio Out jack which not pictured, but located on the left side of the device with the Audio In jack. More about this in a minute.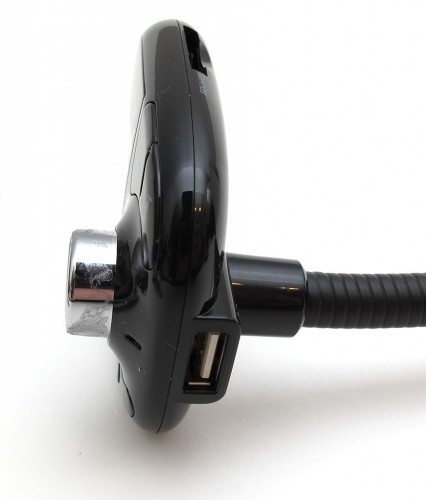 On the bottom of the SoundFly you'll find a USB port that can be used to charge your phone or audio player. I tested this with my iPhone 4S and had no issues with it charging my phone. The USB port can not be used to play songs from a USB flash drive. It's for charging only.
A full sized SD card slot is located on the right side of the device. If you load up the card with MP3 or WMA files, it will play them through the FM transmitter or Audio Out jack to your car's stereo. The jog knob and buttons allow you to navigate through the songs. It recognizes up to 32gb (approx. 1999 files) and supports 99 folder directories with up to 5-level folder depths.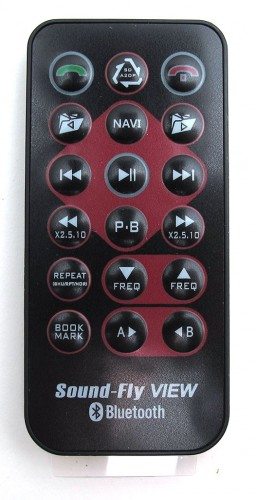 Also included with the SoundFly is a remote control. I guess it's there for your passengers to be able to control music playback while you're driving. As the driver, I wouldn't use this remote and promptly stowed it in the glove box. It worked fine, but just seems odd to use a remote control in the car…
To start using the SoundFly as a Bluetooth speakerphone, you have to pair it with your phone, which is a simple task. You only need to pair it once and from then on, when you power up the SoundFly, it will connect to your phone if it is in range. An Asian female voice will announce "Bluetooth Connected" after a few seconds. You'll only hear this after you've programmed in the FM transmitter frequency and/or connected the SoundFly to your car's stereo via the Audio Out jack.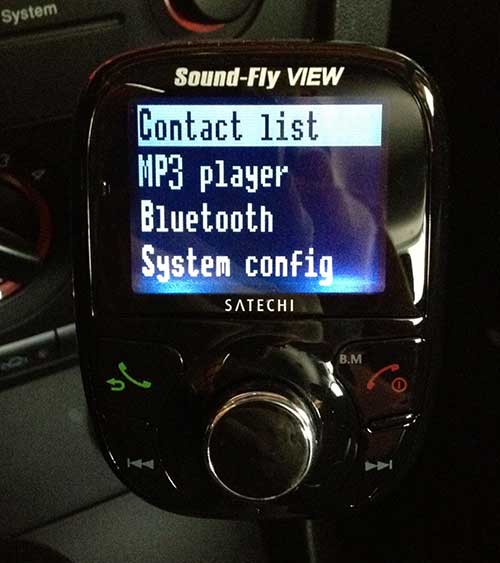 Like all FM transmitters, you have to find an unused FM frequency on your car's radio and then set the SoundFly to that same frequency. Depending on where you're located, it might be easy or difficult to find a frequency that isn't being used. The SoundFly seems to work better than some of the past FM transmitters that I've tested. I haven't noticed any bleed through sounds while using it.
After your phone is paired and you have an audio connection with your car's stereo, actually using the SoundFly is pretty straight forward.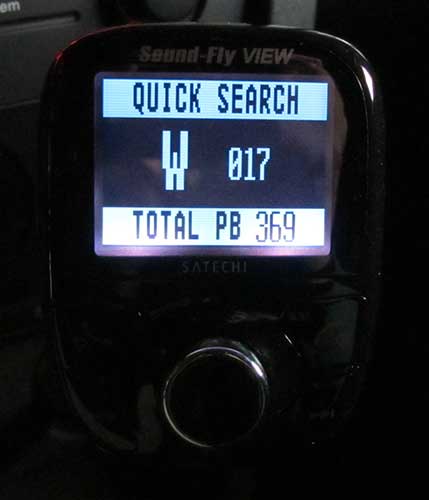 You can initiate a call using your phone or you can sync your phone's contacts with the SoundFly and initiate the call from the SoundFly's phone book.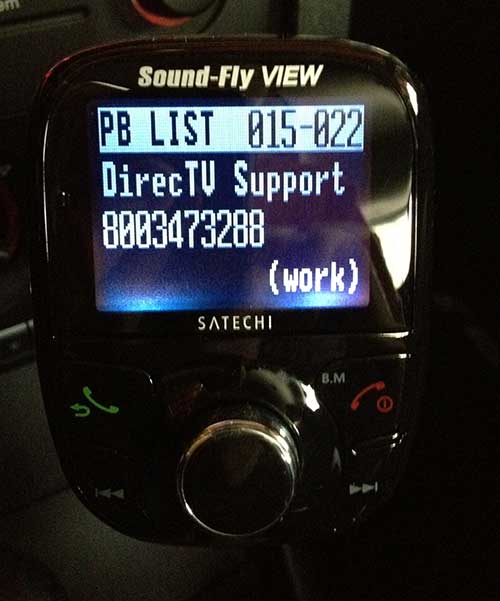 I had no problems syncing my iPhone's contacts with the SoundFly. Navigating to the desired phone number is just a matter of using the jog knob to first pick the letter and then scroll through the contacts till you find the right one.
My experience using the SoundFly's speakerphone feature was not as good as using its MP3 player feature… As the call originator, I had to sometimes turn up the volume on my car's radio in order to hear the other side of the conversation. That wasn't too big of a problem, but after quite a few test calls over the course of a week, I was told that call quality on the other side of the conversations was the worst of any Bluetooth headset / speakerphone I'd ever tested. The first time I called Jeanne with it, she said I sounded horrible, like I was several feet away from the microphone and down a well. In fact, my mouth was approximately 24 inches away. Every subsequent time I'd call her with it, she'd say "Are you STILL using that thing? It sucks!" I thought moving my mouth closer to the microphone would improve things, but all my tests resulted in the same negative comments.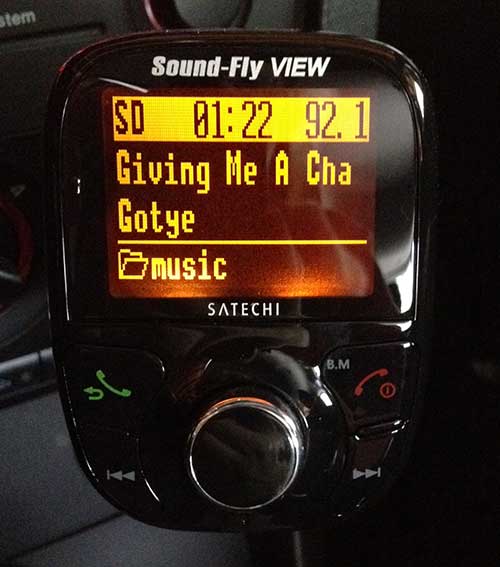 This device doesn't work well as=s a Bluetooth speaker phone, but as an audio player, the Satechi SoundFly VIEW does a much better job. If you load up an SD card full of MP3s or WAV files and insert it into the slot, it will automatically start playing songs when it powers up. If you press the Call End button (Red handset button) before you turn off your car, it will set a bookmark so it will continue playing where it left off.
The display shows the artist and name of the currently playing song.
The buttons allow you to to move backwards and forwards through songs. You might notice from the images that the buttons are not backlit. This makes it hard to see/find them when you're driving at night.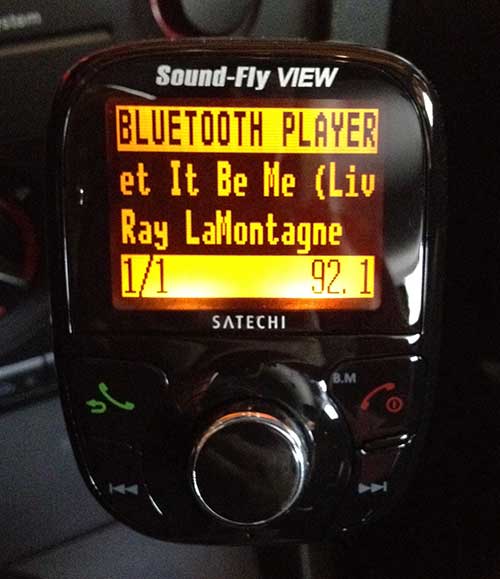 In addition to playing MP3s from an SD card, you can also play music on your phone and have it stream via Bluetooth to the SoundFly, which then will play the music using the FM transmitter or Audio Out jack. Playing this way will also display the song's artist and title.
I even tested the SoundFly by playing Pandora and Slacker Radio apps on my iPhone. Both worked great and also display the artist name and song title.
It's unfortunate that the Satechi SoundFly VIEW's Bluetooth speakerphone feature is not up to par with other speakerphones I've reviewed. That said, this device is an above average FM transmitter that offers a SD card slot and a built in USB charging port. I can't completely recommend it, but don't think it's a total waste of money either.
Let's hear from you. What is your favorite speakerphone brand / model?

Product Information
Price:
$79.99
Manufacturer:
Satechi
Requirements:

Vehicle with a 12V - 24V cigarette lighter socket

Pros:

FM transmitter seems better/stronger than others I've tried
Nice as a music player
USB charging port

Cons:

Buttons don't light up
Call quality on receiver's end is bad