We use affiliate links. If you buy something through the links on this page, we may earn a commission at no cost to you. Learn more.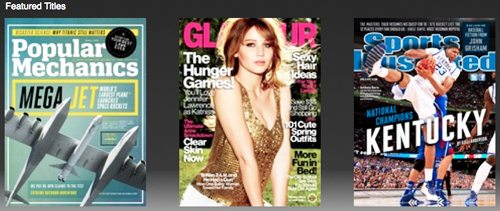 The Next Issue app for Android gives you unlimited access to all the magazines in their library, with new issues available each month.  All the magazines have enhanced content, like videos and interactive content, and all are managed by a single app, so the reading experience is the same for all titles.  The app is available for any tablet running Android 3.0 or greater and with a screen resolution of 1024 x 600 or 1280 x 800 pixels.  For $9.99 a month, you'll be able to read any and all of the monthly issues in the Next Issue library.  Currently, there are 27 titles, including Esquire, Real Simple, and Vanity Fair, and they are planning to expand their offerings.  For $14.99 a month, you add access to weekly magazines, like The New Yorker, People, and Sports Illustrated.
There's no contract with Next Issue, and you can cancel at any time.  There's even a free, one-month trial period before you have to purchase anything.  Don't worry, iPad users; Next Issue is planning a version for us, too.