We use affiliate links. If you buy something through the links on this page, we may earn a commission at no cost to you. Learn more.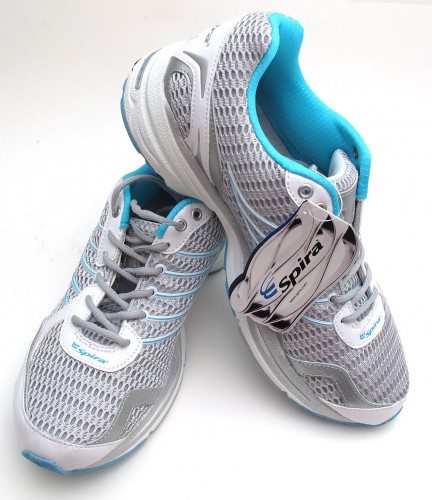 When Spira asked if I would like to review a pair of their running shoes, I told them that I'm not a runner and that I'm really picky when it comes to the look and feel of the sneakers I wear. That didn't scare them off, so they sent me a pair of their Women's Odyssey Cushion Trainer running shoes. I've been wearing them for several days now and would like to share my experiences.
Note: Images can be clicked to view a larger size.
As I mentioned above, I'm not a runner and never have been. But I do walk a couple miles each day for exercise, so I appreciate comfortable shoes. I used to be a Nike fan and that's all I wore for years. Then I switched to ASICS and lately I've been wearing Converse Jack Purcell sneakers which aren't the most comfortable shoes in the world. But I like their look, so I deal with their lack of comfort.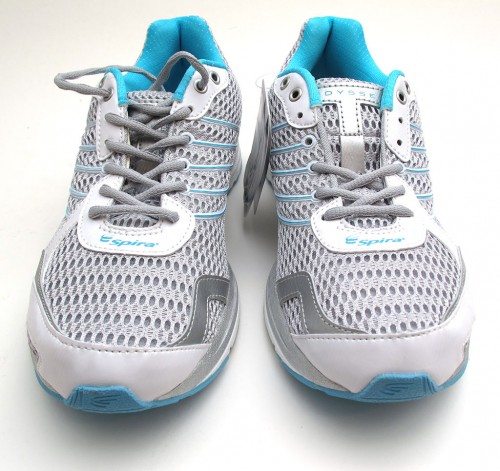 Although they've been in business since 2002, I'd never heard of the El Paso Texas based Spira brand before being contacted by them. I didn't know what to expect from their shoes as far as construction and comfort. I'm happy to say that I've been very impressed so far by the pair of Odyssey trainers that I've been testing. The Spira Odyssey style is available for both men and women. The women's style which was sent to me, is only offered in the Aquamarine / Silver color, sizes 6-12 and widths of medium or wide. The men's style is available in sizes 7-15, but is only offered in Royal Blue / Silver.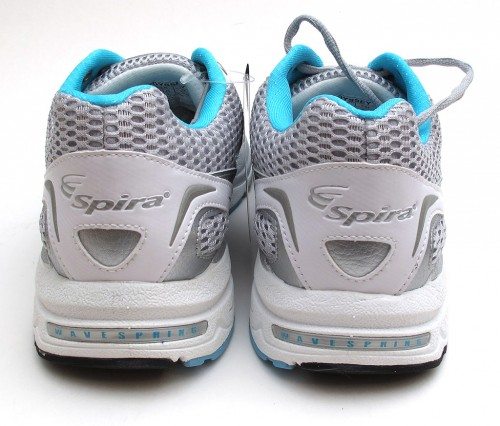 The shoes are light weight (about 13 oz each) and are constructed of leather and a mesh material that is very breathable (but not see through).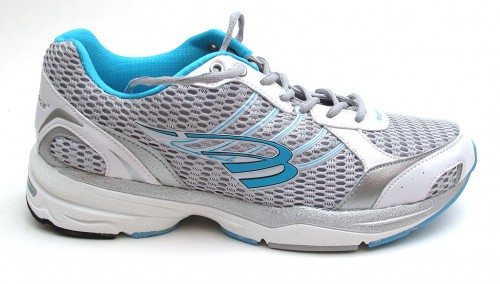 The molded EVA foot-bed/insoles can be removed to accommodate orthotics or your favorite 3rd party insoles.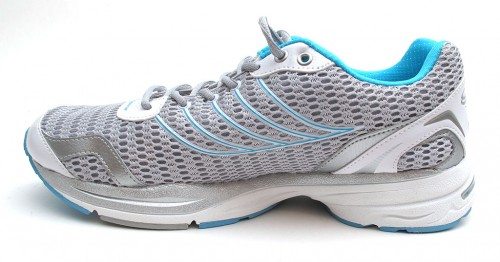 It seems like most of the shoes I see these days are either over the top flashy, or horribly drab. I really like the look of the Odyssey. They have a nice pop of color without being too garish.
I was told to order a half size larger than my normal size, so I went with size 10 for my crazy big flippers. The shoes fit perfectly which is often not the case for me. I haven't had any issues with my heel slipping and find that there is plenty of wiggle room for my toes, which means the shoes never feel cramped.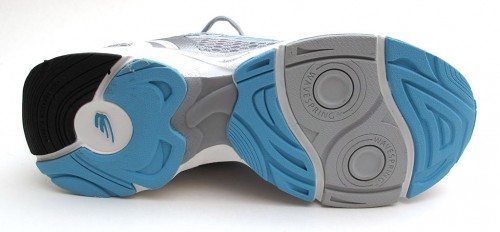 What really makes these shoes unique is the WaveSpring technology which is located in the heel and ball of the foot. You can see the locations of the springs by looking at the bottom of the shoes.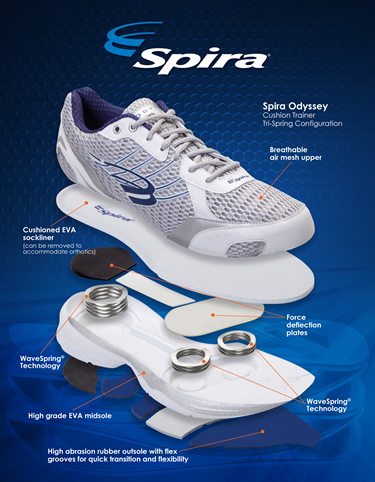 Each style of Spira shoes have a different WaveSpring configuration depending on the type of shoe. The Odyssey has 3 springs as shown above. The springs are made of light weigh stainless steel which won't break down over time. In other words, they are super springy and almost feel like you're walking on a bouncy cloud. They are very comfortable and no, you can not actually feel the springs that are embedded in the shoes. More info:
There are 4 principal benefits of the WaveSpring™ Technology
1) The WaveSpring™ not only cushions with every step, but returns almost the same amount of energy. Up to 96% of the energy is returned to the wearer. This "recycled" energy allows you to participate in your activities with far less stress on the joints, ligaments and the entire body than traditional footwear.

2) The WaveSpring™ reduces peak impact forces throughout the gait cycle by 20%. It is during these peaks that injuries usually occur. With the reduction is peak force, injuries are reduced. Elite athletes report that they can train and race at a more intense level and be able to repeat the intensity in subsequent workouts and races.

3) Because the WaveSpring™ is mechanical and works through deflection and opposed to compression, it never breaks down and wearer has a new shoe feel for the life of the shoe. The shoe will wear out before the technology.

4) The WaveSpring™ is very tunable. There is a different sized spring dependent upon the size of the shoe, and a different spring configuration dependent upon the proposed activity. It is truly customized to the wearer.

Why are there so many different spring configurations?
The WaveSpring™ configurations (one, two or three springs) are tuned for particular activities. For example, a Spira walking shoe has two large springs (one in the forefoot and one in the heel) for a more bouncy feel and superior cushioning needed for walking or standing all day. However, the running shoes utilize three smaller size WaveSpring™s (two in the forefoot and one in the heel) to provide more forefoot flexibility while still reducing peak impact forces.
Usually the first thing I do when I buy a new pair of sneakers is pull out the insoles and replace them with something with more cushion. There's absolutely no need to do that with the Spiras. They felt wonderful from the minute I first put them on. I've been wearing them every day for the past week and have absolutely no complaints about their fit. I've walked non stop for 30 minutes in them with no signs of foot fatigue. One day this week I was on my feet for 4 hours straight, which would normally cause me to have sore feet (especially wearing the Converse Jack Purcell sneakers). My feet felt just as good as when I woke up that morning.
Since these are running shoes, I thought should include this little bit of info that I found on Spira's FAQ page:
Is the shoe "banned" for competition?
The governing body for Track and Field in the United States has a rule that specifically bans spring technology in footwear for competition. However, runners competing in Spira shoes have won major marathons and road races world wide, and we are unaware of any incident where an athlete was disqualified for competing in Spira.
I can't find anything to fault with these shoes as they look great and feel even better. I guess the only thing I can wish for is a wider selection of styles and colors. I'd be in total geek feet heaven if they offered a Converse Chuck Taylor / Jack Purcell style with WaveSprings! But as it is, I think I've found my new favorite brand of every day kicks. Bye ASICS. Hello Spira.
Updates 03/13/15
Although they look pretty ratty, I still wear these sneakers once in awhile – mostly to do yard work or walk in the woods as they don't look good enough to wear to work or out and about. This model is discontinued now, which is a shame as I should have ordered a spare pair. These days I either wear a pair of blue Jack Purcells or a pair of Brooks Glycerin 11 running shoes.
Source: The sample for this review was provided by Spira. Please visit their site for more info.
Product Information
Price:
$114.95
Manufacturer:
Spira
Pros:

Very comfortable
Springy cushioned footbed
Light weight

Cons: