We use affiliate links. If you buy something through the links on this page, we may earn a commission at no cost to you. Learn more.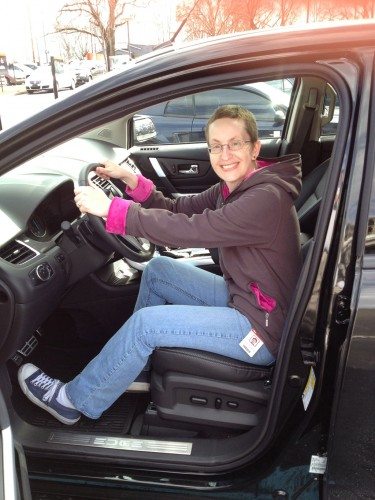 I don't know about the rest of you, but I've been having a bad case of RGS (Restless Gadget Syndrome) lately. I've been bored with my iPhone 4S for a few weeks now, so this morning I switched back to my Motorola Droid X. Yes, I know it's an "old" phone, but it's the only Android phone that I own at the moment. Why did I switch back? I found myself missing desktop widgets for the calendar among other things. Being bored with your phone is mild though compared to being bored with a "gadget" that is way more expensive… like your car. Yes, I am having new car lust too…
I've wanted a Jeep Wrangler or even a Cherokee (older models with the square body style) for as long as I can remember. I'd love to pull the trigger and get one, but I'd be taking a big hit on gas mileage. None of the other crossovers and smaller SUVs that are currently on the market appeal to me at all. I don't like the way they all look the same and have rounded body styles. Bleh. A Jeep Wrangler with a hard top would be my dream vehicle (at least it's what I'm dreaming of right now)… sniff.
My friend Rob Healy brought his brand new fully loaded 2012 Ford Edge for me to see yesterday. That's me sitting in the driver's seat in the picture above wearing the SCOTTEVEST Chloe Hoodie. Varooom! I probably wouldn't pick this vehicle for myself because it's bigger than what I need. But sitting in it fueled my already burning desire for a new car. It's not like I really need a new car though. My 2006 Mazda 3 hatchback is perfectly fine. It's just the RGS talking.
So here's how I hope to "cure" my problem without spending over $20,000. I'm going to go shopping for a new stereo for my Mazda. That's been my biggest complaint about this car other than the weak A/C. The radio has always had a problem keeping the time for the clock. I reset it and a few days/weeks/month later, I'll notice that it's 20 minutes fast or slow. The radio is also very generic. The only premium feature it has is a CD player and who buys CDs anymore? Not me. I think I want to get a double DIN stereo with all the bells and whistles. Anyone have any suggestions/advice? Think it will solve my RGS?
And no, I'm not really all that excited about next week's announcement for the iPad 3 if it's just going to be a bit faster and have a better display. Am I the only one who wants more? Or maybe I'm always wanting too much.