We use affiliate links. If you buy something through the links on this page, we may earn a commission at no cost to you. Learn more.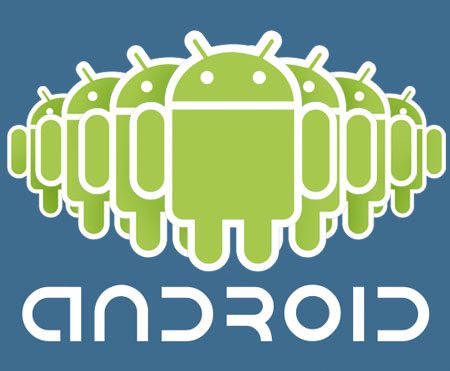 How do you use your Android tablet? How are your screens set out? Is it just a bunch of apps ? This article is supposed to be in the vein of my Thinkpad Tablet review, a "how it works for me" rather than any sort of technical discussion. ( And you'll note that I haven't even mentioned iOS, I didn't want this to turn into a "religious debate" 🙂 ) Read on after the jump………
If you read reviews about Android devices, it's all about single applications like the newest People contacts manager or the new Browser, it really doesn't give you any sort of real life usage or what can be done with third-party apps. That's hopefully the purpose of this article 🙂 For me the most useful feature of Android is the ability to display information from apps with widgets.
Note if you click on the pictures you'll get bigger images.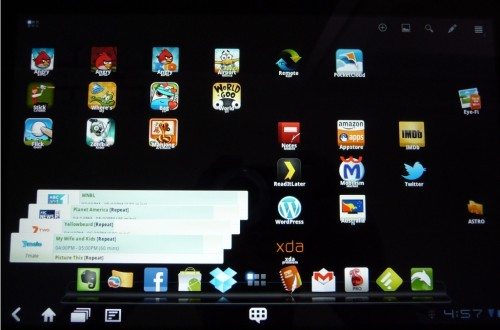 I guess this is how many users have their Android devices, just a screen of apps.  On my device I'm running ADW Launcher Ex which allows me to do things like set the number of screens, set the number of columns and rows on the screen in both portrait and landscape, and various other tweeks.  These items could also be shortcuts or folders. The bottom tray allows me to put my most used applications down there, and the tray is persistent across all screens, though there are settings to autohide it or hide it by gesture. This is only one of a multitude of third party launchers available for Android. In the bottom left is a widget.  The one shown above is the Australia TV Droid, which shows each Australian TV Channel, what's on, and what's on next.  I can actually swipe it and "carousel" through the rest of the channels, and if I press on the widget it will open the full program. All pretty cool as I don't have to actually open the full app to see what's on .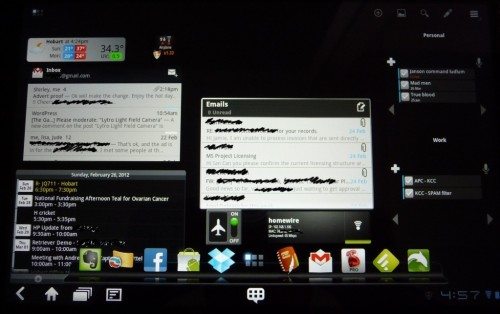 The above screen is what makes my tablet a useful day by day tool both for work and personal.  It's basically a dashboard of all my "important" information at one single glance. It's intention is to turn my unorganised life ( just ask my wife 🙂 ) into a more organised life.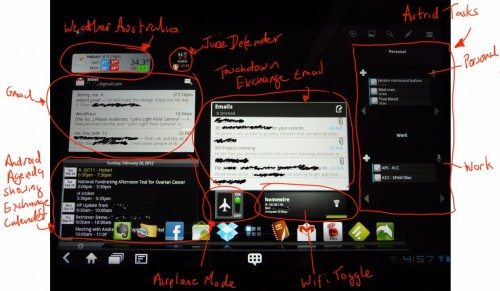 Using widgets, I've got instant access to:
Current Australian Weather from the Australian Bureau of Meteorology
My primary GMail inbox
My Calender from my work Exchange Account
My current Juice Defender status (a battery power saver that does things like schedules WiFi/3G every 15 minutes to check for activity rather than having it on all the time)
My work Exchange inbox
An Airplane mode toggle
A WiFi mode toggle
Two Astrid Task widgets, one for my personal to-dos and one for my work ones.
Clicking on the widgets will open the full app, and of course I  still have access to my most used apps in the drawer.
Because of the high level of customisation available in Android, I doubt you'll find any 2 Android users who have exactly the same home screens.  It's exactly why I love my Android tablet, the ability to customise and the use of widgets. I can easily add more widgets, apps, or shortcuts to the screen or resize or remove any of them. I can also have multiple screens of maybe a work-related one and a personal one. If I don't like the way the launcher works, I can even change that.
So what's on your Android screens? Work or personal?  What are your favourite widgets and applications?