We use affiliate links. If you buy something through the links on this page, we may earn a commission at no cost to you. Learn more.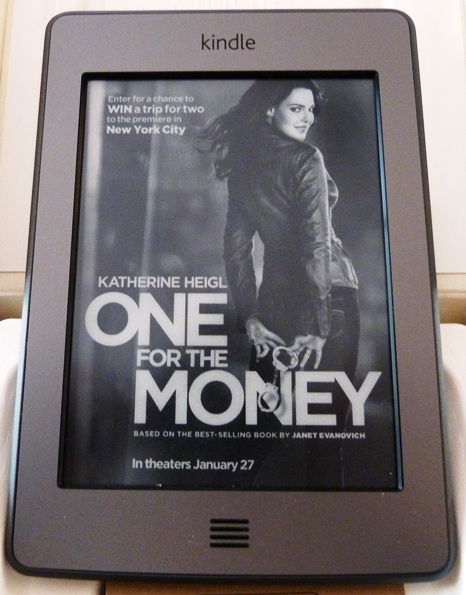 An e-reader should be pretty simple to review, one like the Kindle Touch that has only two buttons even more so. Amazon's ebook reader has one primary task: displaying the pages of the reader's books.  Sure, there are other features of importance like availability of content, size and weight, and overall usability issues. But in a world where we expect our mobile phones to do everything from telling us where we are and how to get where we want to go, to capturing high-definition video, playing 3D games, maintaining contact with multiple remote servers, and even making the occasional phone call, an e-reader is downright simplistic.
For something so simple, this review has taken me well over a month to write and has been a bit of a struggle. Part of that time was spent reading a few books on the device. I'm sure Julie (Editor-in-Chief of The Gadgeteer) thinks I chose Moby Dick and War and Peace, but that was hardly the case.  (They were actually John Steinbeck's Of Mice and Men, Stephen Hunter's  Dead Zero and Stephen King's 11/22/63).
When faced with a challenging writing assignment, I try to have some fun along the way. I've sprinkled in a few quotes from some authors and other well-known folks here and there to give a hint about the following section. And while I'm you sure you'll agree that the quote by Eleanor Roosevelt was directly related to her frustration with the lack of a quality light for the Kindle Touch, I may have twisted the context of some of the other quotes just a wee bit.
"All hope abandon, ye who enter here!" – Dante Alighieri
So, fair warning to those of you looking for a concise, specification-filled review of the Kindle Touch; you're probably going to be disappointed, if not disgusted. A quick search will find plenty of those types of articles available on the web, some quite good and probably more informative and worthy of your time than what you'll read here. As I begin this review I'm not sure if I like or would recommend the Kindle Touch. This is going to be a case of I'll know what I think about the Touch after I read what I've written (my apologies to William Faulkner).
Without hesitation though, I highly recommend to anyone that enjoys reading to give one of the popular e-readers a try. They're all relatively inexpensive and will enhance your reading experience. So much so you might rediscover that reading a good story might just be better than Facebook updates about someone's kid graduating from preschool, or almost any YouTube videos. Well, except for the videos of people trying to swallow a tablespoon of cinnamon…
While reading those first three books on the Touch, I became frustrated enough to consider returning the Kindle to Amazon…once by using a brick as the delivery method. The great display, Whispersync, and my preference for doing business with Amazon kept me grasping for ways to get past some of its flaws. Mind you, there's no killer problem with the Kindle Touch, but I have had to workaround, fix, and learn to live with some problems.
I have always enjoyed reading, but being naturally and profoundly lazy there was a period when I chose the ease of a remote control or the challenge of slaying dragons on a computer screen. Traditional books can be cumbersome. Even paperbacks can be hard to slip into a pocket, and carrying several on a trip can get heavy.  There's also the issue of bookmarks, ripped pages, spills, pizza stains, and fighting with bindings while trying to read one-handed.
Never miss one of our posts again. Sent MON, WED, and FRI with the latest gadget reviews and news!
A couple of years back my wife gave me a Kindle 2 for my birthday. It was one of the best gifts I've ever received, and she enjoyed it too. The Kindle made it easy for me to get back into reading and gave her periods of much-needed relief from my constant babble. I have read over 120 books on that Kindle, mostly trash/bestseller type stuff (please don't equate the number of books I've read with any form of higher intelligence on my part, as my wife and friends, and soon you readers, have more than enough evidence to the contrary).
I have carried my Kindle on several long trips and many short ones, everywhere from Moscow to the pickup line at my sons' schools (and the bathroom too). The Kindle makes reading easy and portable. I prefer it by a wide margin to paper-bound books. The E Ink screen is easy on the eyes and works well with just about any light source from that of a tiny LED book-light to direct sunlight.
"Books are uniquely portable magic" – Stephen King
An e-reader should be the wand that triggers the magic – a tool that brings forth the pages of a book without getting in the way of the words. While smartphones, tablets, and computers can be used for reading, they tend to treat books like the written warning at the end of a prescription drug commercial. These devices generally have greater weight (or tiny displays in the case of smartphones), highly reflective backlit screens, cutesy page-turning animations, and cackling flocks of unfriendly fowl.  Reading on one of them is something you do as a last resort when you can't connect to the internet, and you've slaughtered enough pigs to make even the most apoplectic bird content.
I didn't upgrade to the Kindle 3 because I didn't want to spend $200 on what I believed to be a minor upgrade. I was wrong. When it comes to e-readers it's all about the screen, and the Kindle 3's display was markedly better than mine. I figured I'd wait for the 4th generation expecting the type of technological leap we've seen in computers.
The Kindle Touch currently has three siblings at Amazon. There's the Kindle (starts at $79) a non-touch, non-keyboard e-reader that utilizes page-turning buttons and a "D-Pad". The Kindle Keyboard 3G (starts at $139) which is really the Kindle 3 re-branded (it appears this model is only going to be offered until supplies run out). My test subject, the Kindle Touch, completes the non-tablet ebook reader family at Amazon, though they do offer the Kindle Fire, which is a 7" tablet with an full-color LED-display and ebook-reading capabilities.
Amazon is still fairly new to the consumer device design marketplace. The Kindle was their first branded device, and while the early Kindles were well-built, the physical controls and user-interface were a bit simplistic, and even rough, in parts. I was hoping that the Kindle 4 would bring an improved display, more comfortable form factor, refinement of the user-interface, better sharing and borrowing features, and a light that drew power from the device itself.
 "If you look for perfection, you'll never be satisfied." – Leo Tolstoy
Perhaps I was hoping for too much, and now I'm a bit disappointed in the Kindle Touch. I considered moving to the basic Kindle (non-touch-screen version), but the reports (Tom's Hardware) of it having an inferior screen kept me with the Touch.
Author's Note 1/4/2012: I recently purchased a Kindle (non-touch) and spent about an hour comparing text on the two with a magnifying glass. I don't have a microscope at my disposal, but under a 10x magnifying glass I couldn't see any difference whatsoever between the two devices on the same letters in the same words with the same font, and sizing chosen. The reviewers at Tom's aren't the type to sensationalize so I can only assume they got a bad device, or perhaps weren't comparing pages that had both received a full refresh. At this time, I have to believe the screens are of the same quality and type.
"As soon go kindle fire with snow,
as seek to quench the fire of love with words." – William Shakespeare
So, what's to love about the Kindle Touch? Several things actually…but above all else it's the fantastic E Ink screen. To differentiate the Kindle from the others, Amazon continues to provide and improve its best-of-breed "Whispersync" cloud service, and the new super-Index tool called X-Ray can be useful, or at least interesting, when reading non-fiction.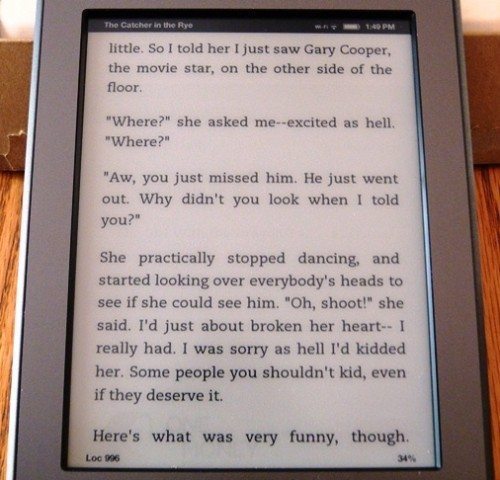 Nothing else would matter if the Kindle's display wasn't great. E Ink screens have really improved since the first two generations of the Kindle (which is substantially the same as the screen used in the previous model). The contrast, high reflectivity of the text, and slightly off-white background really cause the words to "pop" off the screen. It is the most comfortable, eye strain-free way of reading that I've experienced on an electronic device. Unlike its LED-screen based relatives the Kindle screen does not wash out even in the full-on Florida sun. It actually becomes a better reading medium than traditional books when you consider that readers can tailor just about every characteristic (typeface, font size, line, word and margin spacing) of how the words appear on the page.
The Kindle Touch and its major competitors from Sony, Barnes & Noble and Kobo all use screen technology developed by E Ink Corporation. For those of you unfamiliar with E Ink, it employs a magnetic-like process (particles attracted to either positive or negative electrodes) to draw the correct particles to an area of the screen, creating the desired characters/images. These highly-reflective particles make it possible to view the image in many types of lighting. The look is very similar to that of print on paper. The process requires only a small amount of power when first displaying the page, allowing E Ink devices to use smaller, lighter batteries that can go weeks or months without requiring a recharge.
"Size matters not" – Yoda
I've got to disagree with the little green guy on this one at least when it comes to e-readers. Size does matter in a couple of ways. The actual screen size of the Kindle (6-inch diagonally) is comparable to the size of many paperback books. That's fine for general reading, but for those of you who are more interested in magazines, newspapers, or textbooks (unless you're willing to give up the graphical element of those publications), you may want to consider a larger-formatted reader like the Kindle DX (9.7-inch E Ink monochrome screen) or one of the full-size tablets that come with color LED displays.
But for pleasure reading, you really want as much screen and as little anything else as possible. Or so I thought. The Kindle Touch is three-quarters of an inch shorter (6.8-inches versus 7.5-inches), slightly narrower (4.7-inches versus 4.8-inches) and about an ounce lighter (7.5 ounces WiFi/7.8 ounces 3G/WiFi versus 8.5 ounces/8.7 ounces) than its predecessor. The reduction is primarily due to Amazon's decision to do away with the physical keyboard, moving it on-screen. The Touch is slightly thicker (.4-inches versus .34-inches) than the Kindle 3 and its non-touch sister model, most likely to allow for the touch-screen paraphernalia.
"You're holding it wrong." – Steve Jobs
When I first saw how small my new Kindle Touch was I was delighted right up until I tried to hold it with one hand and read. There is barely an inch of bezel on the top and bottom and six-tenths of an inch on each side. I found it difficult to hold the Touch and not have my thumb or its shadow covering part of the screen. Because it's a touch-screen with no physical buttons for page-changes, your thumb or one of your fingers has to be close enough to easily reach the screen.
This was never a problem with the older Kindles as they had physical keyboards and buttons on the side bezel. You naturally held them by the side of the keyboard and extended your thumb up to hit the change page button. With the newer non-keyboard models, the best one-handed grip comes from putting your hand along the bottom corner of the Kindle and then extending your thumb along the slim bezel.
Well, the Kindle's bezel may be slim but my thumb is not. As I tried shifting my grip I was quickly and annoyingly reminded that the power button, which used to be a slide switch located at the top of the device in earlier models, was now positioned on the bottom edge and requires just a light touch to wake or sleep the device.
The proper Kindle Touch grip appears to be to a modified pinch on either of the bottom corners with your thumb laying on the bezel along the side of the screen. That wasn't all that bad until I added my Belkin "eBook Light for Kindle" to the top of the device. The 2.75-ounce clip-on light at the top of the device made the whole thing feel off-balanced. Coupled with the device's thinness it became uncomfortable to hold. Amazon did attempt to make the Kindle easier to grip by applying paint with a rubbery-like feel to the back, but for me it isn't enough.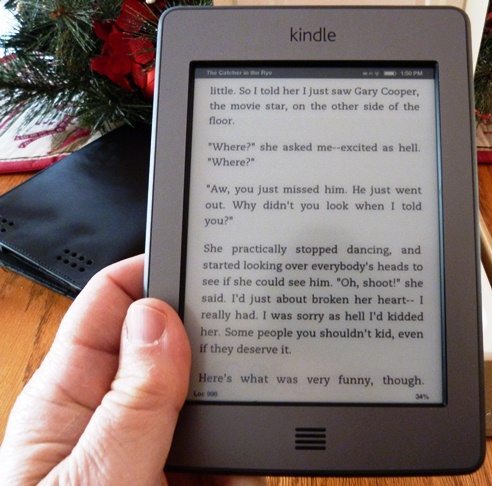 I tried to correct the problem by wrapping a couple of wide rubber bands lengthwise around the Kindle to give it a bit more grip along the bezel. This didn't really do much more than convince my wife that the decline in my cognitive skills was accelerating. I considered Velcro, and even constructing a prosthetic finger. Eventually, as with all DIY projects, I grabbed the duct tape…this time, though, it was to attach the Kindle to a brick and return it via "air mail" to Amazon CEO, Jeff Bezos.
I then realized that it's a great deal more pleasant reading in my den than a jail cell and decided to search the greatest catalog of "hazarai" (assorted junk for you non-Yiddish speakers) in history, eBay, for a solution. I found a very inexpensive leather case with a cover that wraps around the back. The case gives me something to hold on to, and has made holding the Kindle Touch with one hand much more pleasant.
While I was searching for a solution or at least examples of how others grasped their Touch, I noticed that almost every picture of someone holding a Kindle on the Amazon website featured a female model with slim fingers. Somehow, I don't think that's an accident. If you can completely cover a quarter with your thumb you may want to try holding a Touch with your favorite light attached before taking one home.
"It is better to light a candle than curse the darkness." – Eleanor Roosevelt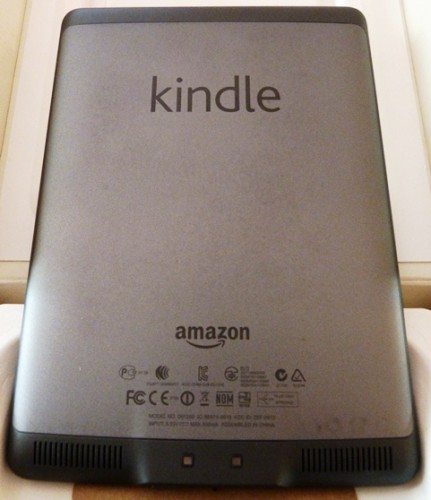 Speaking of cases and lights, the Kindle 3 and now the Kindle Touch, both have contacts on the back for the purpose of powering a book light with the internal battery. Amazon has released a case with such a light but its $60 price tag is bordering on ridiculous when you consider that the Kindle Touch pricing starts at $100. Perhaps a third party will develop a clip-on light that utilizes those contacts, relieving us of the weight and replacement bother associated with batteries.
"Don't judge a book by its cover." – Edwin Rolfe
Despite the Kindle Touch being lightweight, thin, and constructed mainly of plastic, it has a very solid feel. There's no discernible flex or creaks when you handle the device.  The Touch's look is best described as minimalistic, featuring two dark shades of gray. This was a nice choice by Amazon as there's nothing about the device to distract or reflect light back at the reader.
The screen is inset by about an eighth of an inch below the bezel. The riser up to the bezel can cast a small shadow and is black, making it a bit difficult to see the small font they used on the black status bar at the top of the screen. While you can adjust the size and many aspects of the fonts in the books themselves, the status bar has no such options.

The Kindle has two ports, a micro USB port for charging and file transfer, and a 3.5mm stereo audio jack grouped together with the power button on the bottom edge of the device. The back of the Kindle features grill holes for twin speakers, and between them sit the aforementioned power contacts. The only physical button other than the power switch is made up of four parallel horizontal lines and is centered just below the screen. Pressing this button returns the reader to the Kindle's home screen.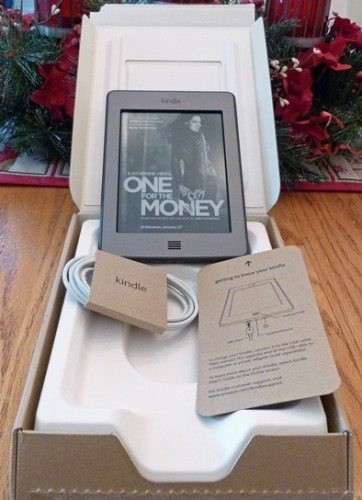 The Kindle Touch is shipped in a box designed to safely deliver the Kindle at a low cost. Inside you'll find the device, a small instruction card, and a standard micro USB to USB charging cable, but no charger. I believe this was a bit too miserly on Amazon's part and they make that worse by not mentioning the omission anywhere on their website.
Have a heart that never hardens, and a temper that never tires,
and a touch that never hurts." – Charles DickensThe Kindle Touch is Amazon's first attempt at applying a touch screen to the Kindle operating system, and it shows. There are several inconsistencies where the same gesture causes different results, and other instances where the reader needs to use a different gesture to accomplish the same task. I hope Amazon recognizes the importance of a consistent user interface and is working towards better incorporating touch into the Kindle operating system.
While touch screens are a necessity when you're using a tablet and they've made smartphones far easier to use, there's nothing about the touch interface on an e-reader that makes them significantly better than the alternative. Navigating the Kindle's peripheral functions, like looking up the definition of a word, browsing in the Amazon store, and using the web browser is easier with the touch screen. Typing is certainly better than on the new Kindle (non-touch), but when it comes to that primary function of displaying pages of text, the touch screen is superfluous.
At some point in the future, I expect that to change as publishers begin to take advantage of the touch capabilities within the books themselves. I just can't wait for the day when each page of my book contains a slew of contextual links granting me important options like the ability to purchase an "actual" replica of Harry Potter's wand. Actually, I'm sure that incorporating links to peripheral information like diagrams, pictures, or even small apps will add to the value of some types of books, but isn't that more in the realm of a tablet?
The Kindle uses IR (infrared) touch-screen technology which means there are a number of intersecting light beams over the display (this is probably the reason for the inset screen). This allows for touch (and sometimes near-touch) detection by anything, not just a bare finger like the capacitive touch screens found on most tablets. The downside to this is that almost anything can and will turn pages and sometimes flip through several of them. More than once I've had to back-track through several pages after something inadvertently contacted the screen. I don't recall ever having that problem with physical page buttons. On the upside, it's now possible to change pages easily with your nose, gloved hand, or the straw from your drink (take that tablets!).
 "A common mistake that people make when trying to design
something completely foolproof is to
underestimate the ingenuity of complete fools." – Douglas Adams
The older Kindles and the Kindle (non-touch) model utilize page-turning buttons on the sides of the screen. Generally both sides had page forward buttons and there was a smaller page back button on the left-hand side of the device. This allowed the reader to hold the device with either hand and still turn pages. In order to accomplish the same functionality on a touch screen, Amazon developed their "EasyReach" interface.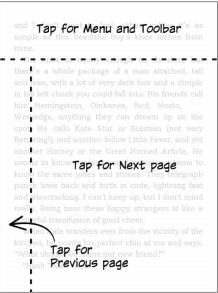 As you can see from the picture above, the screen is divided into three segments: a large section for paging forward, a slim section along most of the left-hand side for paging back, and a section along the top for calling up the status bar and a contextual menu. Paging forward and back may also be accomplished with the now-familiar swipe in the appropriate direction. When holding the Kindle with my right hand, I touch to go forward, and use my thumb to do a short swipe to move back. On the left side, I just touch close to the margin to go back and reach with my thumb about an inch or so to page ahead.
The most serious interface flaw I encountered is the lack of visual feedback when you touch a screen element. Unlike computers and tablets where pressing a button with a mouse or a finger has the object change state in some way, there's no similar indication on the Touch. Except on the home screen where touching an option causes the selection to highlight, and user interface consistency connoisseurs to cringe.
There are a few other incongruities throughout the interface and they can be a little bothersome, but the majority of the time Kindle Touch users will be reading books and the EasyReach system for changing pages works quite nicely.
"Much ado about nothing." – William Shakespeare
Bill and I agree that way too much is made about page changing speed on E-Readers. This measurement is used both to show the improvement in e-readers from generation to generation and as a competitive claim among the various manufacturers. Even the most unhurried e-reader is much faster than physically turning the page of a book. So, while I guess the Kindle Touch is faster at changing pages than my old Kindle 2, I never felt like I was waiting on the older device.
While not as meaningless, Amazon has come up with a method of limiting the page refresh effect when a page change takes place. In prior versions each page change was met with the page quickly going completely black before displaying the new text. The latest generation allows readers to choose between that redraw occurring every page turn or every five page turns. I've never found the effect to be bothersome because it happens so fast, but for those that are, things are getting better.
"A wonderful thing about a book, in contrast to a computer screen, is that
you can take it to bed with you." – Daniel J. Boorstin
Dan, the wonderful thing about a Kindle Touch is that you can bring roughly 3,000 books to bed with you, or on an airplane, a bus, the beach, or the bathroom. When you finish those you can wirelessly connect to a bookstore and have access to millions more. You can also borrow them from libraries and share them for limited periods with your friends. Oh, and should you forget your Kindle Touch, you can access all of those books through any device with an internet connection including computers, cell phones, and tablets. Amazon is one of the largest providers of cloud services in the world and they provide Kindle owners with free storage and delivery of books purchased through Amazon. Once you have purchased a book it will stay in your online library for as long as you like. You can also store up to 5GB of your own personal documents on Amazon's servers at no additional cost.
Amazon also offers a variety of newspapers, magazines, and blogs via subscription that are delivered to your device on a regular basis..
Delivery is either through WiFi, which is built into all Kindles, or 3G service if you purchase the 3G model. The 3G service is included and unlimited for book transfers and browsing the Amazon store, but no longer allows for unlimited web browsing with the Kindle's built-in browser. The browser handles mobile sites reasonably well, draws real usability benefits from the touch screen, and deserves to be removed from the "experimental" section it has been buried in since debuting on the Kindle 2.
While there are two versions of the Kindle Touch WiFi and 3G/WiFi, there are four prices. If you're willing to let Amazon send you advertisements and special offers, the price of the Kindle Touch WiFi is $99. If you'd prefer not to get the ads it will cost you $139. The 3G/WiFi model costs $149 or $189.
I'd recommend purchasing the version with the ads. They do not intrude on reading in any way since they appear as a screensaver or as a small banner at the very bottom of the home screen.. Some of the offers are quite good and if you tire of them you can pay the difference and remove the ads permanently. While you can subscribe to the special offers if you have paid for an ad-free version, it doesn't appear that Amazon will provide you with a $40 refund.
"Mozart's music is like an X-ray of your soul –
it shows what is there, and what isn't." – Isaac Stern
Amazon's new X-Ray feature enables the reader to quickly see every reference to a character (historical or fictional), phrase or idea within the book, how often and where those elements exist in the book, and then pull information from Wikipedia or Amazon's Shelfari service. While I didn't find a lot of use for this feature with the fiction I read, I can see where it could serve as a valuable aid in reading non-fiction and in fact-checking some of the more "inventive" biographies and books on history.
"I like to listen. I have learned a great deal from listening carefully.
Most people never listen." – Ernest Hemingway
The Kindle Touch features a couple of audio services. You can use the device as a music player, although the limited memory (4GB) isn't going to convince anyone to give up their iPod anytime soon. However, for those who like to read with their ears, Amazon owns audiobook retailer, audible.com. You can purchase and have your audiobooks delivered to your Kindle via Whispersync, but only when connected via WiFi. The audio player isn't bad and the internal speakers are more than passable, although I'm sure most will want to listen with headphones.
The Kindle Touch also comes with a text-to-speech program. When the publisher approves it, you can have the Kindle Touch read the book to you. This isn't an audiobook; it's a computerized voice that mispronounces and generally stumbles through the text in your choice of a male or female monotone. Why the publishers ever thought this would hurt their audiobook sales is a mystery to me. You can get a few chuckles out of the capability by having it try to read some science fiction. A Kindle trying to interpret Klingon can either be hilarious or make you want to fall on your D'k tahg (dagger).
"All sorts of computer errors are now turning up.
You'd be surprised to know the number of doctors
who claim they are treating pregnant men." – Isaac Asimov
My early experience with the Touch was soured by what appears to have been a corrupted system file. I initially loaded three or four books on to the device using a nice e-book management packaged called Calibre to transfer one while retrieving two others from my archive on Amazon. Everything became sluggish, page turns were irregular, and the device ignored some commands. Finally, while trying to open a book, I got an error message stating that the "app could not load". The Touch then crashed and rebooted, and not long after did the same thing again.
I called Amazon and as has been my experience with them for the past 15 years, the customer service was very good. After a brief attempt at troubleshooting the problem, the rep offered me a full refund or an exchange. I chose the exchange and a new device was shipped for next-day delivery.
Since the device was broken I figured I might as well spend some time trying to figure out and fix the issue. This comes under the age-old male theory of, "If something won't work, force it; if it breaks it needed fixing anyway." I connected the Kindle to my PC and began rooting around in the various directories (kids, don't try this at home especially with your parent's Kindle unless you intend on getting a place of your own in the very near future). Being far too lazy to actually go through each file and figure out what it does, I decided to delete all the content I had installed.
When that didn't correct the issue I made the determination that everything had to go (kids, see above warning). I then watched as the device did a complete restart. I have a feeling the Kindle then realized what might come next and formatted its memory and re-created its system files. Whatever the reason, the device has worked extremely well since. I returned the replacement unopened and have been using my Kindle Touch without a recurrence or any other issues.
The Kindle Touch is also capable of loading some game apps distributed through the Amazon store. I've never tried them and if that's important to you I'd suggest looking at the Kindle Fire or another tablet.
"A conclusion is the place where you got tired thinking." – Martin Henry Fischer
After several rough weeks I've grown to like (not love) my Kindle Touch. I like the quality of the display over the older Kindle, I like and dislike the new smaller size, I'm ambivalent about the touch functionality, and I'm happy that Amazon continues to provide a vast selection of e-books and the Whispersync service. Being able to borrow e-books from many libraries and share books (at Publisher discretion) with others is also a nice feature.
There are some interface issues that I hope Amazon will iron out. I am also looking forward to the next generation of Kindles in hopes that they'll incorporate some form of lighting, perhaps the illuminated optical film recently announced by FLEx Lighting II, LLC. At this time I would recommend the Kindle Touch with special offers for anyone who wants to try out an e-reader, or who has been using the Kindle 1st or 2nd generation devices. If you already have a Kindle 3 and can live with the slightly larger size, there's really not an overwhelming reason to upgrade.
"The end of labor is to gain leisure." – Aristotle
I'm done for now…gonna go put my feet up and read for a bit.