We use affiliate links. If you buy something through the links on this page, we may earn a commission at no cost to you. Learn more.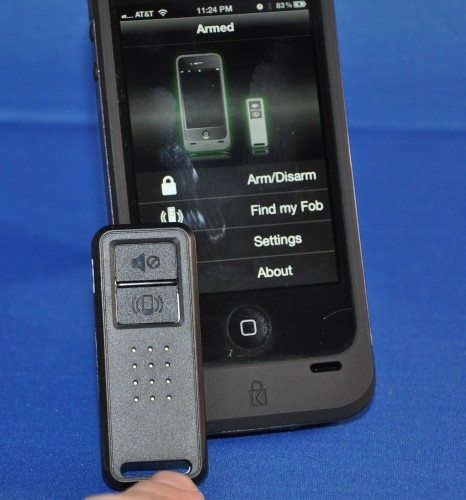 As Gadget geeks, we're lost without our bits of technology. That's why we go to such lengths to carry them on our person, in a gear bag, or even in a hidden pocket in a special piece of clothing. But what if the unexpected happens: you leave your phone charging to go grab a soda, and it's gone from your desk when you come back. Or you get ready to leave for a meeting and can't find it in any of the usual places. Or maybe you visit a German beer garden with a secret prototype and find it is gone from your pocket – hey, it could happen! What happens then? Apple's "Find my iPhone" is great, and I'm sure there are similar features for other smartphones, but wouldn't it be nice if there was something faster? Something with an alarm that would sound if someone got it away from you before you knew and could find a place to log in and activate it? Well, that something is here, in the form of a battery case, a key fob, and, you guessed it, an app. It's from
Kensington
, and they call it the
BungeeAir Wireless Tether
.
The device comes in two versions: one with a battery charger built in and one without. The BungeeAir Power version is $99, and the non-battery version (called BungeeAir Protect Wireless Tether) is $79. Both come in that same wide range of colors Henry Ford is reported to have commented on: "Any color you want, so long as it's black." I was sent the
Power version
to test.
On the outside, the case looks just like a typical battery pack case: slightly larger than the phone itself, a little heavier, with all buttons and ports except the 30-pin connector open for use. A mini-USB port allows for the battery to be charged in place, and when the small switch  on the back (which also houses the battery meter) is held to put it in "charge" mode, wired syncing can be done with the case still attached.
Also in the box is a smallish key ring fob similar to most car remotes. This one has a side on-off switch (nicely recessed to prevent accidental deactivation) and two buttons. One button silences an alarm, the other will signal the iPhone to play an alert. At the opposite end is a narrow slot to attach a key ring.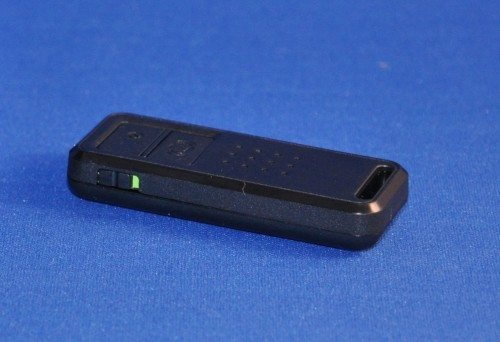 According to the literature enclosed in the box, the iPhone will charge from fully discharged to 60% from a full battery pack in less than 2 hours. If you've run out both batteries, it will take just over 6 hours to recharge both. When the iPhone is in the case, it charges first. If the iPhone is not in the case, it takes about 3.6 hours to charge the BungeeAir battery. In my real-world testing with both an iPhone 4 and a 4S, I found these times to be pretty close. I upgraded my iPhone 4 to iOS 5 shortly after getting the test unit, and was curious if there were any issues in upgrading to new hardware. After a week or more of testing with my 4S, I found performance to be exactly the same for both units.
There are four features that the product addresses: Wireless Security for your phone, being a case with a stand, providing charge and sync support, and helping you to "find your stuff." The satin-finish black clamshell case snaps around the iPhone 4(S) and locks at the base. The fit is tight, but not extreme, so that removal is quite easy.
There is a pressure button that is engaged when you close the case, which will set off the fob when you open the case while the app is engaged, as well as lock the phone. (You must have the password set for the lock feature to take effect, but the app warns you of this when you first activate it.) I found it to work as advertised: opening the case caused the alarm to go off immediately, and getting out of range caused it to activate as well, but in a much less targeted manner. The environment will play a role here, but it will kick in when you get far enough away. There are settings within the app to adjust for your environment, but no way to really tweak or see how strong your connection is.
With the card slot on the back, you can use the enclosed plastic card, or almost any plastic card that's thin enough yet sturdy enough, to prop the iPhone into one of several angles for use. Great if you're watching a full-length movie on a long plane flight and your arms are trying to hold onto your wine and peanuts while you're viewing. It's also nice for just sitting on your desk with a clock app running (such as Kensington's NightStand clock and weather app.) While sitting on your desk, you can charge through the case with your wall charger or any USB port via the enclosed cable, so long as you engage the charging switch button. You'll know it's working by the usual battery meter on the lock screen.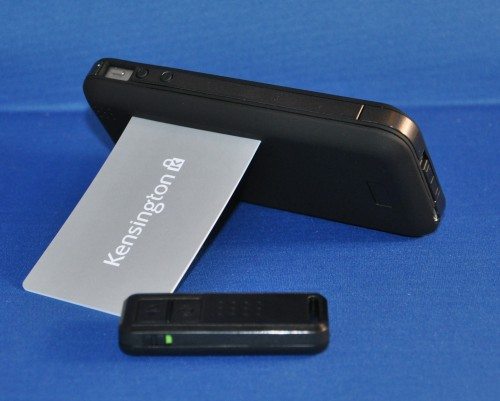 Last on the list is one of the most unusual features: using your $600+ smartphone to locate your keys, just like the $29.99 clapper on late-night infomercials. I kid, and it's much better integrated into your basic use of the iPhone, but it is kinda funny. I showed this to a co-worker while testing, and he immediately suggested it to his wife as a Christmas present for this feature alone! And I can't tell how many folks who, when they see "Find My iPhone" in action, immediately ask "Does it work for my keys?" Now, in a roundabout way, it does! If you have problems keeping track of your keys, but are never far from your iPhone, this is a great feature! Even though I rarely misplace my keys, I really like that the two pieces of my portable life, my phone and my home/car keys, can be easily linked in this way.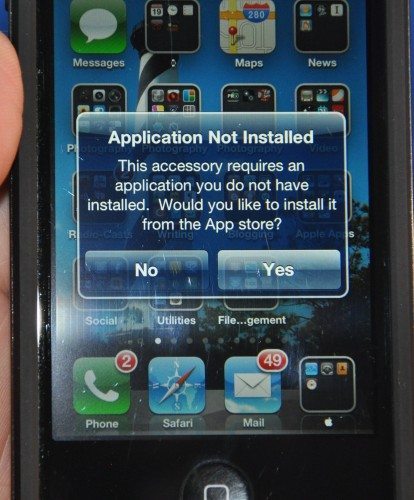 While the plastic case is not specifically geared toward protection, it is very well-made, and does protect the glass front and back of the iPhone from damage on any but the hardest impacts. The fit of the case is nice and tight, and the slight nap to the surface helps keep the slippery little beast from falling out of your hands.
I was able to test my demo unit in several different settings: with my keys in a metal locker while I walked out of my break area, with my iPhone on a table while I walked away in a quiet and a loud environment, and by leaving my iPhone inside at home and walking out to my car. (For me, this is the best application of this tech! I usually leave my phone charging in the kitchen at least once a week and have to come back in for it!) In each case, subject to the environment, I was able to hear the beep or feel the slight buzz from the fob with little effort. When I moved away from my keys, the phone beeped and locked immediately when I got out of range.
So, is it worth it? I'm a firm believer in having some sort of alternate power available when you're on the go. And, if the typical places you go are ones where your phone may be – um – mislaid, you should definitely consider this unit for the dual roles it plays. (I'd definitely recommend this for the Apple tech guy who left the iPhone 4 prototype in the beer garden a while back!) At $100, it's not too much for the double layer of protection it gives. I give it 4 stars over all.
Product Information
Price:
$99.99 retail, as low as $70 online.
Manufacturer:
Kensington
Retailer:
Amazon
Requirements:
Pros:

Simple to use
Effective
Two-way communication protects/finds both fob and iPhone

Cons:

Using non-iPhone charging cable means any investment in other cables is lost
Slot in fob is plastic, which may not stand up to long-term use with lots of other keys on a ring.