We use affiliate links. If you buy something through the links on this page, we may earn a commission at no cost to you. Learn more.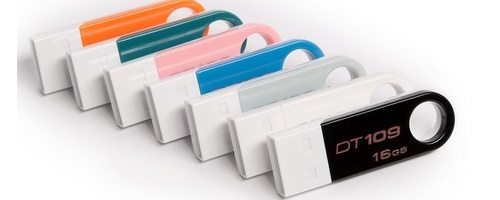 The tiny Data Traveler 109 USB drive from Kingston comes preloaded with urDrive software "that gives you a new and exciting way to look at your data", according to the maker. I am always interested in new and exciting ways to look at my data, so let's take a look!
Kingston makes good stuff and the Data Traveler 109 thumbdrive is a nice piece of work:
2 capacities (8 and 16gb) and 7 colors
1.535″ x 0.486″ x 0.179″ (39.00mm x 12.35mm x 4.55mm)
A bit more than a gram
Compatible with any USB 2 system (urDrive is for Windows XP or newer)
Convenient lanyard hole (that is pretty dang close to being bigger than the drive itself!)
The unit is very small in a plastic housing that would not be very tough in a larger unit, but is OK in the smaller package. The large lanyard hole makes it easy to slip on a keyring or, just maybe, a lanyard! In fact, I found I needed to thread a large rubber band in it during the review period just to keep it from getting lost in the detritus on my desk. No instructions are included in the packaging.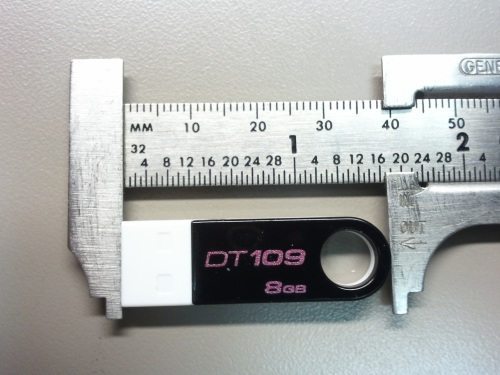 I was sent an 8MG black and white unit to review, and it works perfectly as a thumb drive alone. It is pre-loaded with the 122MB URDrive software and applications suite which is designed to elevate the thumb drive experience. The site claims "Most USB Flash drives offer passive storage, which simply allows users to store and retrieve their data. urDrive offers engaged, active storage that allows you to easily access and organize your files, photos, videos and music."
The urDrive is not bootable – it is not an operating system, more like a shell program that allows you to better use and view the files you choose to store on it. When launched from the screen icon or with autoplay, it displays several apps in the main screen, icons on the bottom, and some other scattered buttons or bars like 'back' and 'search'.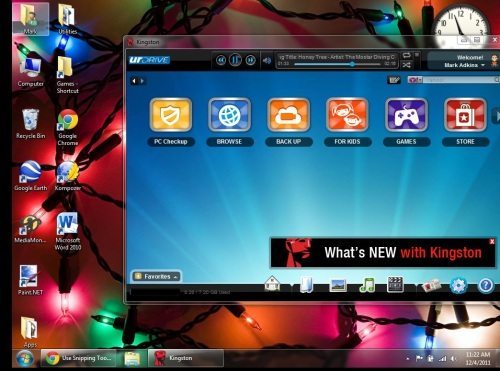 The large app buttons bring up several pre-loaded applications-
Norton PC Checkup, which needs to be loaded onto your PC.
Maxthon Browser, which needs an internet connection and can download data straight to the thumb drive.
vDrive Backup, offering 6GB of free back-up. Needs to install on your PC and requires an internet connection.
FoozKids Basic, a 'kid-safe' zone with educational activities and apps. Installs on the PC and offers a subscription service for more options.
Games, similar to many on-line games sites, offering a selection of free and 'for pay' games.
A store for apps and music, and apps for YouTube, Facebook and Twitter round out the offerings.
These programs are easily available on-line if you want them and there does not seem to be any benefit to getting them from the drive as opposed to loading them yourself – other than the portability of those that do not load onto your computer. You can also find reviews of each of these apps on-line to help you decide if they might interest you.
The 'thumb drive shell programs' are more interesting. Icons take you home, or to your files, photos, music, videos, (Kingston) news, settings, and help. You can use the 'Import to USB' button or just drag and drop files into the folder system. One small quirk is that you cannot drag to the Home screen with the apps, but you can to the 'My Files' screen. Note that if you drag and drop something like an MP3 there, it will not automatically go to your music file, but if you click on it, it will open with the included player.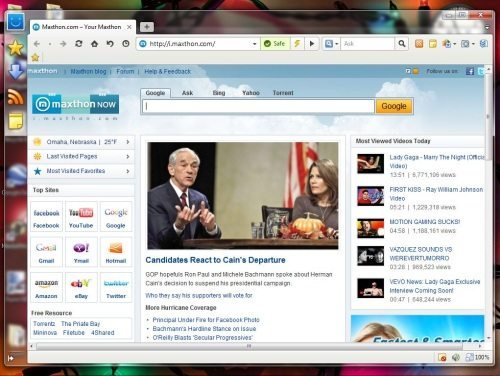 The included players – photo, music, and video – are simple and work great. They seem to be based on Windows Media Player. They are nice enough that I would not mind using them on my laptop since they do such a nice job with such small footprints, but I suspect they actually use your computer's copy of Media Player to do the job. When playing music or looking at photos, you can click on an icon for 'Library View', which taps into the entire media library on your computer – not just that on the thumb drive. This almost feels like a 'back door' since you cannot do this elsewhere in the urDrive, and I didn't find a comment about it in the help.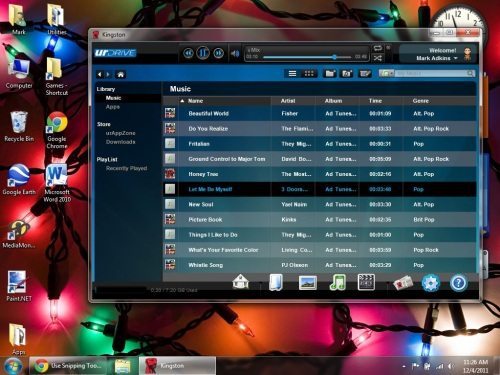 The urDrive suite is nicely done – attractive, flexible, intuitive, and does everything it does nicely. I am not convinced it is helping me see my data in an new and exciting way, but it is sort of nice to have an on-board set of tools… even though I still have access to the needed tools on the main computer since this is not a bootable system. I suspect most Gadgeteers who are interested in this already have a thumb drive loaded with tools from places like PortableApps.com, which offers a wider range of customization, security, privacy, etc. (Just FYI- there does not seem to be anything in the urDrive that offers more security or privacy than what the Norton or other apps offer.) Regardless, the Data Traveler 109 is a pretty sweet drive!