We use affiliate links. If you buy something through the links on this page, we may earn a commission at no cost to you. Learn more.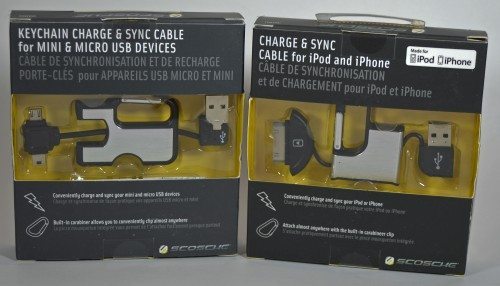 Have you ever been caught without a charging cable?  You decided to travel light, with just a phone and your laptop.  You realize your phone needs a charge, but you don't have the USB charging cable.  Clip a clipSYNC Charge and Sync Cable from Scosche to your keyring or gear bag strap, and you'll always have a cable when you need one.  I received a clipSYNC cable for iPhone and iPod and one clipSYNC Mini & Micro USB cable.   Let's give them a closer look.
I had tried the Scosche flipSYNC cables last year, and I was happy to give their new versions a look.  The flipSYNC cables were just a bit smaller than the new version.  The flipSYNC were a bit difficult to fit onto a keychain, too.  The plastic was thick, and my keyring was a bit deformed after I forced it over the flipSYNC cables.  Once they were on, it was hard to get them back off the keyring.  The clipSYNC cables have carabiners, so they clip easily onto anything and can be easily removed when you want to use them.
Both clipSYNC cables have aluminum and black plastic bodies.  Both are engineered so that they must be opened in a certain order.  Examine the black plastic pieces on each cable, and you'll see that they are marked with 1 or 2.  To open, pull out the piece marked 1 first.  Close the cable back up by replacing the pieces in reverse order.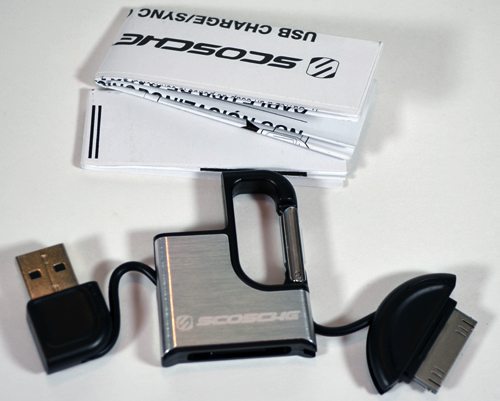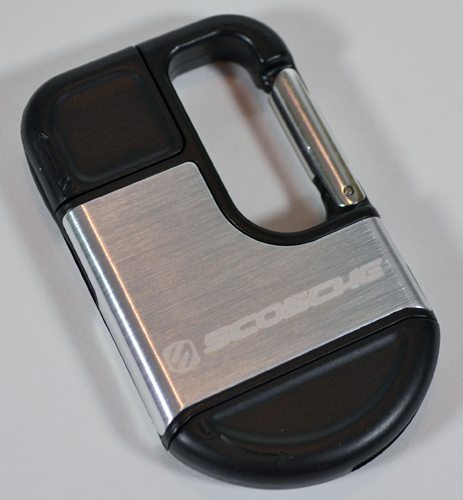 The Scosche clipSYNC Charge and Sync Cable for iPhone and iPod could also be used with an iPad.  It measures about 2.25″ long X 1.4″ wide X 0.25″ thick.  It weighed about 0.5 oz on my digital kitchen scale.  When opened, the cable – measured from the end of the metal USB connector to the end of the metal 30-pin connector – is about 5.25″ long.  It's more than long enough to plug your iPhone into your computer's USB port.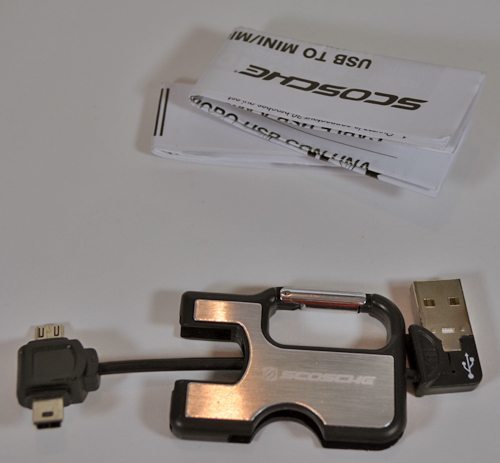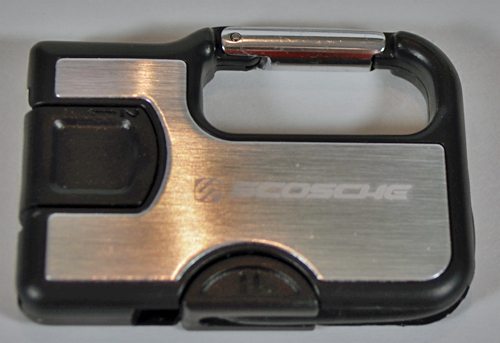 The clipSYNC Charge and Sync Cable for Mini & Micro USB Devices is about 2″ long X 1.3″ wide X 0.25″ thick.  It also weighs about 0.5 oz.  The cable measures about 4″ long when opened.  You can connect only one device to the cable at a time, but you'll be able to use it with anything requiring either a mini or a micro USB plug.  This will work well for a Kindle or Sony ebook reader, Bluetooth headsets, even some phones.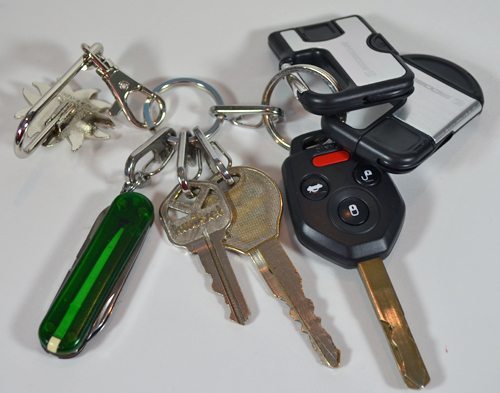 Both clipSYNC cables fit easily onto my keyring, so they'll fit into my smallest purse.  They'll also slip right in to the little accessories pouch I throw into my bigger purses, too.  I'll never have to leave home without a charging cable again.
Product Information
Price:
$19.99 each
Manufacturer:
Scosche
Pros:

Small enough to fit in the smallest purse, gear bag, or pocket
Carabiner clip makes it easy to clip it on/off a keyring or bag strap
Can charge any iPhone, iPod, or iPad with the iPhone version
Can charge most any small device with the Mini & Micro USB cable

Cons: