We use affiliate links. If you buy something through the links on this page, we may earn a commission at no cost to you. Learn more.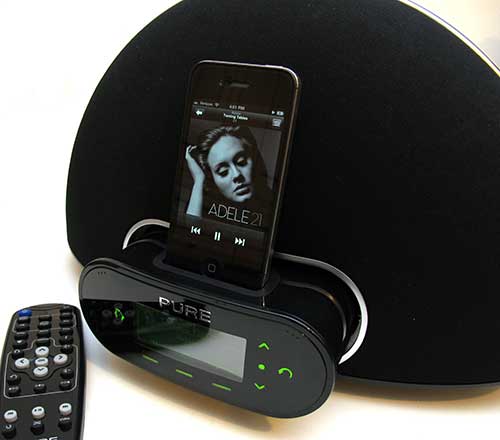 If you store your music on an iPhone or iPod and also enjoy internet radio, the PURE Contour is a one of the nicer speaker systems that I've had the opportunity to review. It offers a dock for playing the music on an iPhone/iPod while also charging its batteries, Internet streaming radio, FM radio and network streaming audio. This is all contained in an attractive compact package. Let's take a closer look.
Note: Click the images in this review to see a larger view.
Hardware Specs
LCD display: 128 x 64 pixel graphical LCD auto-dimming display, large clock and feature icons, light sensor.
Wireless: 802.11b and 802.11g supported with WEP and WPA/WPA2 encryption.
Ethernet: Requires PURE Choice Mini USB Ethernet adapter, available separately.
Speakers: 2 full-range 3 1/2" drive units.
Audio output: 2 x 18W @ Input connectors: 20V DC power adapter socket. iPod/iPhone connector with adapters. 3.5mm Aux-in for auxiliary devices. USB (mini-B type) for product upgrades and Ethernet adapter. (Software upgrades also available over Wi-Fi).
Output connectors: 3.5mm stereo output for headphones.
Composite video out: Composite RCA.
Component video out: 3.5mm 4-pole TRRS connector* (PURE Choice cable available separately).
S-Video out*: 3.5mm 4-pole TRRS connector* (PURE Choice cable available separately).
Remote control: Infrared remote control. 2 x AAA (LR03) batteries included.
Mains power supply: 100-240V, 50/60Hz 20V DC 2.25A external power adapter.
Dimensions (inches): 14.6 wide x 9 high x 6.9 deep.
Weight: 6.39 pounds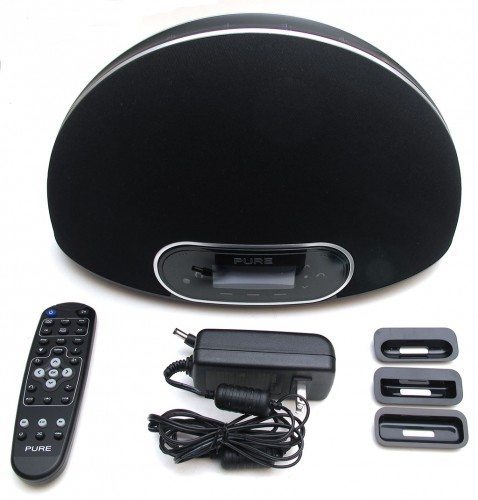 Package Contents
Contour speaker
Dock adapters
Remote
AC adapter
Quickstart guide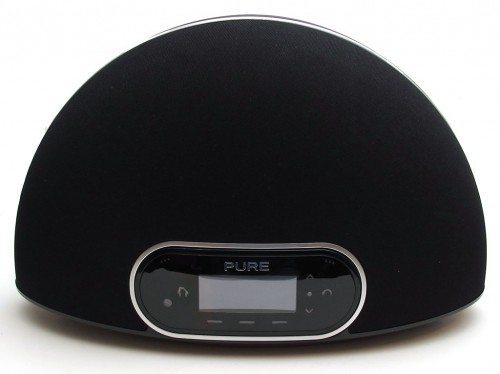 The PURE Contour gets its name from its dome shape. The design / style will allow it to fit into almost any environment, from living room to office or even kitchen. Although you'll want to be careful with the knit material that covers the front of the speaker, as it might be difficult to clean. I'd rather it have a metal mesh instead of a cloth / knit covering for easy cleaning.
The front of the system has a pop out iPhone / iPod dock that is compatible with almost all the current and older devices. See review summary box below for a detailed list.
Never miss one of our posts again. Sent MON, WED, and FRI with the latest gadget reviews and news!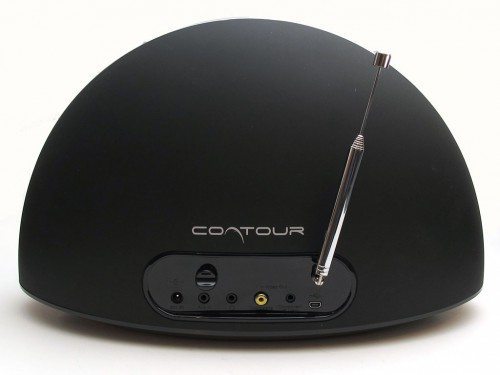 A telescoping antenna for the built-in FM radio is found on the back of the unit, along with a panel of connectors that include power, Aux in, 3.5 mm headphone jack, Composite video, Component/S-Video and Mini USB for software updates, and the optional Ethernet adapter.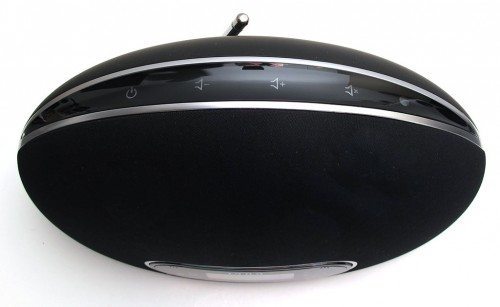 Along the top ridge of the speaker are touch sensitive buttons for power and volume adjustment, that light up when the system is powered on.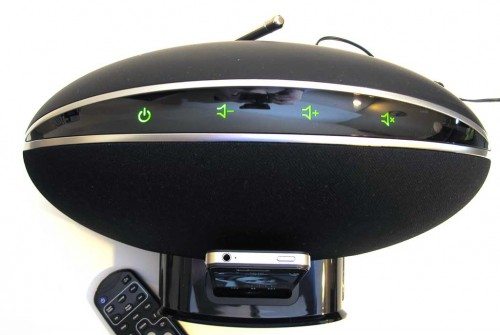 The power button stays lighted even when the system is in standby mode.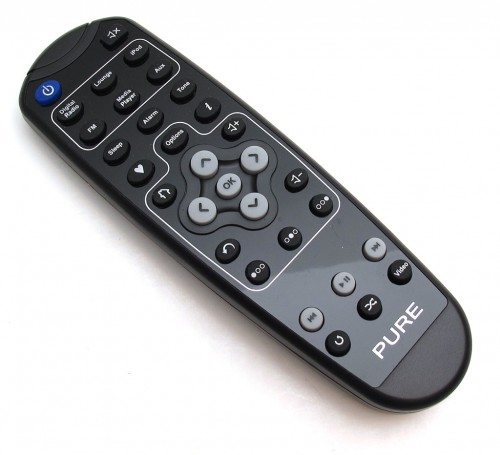 I was happy to see that PURE includes a 'real' remote instead one of those cheap membrane type controllers that are usually included with speaker systems.
The remote can do everything that the touch sensitive buttons on the speaker do except for opening the iPhone/iPod dock.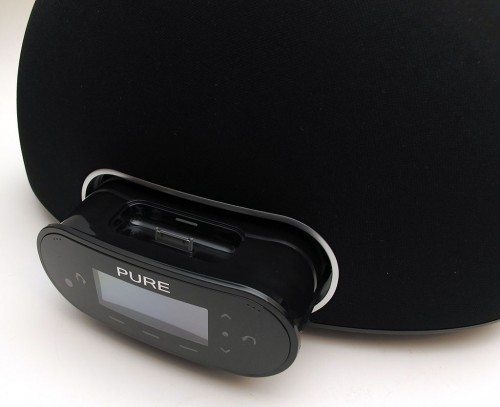 The dock, which doubles as a clock when in standby mode, opens smoothly by pressing in on the top left or right corner.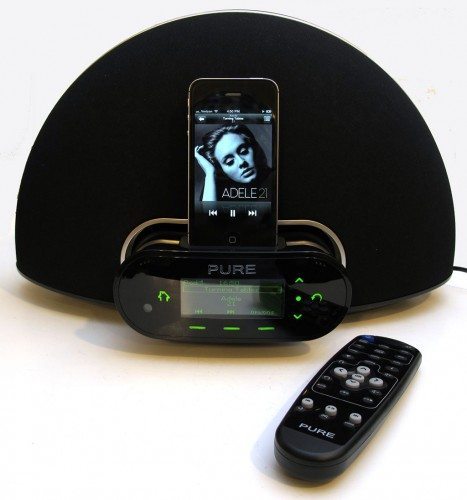 The Contour works well as an iPhone / iPod speaker system. The sound quality out of the speakers is impressive considering the size of the system. Cranking up the volume does not degrade the sound. The speakers have good bass, crisp highs and clear mid tones.
Using the touch buttons on the front of the dock or the remote, you can skip forwards / backwards through tracks, pause and play. But unfortunately, you can not navigate the Music app menus on the iPhone/iPod with the remote. That means if you're across the room and want to switch to a different artist, you'll have to get up and make the change on the device itself.
The PURE Contour has more up its sleeve than just an iPhone/iPod dock though…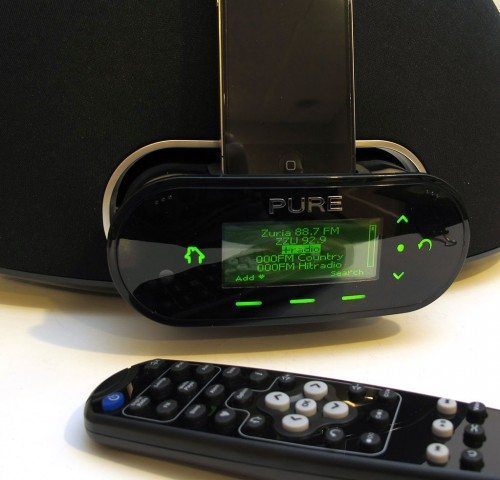 It also makes an above average streaming internet radio. You can navigate through lists of stations using the built in LCD or you can link the Contour to The Lounge website.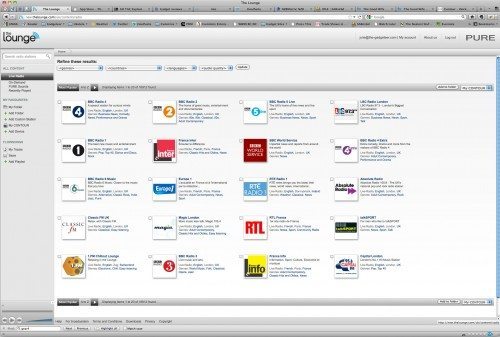 The website makes it easy to find your favorite type of content by search genres. When you find something you like, you can mark them as favorites and then they will show up in a folder on the device for easy playback. You can even add custom stations. I was also happy to see lists of podcasts too.
Streaming these stations works well. Once in awhile the playback will pause for buffering or a channel will stop playing for awhile for some unknown reason, but for the most part, I can play music for hours and not notice any problems even when I'm surfing via another computer.
The Contour will also play music streamed from your computer after you install the free media server software. It took me a little while to find the software on The Lounge site and set it up, but once I did, I was able to navigate my iTunes folders on my iMac via the Contour's LCD. This feature makes it really nice to be able to listen any music in your library in any room of your house without having to connect a computer to the system.
Other features that the Contour offers is an FM radio with RDS (shows the titles of songs on the LCD), a sleep timer, ambient sounds like waves, rain / thunder, etc. If you buy the optional cable, you can also connect the Contour to your TV and view video through a connected iPhone or iPod. I didn't test this feature.
The PURE Contour is a little pricey at $329.00, but it does offer quality sound and quite a few features at that price point. I like it a lot and have no hesitations recommending it, if price isn't an issue.
Product Information
Price:
$329.00
Manufacturer:
PURE
Retailer:
Amazon
Requirements:

Dock supports iPod mini, iPod with colour display, iPod 4th generation, iPod nano, iPod nano 2nd generation, iPod nano 3rd generation with video, iPod nano 4th generation, iPod classic, iPod touch and iPod touch 2nd generation, iPhone, iPhone 3G, iPhone 3GS, iPhone 4. Supports iPod shuffle, iPod shuffle 2nd generation and iPod 1st, 2nd and 3rd generation via auxiliary input.

Pros:

Good sound
Lots of audio options: iPod, Internet and network

Cons:

Touch buttons for volumes are erratic
Knit material over speaker show's lint and dust
Remote does not allow iPhone/iPod menu navigation