We use affiliate links. If you buy something through the links on this page, we may earn a commission at no cost to you. Learn more.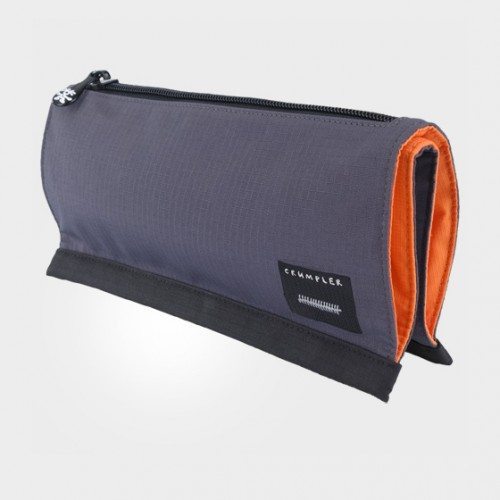 Whenever we go away on holidays, as "Head Gadgeteer" in the house I"m responsible for making sure we have all the cords,cables  and power adapters required for the trip.  Now call me anxious or paranoid or OCDish but I don't like putting these things in check in luggage in case the Airline loses my bag.  I mean if they lose my shirts or undies or toiletries, you can always buy more but where in heck am I going to find a 2A USB charger for my Galaxy Tab or a Panasonic DE-A49 charger for my Pana G2 at short notice ?
My standard travel bag and carry on is my LE Waxed Canvas Timbuk2 Medium Messenger.  Now this bag has heaps and heaps of pockets and pouches ( I count 20 ), but I don't want to have to spread my gear amongst them and then have to find them. And when I get to my destination I don't want to have to pull them all out of their various pockets just to reload them when I leave.  I want them all in one place.
Will this Crumpler fit all and sundry ?
Yes, I could just use a plastic zip seal bag a toiletry bag or similar , but that's not that elegant is it ?  So after a bit of alkehol and a bout of insomnia I ended up ordering a Crumpler All and Sundry ( we all know that alkehol and online shopping/ebay really don't mix 🙂 ).
Made out of 300D Rip Stop means that it'll be  tough, waterproof and should  protect pretty everything pretty well ( though waterproofness isn't really an issue since it'll normally be living inside another bag ).  Dimensions are 30/11.8 X 14/5.5 X 5/1.95 mm/in so quite a versatile size.  Construction is good, all stitching is well done and rather than a "standard" zip, it has one of Crumplers chunky plastic zippers.
So what's the concept behind the All and Sundry? Rather than a big square or rectangular box shape, the bag is more flattish with a zipper in the middle.On the back there's four press studs, that allow you to clip it together so it doesn't spread apart by itself and using it this way it creates legs which allows it to stand up by itself.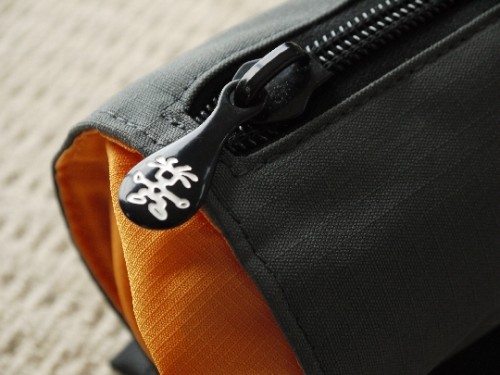 You can use it as a standard flat  carry bag or you can fold it in half.   This gives you two halves that you can "sort" your cables into, with each side color coded so you can categorize your storage.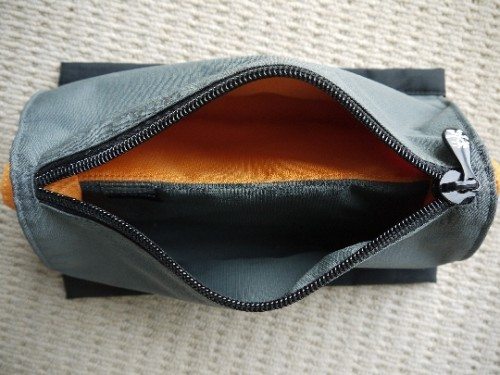 Here's a list of the stuff I took with me for a three week trip around Vietnam:
Toshiba R700 AC Adapter
Panasonic G2 Charger
Panasonic TS1 (FT1 ) Charger
AC Cable for above Pana Chargers
Australian Double Adapter
Universal Power Adapter
Samsung 2A USB AC Adapter
Samsung Galaxy Tab Cable
Micro USB Cable ( 2 X Desire, 2 X Kindle )
Mini USB Cable ( Iriver MP3 )
Apple Ipod Cable ( 2 x iPod, 1 x iPhone )
So here's  all the stuff  on top of the All and Sundry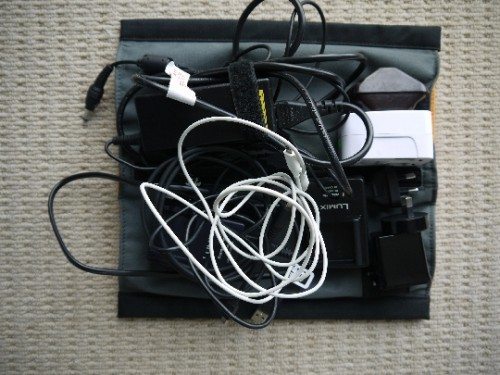 Loaded up with all the gear ( AC adapter/chargers ones side, cable/converters on the other)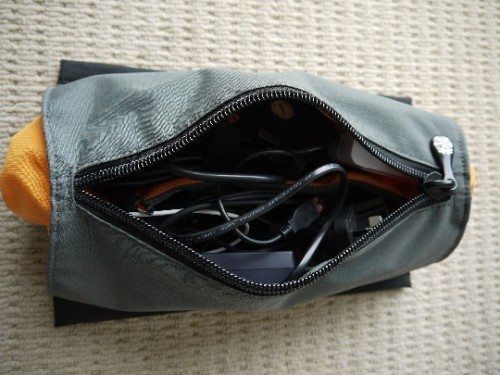 In it's folded state, it is quite big and fat, but low.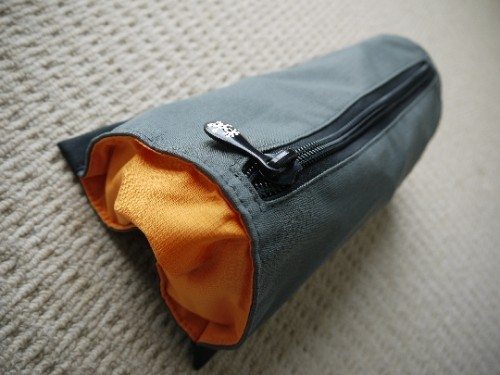 As a flat compartment though, it's very  low and flat.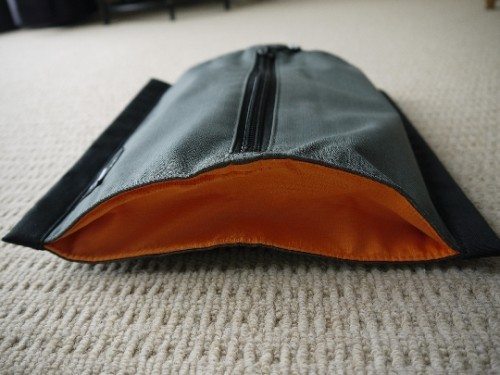 So for storage in my carry-on I can either use it in it's folded state and stack stuff on top of it.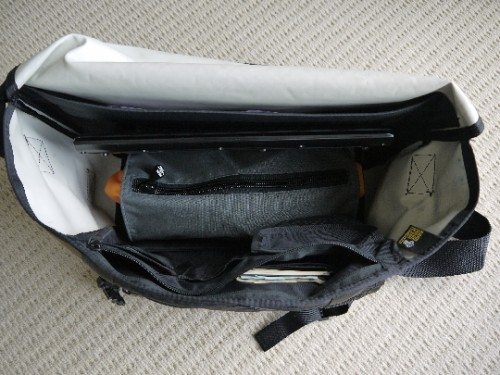 Or use it as a flat compartment and use it to back to back with my notebook ( normally my notebook lives in a neoprene sleeve when on the move but this is a quick photo to show the concept ).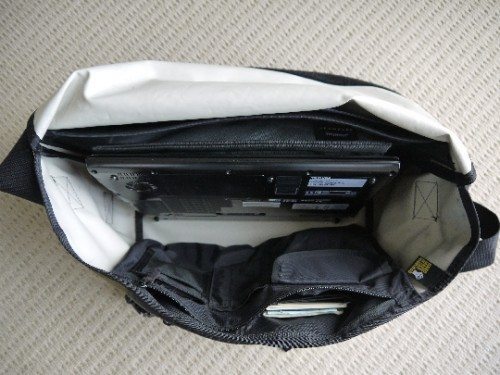 All in all, it does a pretty good job.  I ended up with one bag that fitted all my peripherals in it nicely. I was quite surprise how much I could fit in it, especially when folded.  It kept everything neat in my travel bag  and was easy to just pull out and leave in hotel cupboard.  When the family wanted a cable I'd just point them in the direction of the "cable bag" ( of course if only I could find a way to make them put things back in and zip it back up ). When travelling I used it as a flat bag, it just left more usable and versatile space in the bag for packing all my other carry-on equipment around compared to when it was folded.
I'm currently using it as my everyday work cable management bag and with less in it it's actually better in it's folded state.  It's two "states" give it a little bit of versatility you don't get with a normal bag. The two ways to use this bag give you a couple of options for packing and give it bit of a unique concept.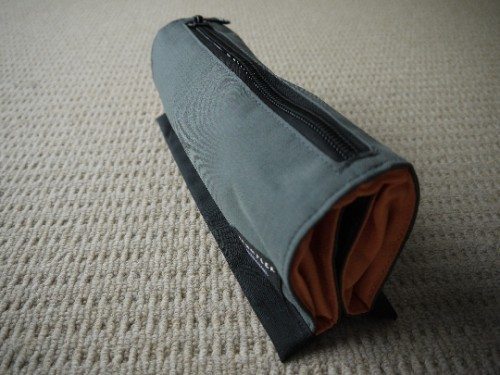 An improvement I'd like to see would be to  stitch in some  elastic holders or pockets inside on  each side . Then you could hold some of your cables separately in each loop/pocket rather than have them all mixed up together. When folded in half it does a great job of separating out the cables( at least into two "categories" ) but if you used it flat and put it vertically into your bag, gravity ensures that you'd have a great mix of cables but that's no different from using any other single compartment cable bag. Some elastic holders/pockets  would go some way to remedy this.
All in all a good solution to my cable and peripheral carrying problem.
Product Information
Price:
$30.00
Manufacturer:
Crumpler
Pros:

Tough as nails 300D
Water resistant
Versatile
Crumpler quality

Cons:

Bit expensive for what it is
When you use it as a flat pack vertically all the cables get mixed together.