We use affiliate links. If you buy something through the links on this page, we may earn a commission at no cost to you. Learn more.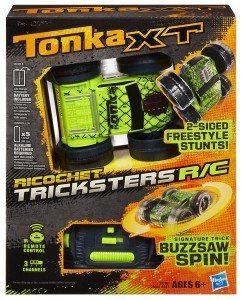 The holidays are getting ready to hit again–somehow it seems like I just finished paying off the bills from this past holiday season.  Luckily Hasbro has a new toy out that is very cool and doesn't put a strain on my thinning wallet–the Tonka XT Ricochet Trickster.
Last season's R/C "it" toy seemed to be those copters–complete with warning labels about fragility and replacement blades.  When I see a name like "Tonka", the first thing I think of is the classic sturdy Tonka truck.  That classic look and feel has been miniaturized in these Tricksters.  Kids can take control of their Trick car, perform three pre-programmed stunts including Rampage Flip," the "Buzzsaw Spin," and the "Zig-Zag Jolt".  The cars are all two-sided, meaning they can flip off obstacles, fly off ramps, and even spin from one side to the other in typical tough-Tonka fashion.
The remote requires 5 AA batteries and includes a cable to charge the car directly from the remote.  A 20-30 minute charge provides 15-30 minutes of run time.
Tonka XT Ricochet Trickster is intended for kids 6 and up and is available through Target for about $24.99.