The Gadgeteer is supported by readers like you! If you buy something through links on our site, we may earn an affiliate commission at no cost to you. Thank you! Learn more.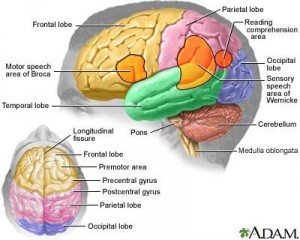 Almost two months ago, a close family member suffered a devastating stroke. It was a Sunday night, and he and his wife were planning to watch The Amazing Race – or whatever reality show is on that night. (To protect their privacy, I'm going to call them George and Gracie.) George was the type of guy who was always busy, always working on something. He seemed to be in great health, other than an injured shoulder, and he hadn't complained about not feeling well that day. Gracie had gone to take a shower before the show started. When she came out, she saw George slumped over on the bed, and it seemed he had vomited. She was worried he was sick, but she thought he was being overly dramatic about it. She quickly realized it was far more than an upset stomach and called 911. George was transported to the local hospital, then immediately transferred to the huge regional hospital with better facilities for treating stroke patients.
I don't know nor understand all the specifics of the stroke. George wasn't even 50 at the time of the stroke. It was determined that nothing he did caused the stroke nor could have prevented it, because he was diagnosed with a very rare condition called Moyamoya that caused his carotids to become completely blocked. George's stroke was in his right hemisphere, and there was evidence of 4 or 5 previous strokes that no one was aware of until then. He was completely paralyzed on his left side. The left side of his throat was also paralyzed, making speech very difficult. He also couldn't swallow, so he couldn't eat or drink anything. It was obvious in the first few days of his recovery that his intelligence was completely intact. He could write out notes that asked intelligent questions or made snarky little jokes – just like he always did. It was obvious George was still "in there", but he was "trapped" by his body that just couldn't respond the way it used to.
George was at the regional hospital for about five days for medical treatment, then he was transferred to one of their intensive rehab facilities. My family and I have visited with George and Gracie at least once a week since the day after the stroke. Each time we saw him, George had made progress. He was working hard in physical, occupational, and speech therapy. Gracie, who stayed with him every day and night while he was hospitalized and in rehab, said he'd work hard for the therapist but didn't like to do his exercises on his own. Who could blame him, because a lot of the things I saw him doing looked boring. But therapy lasted only a short while each day, and progress was going to require him working on his own.
I care about George and Gracie, and I wanted to help them in anyway I could. We live about 1.5 hours away from them, so I couldn't just pop over and help out every day. We aren't rich, so I couldn't finance 24-hour in-home care for him. Then I started thinking about how the iPad has impacted the lives of disabled people and wondered if anyone had used it in stroke recovery. I found several news stories about how Florida Hospital Oceanside had been successfully using iPads with an aphasic stroke patient. Unfortunately, that application allowed the patient to touch an icon and a synthesized voice would communicate simple messages. That's not what George needed, so I started searching the internet and the Apple App Store for more ideas.
I found another story on MSNBC about two Australian neuroscientists, Stuart Smith and Penelope McNulty of Neuroscience Research Australia, who had been using iPad, Kinect, and Wii games to make physical exercises less boring for stroke patients. Smith found that Fruit Ninja on the iPad was especially useful for improving fine motor control in patients. Searching the App Store turned up several applications that were developed for aphasic patients so they could tap an icon to have a voice speak for them. Best of all, I found an app that had videos demonstrating all the mouth and tongue exercises that would help improve George's throat paralysis, swallowing (so he could have his beloved coffee again!), and speech.
Unfortunately, George and Gracie didn't already own an iPad and now wasn't a good time for them to make such an expensive purchase. Butch and I talked about it, and we decided we'd buy an iPad for them as our best way of helping them.
We got an iPad 2 at the local Apple store. I didn't want to initialize the iPad on my iTunes account; it needed to be associated with Gracie's existing iTunes account so they could get updates for the apps I planned to add and to add new apps later. We had the Apple associate initialize the iPad for us. I was able to set it up completely without ever connecting it to a computer – at least not until I had access to Gracie's computer. And by the way, when I did connect it to Gracie's computer, it connected and synced with no problems. All the apps I had purchased on the iPad 2 were transferred to the computer without a hitch.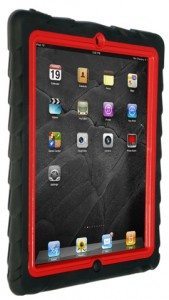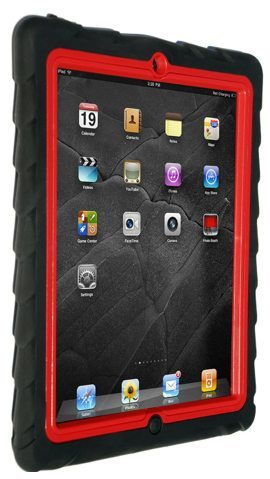 George had made a great deal of progress, but he was still physically recovering, so I thought a sturdy case to protect the iPad from spills and drops was necessary. I searched around on Amazon and found the GumDrop Drop Tech Series Case for iPad 2. I liked this case because it completely covered the iPad 2. The buttons were encased but easily usable, and all the ports had attached covers over them. There was even a replaceable screen cover. Only the camera lens was left uncovered by this case. The case has a deep "tire tread" pattern that improves your hold, and it's thick and padded enough that it should protect against shock and bumps. This case is heavy, but I like it a lot. I used it for a couple of days on the new iPad as I was loading it up with the apps. The case does add weight and size to the iPad, but it's not uncomfortable to hold.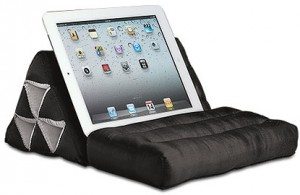 Because of his paralyzed left arm, I realized that George would need to use the iPad while it was in a stand. The GumDrop case is so thick, I didn't have a stand that would work well with it. I remembered that I had a ThaiPad from Levenger. This padded pyramid-shaped pillow supports books, tablets, and ebook readers. I thought it would work well for George, because it would be soft enough that he could put it on his lap or even on his chest as he lay in bed. I tried it with the GumDrop-encased iPad and found it worked well.
Gracie trusted me enough to tell me her iTunes password, so I bought an iTunes card for her account and got busy loading up apps directly onto the iPad 2 from the iTunes app store. Of course, I added Fruit Ninja HD. I also added Angry Birds HD; I thought it might be a fun way to work on fine motor control and reasoning skills, too. I thought CHALK_BOARD, a simple drawing program, would be handy for George to write a note if no paper was near, and they could always play simple paper-based games like Hangman or Tic-tac-toe. I added Montessori Crosswords, a spelling game for children, because it reminded me of a letter arranging activity the therapist had George doing. Hopefully these games would prove more interesting than actually pushing letter tiles around on a tabletop, and George would be able to work on his fine motor control without being bored.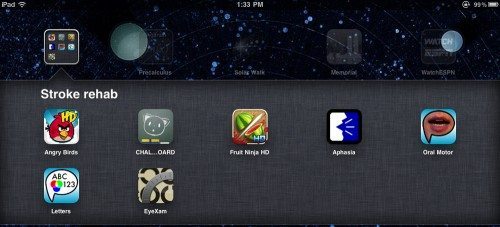 I was most excited about a series of Lingraphica apps from The Aphasia Company. The SmallTalk Aphasia – Male app has a simple vocabulary of phrases, spoken in a normal male voice – useful when George needed something but couldn't make himself understood. (It's also available with a female voice.) SmallTalk Letters, Numbers, Colors has a series of videos showing the mouth and tongue movements needed to say the 26 letters of the English alphabet, colors, and numbers 1-20. You are shown a tile with the letter, number, or color displayed; tap it to see a video of a woman slowly pronouncing the word. The SmallTalk Oral Motor Exercises app has 53 videos demonstrating cheek, tongue, palate, lip, and jaw exercises designed to strengthen oral musculature. All these SmallTalk apps are iPhone apps, meaning they run in the small window on the iPad. However, the videos are easy to see in the small window and remain clear enough to easily use even when screen-doubled.
We gave the iPad to George and Gracie at the end of August, about 1 month after his stroke. At that point, George had made quite a bit of progress, but he still wasn't allowed any food or drink by mouth because of his throat paralysis. His speech was still difficult to understand, and you could see the effort he had to put into talking.
I spent some time showing George how to use his apps on the iPad, and he immediately started trying the oral exercises. Gracie was excited to see that application; she said the exercises demonstrated in the app were exactly like the ones used by the speech therapist. They had been given a printed list of these exercises, but it was hard for George to remember how to do all of them. After a while, Gracie and I started going over these and other apps, and I was giving her a general lesson on how to use and maintain the iPad 2. George, who often seemed to quickly lose interest in things when we had visited previously, actually tried to get himself out of his wheelchair and onto the bed so he could see what we were doing. I'm sure he wanted to see what we were doing with the iPad, because he picked up his ThaiPad stand before he started trying to get on the bed.
In the following week, Gracie said that George loved using the iPad and was working much harder at his oral exercises. By the end of the week, he passed his swallowing test and was allowed to have food by mouth for the first time since August 7th. I'm not saying that one week of the iPad improved him so much that he passed the test, but I am saying that he didn't balk so much at doing his oral exercises. Gracie said they took the iPad to one of his speech therapy appointments and showed his therapist the apps. Gracie said the therapist liked the apps and said they were exactly the exercises George needed to do.
They've had the iPad about a month now. George was released to go home early in September, and he's continuing physical, occupational, and speech therapies at home. He's continuing to use the iPad to do his oral exercises. He also plays his games, and he's started to go check the scores at ESPN and use the Rush Time Machine app (the Canadian rock group) that I put on there because he loves Rush music more than anything. Gracie feels all his time on the iPad would be better spent doing his therapy apps, but I think he's using his mind and his motor control to do these other activities. Movement and control has started to return to his left hand and arm, and his speech is improving daily. Turns out Gracie loves the iPad 2, also. I think they both get some exercise racing to grab the iPad before the other person can get it. 😉
As a note, I only had a short time to show Gracie how to use the iPad in general and how to do general maintenance functions. The next weekend, I asked her if she wanted me to show her how to do anything we had talked about or anything new she'd thought of. She looked at me like I'd lost my mind and said she didn't need any refreshers. The iPad 2 is so intuitive, she only needed a couple of minutes of instruction and she was off and running.
For his 50th birthday last week, George received a Wii Fit Board. We've heard about how the Wii helped senior citizens maintain and improve their physical abilities. Hopefully the Wii Fit works as well for stroke patients and will help George continue to improve his strength and balance as the iPad has helped with fine motor control and speech. Apple haters can scoff all they like, but I think Steve Jobs hit the nail on the head when he said the iPad is magical. At least it's helping George work some recovery magic.
Note: Brain picture is from PubMed Health. Product pictures are from their respective vendors.