We use affiliate links. If you buy something through the links on this page, we may earn a commission at no cost to you. Learn more.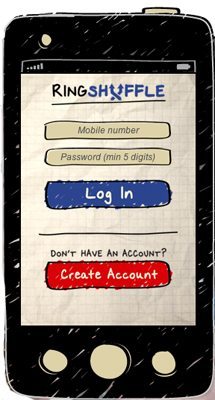 Selling something on Craigslist?  Meet somebody new but want to check them out first before making a decision?  These are situations where you might want to give someone a phone number so they can contact you, but you don't want to be stuck with them having your number forever if you change your mind.  With RingShuffle iPhone app from RingCentral, you create a temporary phone number that will redirect calls to your actual phone number.  When you no longer wish to be in contact with that person, you simply "shuffle" to a new temporary number.  These numbers expire in seven days, so you have plenty of time to make a decision about that new person you met or to unload your Craigslist item.  The RingShuffle app is free in the iTunes app store. Read the press release after the jump.
RingCentral Launches RingShuffle to Give People Instant Temporary Phone Numbers
New Service Keeps Your Mobile Number Private; Available to First 10,000 Beta Users Through iPhone App, Facebook and Web
SAN FRANCISCO, CA–(Marketwire – Sep 12, 2011) – TechCrunch Disrupt – Today, RingCentral, Inc. launched a new cloud service called "RingShuffle" that instantly provides temporary phone numbers that redirect to any mobile phone, for free. The service launches in beta today to the first 10,000 users who register through the iPhone app, Facebook or website. RingShuffle is based on a new pending patent.
It's simple — new need, new number. Whether you're selling concert tickets online, exploring the singles scene or buying a car, there are times when you want to keep your mobile number private and protected from strangers or abuse. RingShuffle instantly provides a temporary number anytime, anywhere — for free. RingShuffle numbers are good for seven days and forward calls automatically to your mobile phone — without the caller knowing. When you're done, RingShuffle makes it easy to delete this temporary number, or "shuffle" to get a new one.
RingShuffle is different from the permanent numbers that RingCentral business customers get with a cloud phone system, or the GoogleVoice consumers that want one permanent personal number. RingShuffle is tailored for people involved in short-lived transactions, both online and off. Similar to the "anonymize" feature on Craigslist.org that conceals the user's personal email address, users can now also protect their personal phone numbers.
"RingShuffle provides complete control over who has access to your personal phone number, changing how people share their personal numbers, especially online," says Naveen Gupta, RingCentral Vice President of Product. "Craigslist alone has 50 million listings per month; adding a temporary phone number that expires with the listing adds a level of convenience and privacy that users don't have today. RingShuffle showcases the power of the RingCentral cloud platform to enable real-time product innovation; RingShuffle was developed by our 'hack' team in just three weeks."
To learn more, visit iTunes App store, www.facebook.com/ringshuffle or www.ringshuffle.com
About RingCentral
RingCentral provides cloud computing-based business phone systems. With top industry honors, including PC Magazine Editor's Choice Award, Small Business Computing Excellence in Technology Award, and the 2010 World Economic Forum Technology Pioneer Award, RingCentral delivers on-demand phone systems that are designed for the modern mobile and distributed business world, at a fraction of the cost of traditional on-premise hardware systems. Headquartered in San Mateo, California, RingCentral is privately held with backing from Sequoia Capital, Khosla Ventures, Cisco, DAG Ventures, Scale Venture Partners, and Silicon Valley Bank. For more information, please visit: www.ringcentral.com