We use affiliate links. If you buy something through the links on this page, we may earn a commission at no cost to you. Learn more.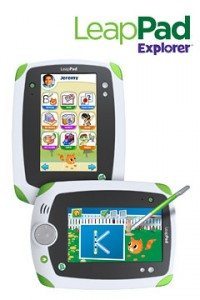 Being both a gadget geek and a dad, I am very familiar with LeapFrog's collection of gear. Their latest gadget is the LeapPad Explorer. It is a tablet designed for the 4-9 year-old set. My 4-year old loved playing with the Xoom while I had it, so I wondered what value could a kids version provide. Well, it didn't take me long to discover 500+ reasons. That would be the difference between the $99 for the LeapPad and the $599 + monthly service fees for the Xoom.
From their press release:
LeapFrog brings to the table (or the back seat) what parents seek and kids crave:
Breadth of Learning: The largest-ever learning library at launch: 100+ learning games, videos, e-Books, flash cards, and more, featuring kid's favorite characters. Compatible with the entire existing Leapster Explorer library.
Education: Curriculum covers everything from spelling, phonics skills and mathematics to creativity, science, music, geography, and more. Included stylus also lets kids practice writing.
Creativity: The first kid's tablet with built-in camera, video recorder, microphone, and animation studio allows for creative exploration that can be shared with family and friends.
Personalization: Automatically adjusts the learning across experiences so kids can learn at their own pace.
Engagement: Tilt-sensor for game control and 5″ brilliant color, finger-touch screen create an interactive experience that puts kids in the middle of the action.
Durability: Though sleek and thin, LeapPad Explorer can withstand roughhousing and is designed for little hands.
The specs include:
5″ 480 x 272 display
400 MHz processor
Uses 4 AA batteries
2 GB of memory
Built-in camera
Built-in Microphone
You will be able to download applications for $5.00 and up, and it will also take game cartridges with an MSRP of $24.99. There is a part of me that says my son is worth a $500+ tablet (and he is), but a bigger part of me likes the idea of him using a $99 tablet that is probably more durable.