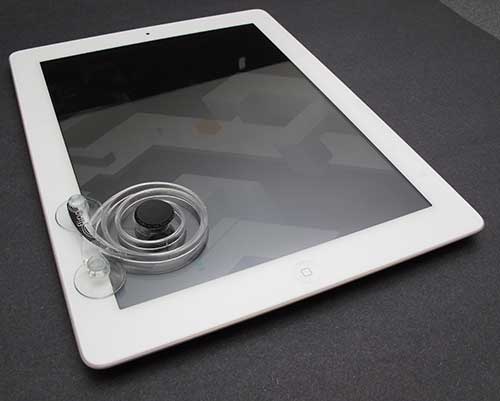 Gaming on the iPad is a big deal. There are probably more game apps than utility apps in the app store. That means that gadgets that aid in game play should be really popular too right? Well guess what? There aren't many of them – yet. While we wait for wireless joysticks, we have to settle for stick on analog sticks like the Fling from Ten One Design.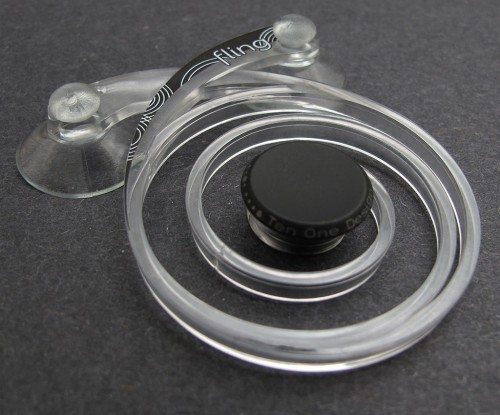 The Fling is made of flexible engineering grade resin, with a machined aluminum joystick in the center and two small suction cups.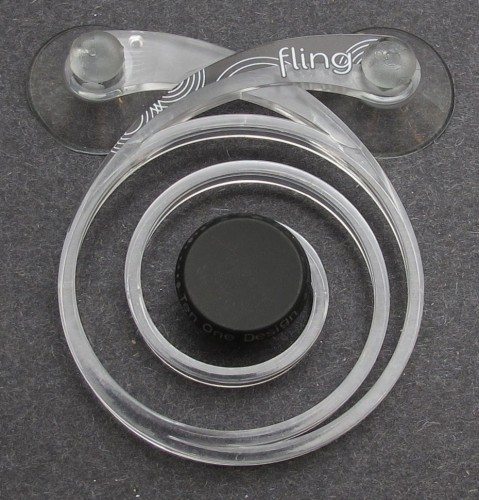 The picture above shows the unique design of the Fling. The joystick in the center is connected by a swirl of clear resin. It might look fragile, but it seems to be pretty robust. I haven't broken it yet 🙂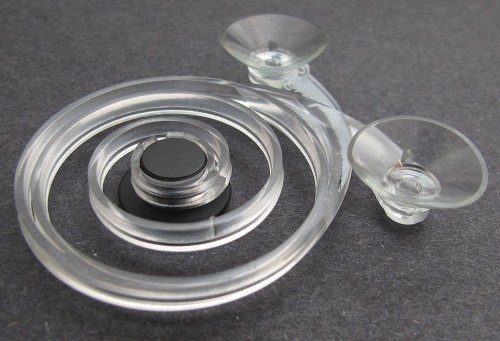 The joystick is made of aluminum, that touches the capacitive touch screen of the iPad just like your finger would do. As long as your display and the Fling are clean, there should be no worries of scratches to your display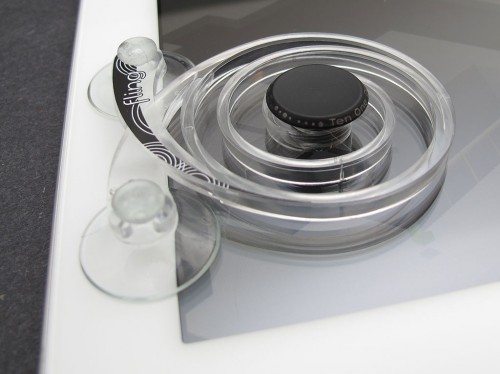 To use the Fling, you first need to make sure the iPad's display and suction cups are clean. If they have any grease on them, the Fling will tend to slide around on the display while you're using it to play your games.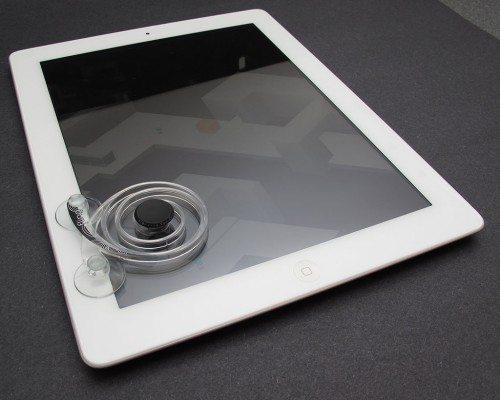 This joystick will only work with games that feature a virtual onscreen controller. Games like I tested the Fling with Edge from Mobigame and Ms. Pac-man from Namco. You can see a list of several compatible games on the FAQ page of Ten One Design's site. It would be great if there were a way to get a larger list of compatible games.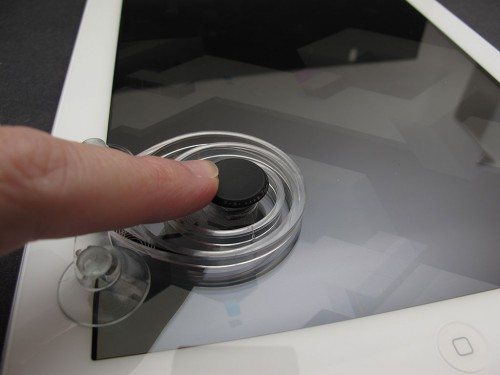 As you move the joystick in the center of the Fling, it actually touches the virtual onscreen controller below it, to move your character. The picture above shows my index finger moving the joystick, but you really use your thumb during game play. The plastic swirl attached to the joystick wants to always return to the center. It gives just the right amount of resistance to aid game play.
Right now, the Fling's only competitor is the JOYSTICK-IT from ThinkGeek. I have to say that after comparing both of them, the Fling feels more natural to me. It definitely makes some games more fun and easier to play. Until we have Bluetooth or other 'real' gaming controllers, the Fling is my fave analog solution for iPad gaming.
Support The Gadgeteer
:
We may earn a small affiliate commission from purchases made from buying through links on our site. As an Amazon Associate I earn from qualifying purchases. Learn more.
Product Information
Price:
$19.95
Manufacturer:
Ten One Design
Pros:

Adds real joystick feel to your iPad
Easy to use

Cons:

Can slide around on screen if the screen or suction cups aren't super clean
Only works with games that feature a virtual on screen controller