We use affiliate links. If you buy something through the links on this page, we may earn a commission at no cost to you. Learn more.

[I'm going to share one of my favorite Android apps every week or so. I'm not trying to claim that these are always the best app in its category, but they will be apps I like to use.]
One reason I carry a Smart phone is to be able to capture quick notes effectively. The thing is the form of the note- sometimes, it is best to do it as a voice note, sometimes as a text note, sometimes as a quick scribble. While there are apps for each of these, SoftXPerience's Note Everything brings it all together in one tool that can be displayed as a quickly accessed widget for Androids.
Note Everything is available for free version or in a 'pro' version (est. $4.32) that adds-
Photonotes
Checklists
Durable checklists
Gallerynotes
Reminders
Encryption (password protection)
Stick notes to statusbar
Full backup to sd-card
The widget (shown above) can be set for 2×1, 3×1, or 4×1, which basically changes how many quick access buttons it shows- just text; text and voice; or text, voice, and sketch. The notes can be shared in several ways- to Google Docs, the calendar, or to another device via a bar code they can scan, although not all kinds of notes can be shared equally.
With the 4×1 widget set, I can open a note format with a quick tap or tap the icon and get the list of saved notes. I work as a service tech and as I roam the facility I get a lot of people telling me about service needs. With an app like this, I can pop it open and save the note almost instantly. My preferred format is usually a scribbled sketch- a habit leftover from the 'Notepad' app in Palm PDAs.
With the Pro version, I can even set a reminder to go off when I am back in the shop or make an icon show in the status bar, making it even harder to forget the note. Tap the bar, select the note, and it opens right up! The 'share to calendar' feature makes it a snap to set up quick meetings- make the note now, set the meeting a little later. Its not quite smart enough to recognize phone numbers or dates, but it can capture bits of text to use elsewhere.
The interface is pleasant and user-friendly, and most commands are easy to find and understand. It is also just one of those apps that 'feels right' to me when I use it. 2.99 euros (about $4.32 US) is a bit steep for a note app, but I have not regretted getting it.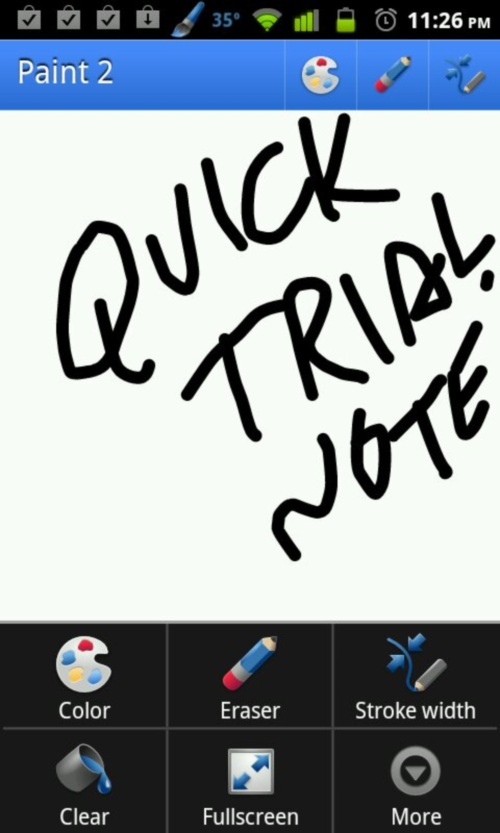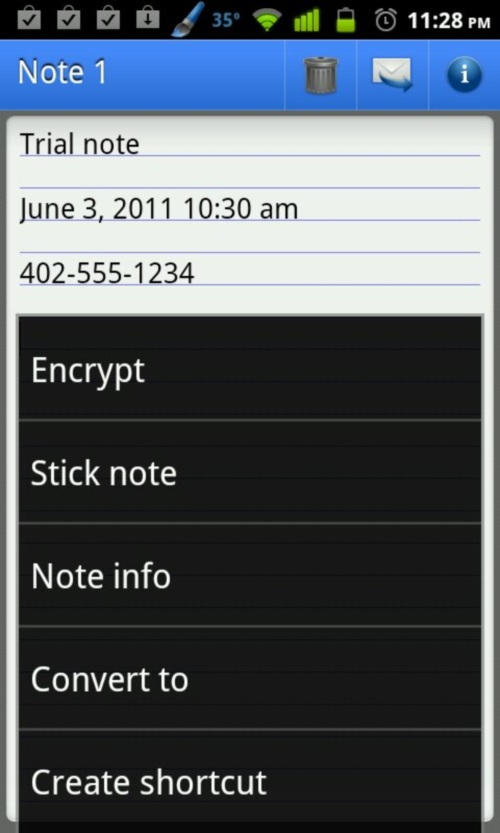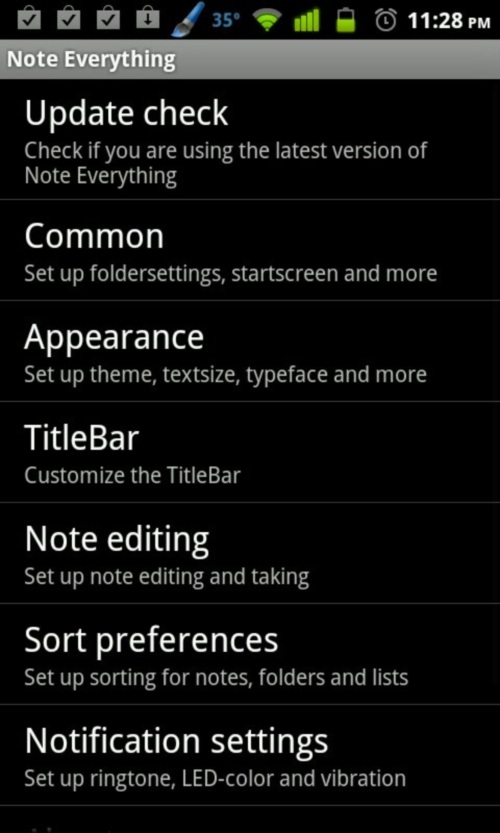 Product Information
Price:
Free, or $4.2 for 'Pro' version
Manufacturer:
SoftXPerience
Retailer:
Android Market
Requirements:
Pros:

Notes everything
Easy to use

Cons: