We use affiliate links. If you buy something through the links on this page, we may earn a commission at no cost to you. Learn more.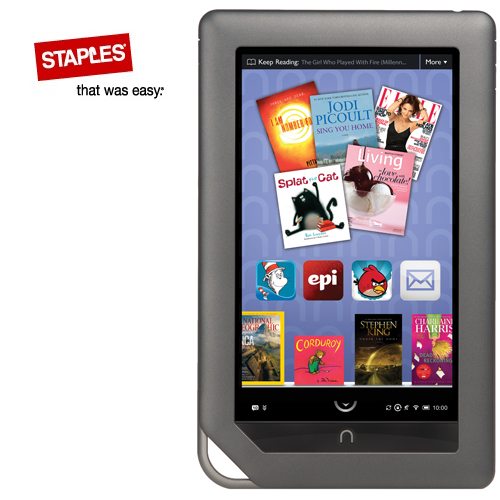 Staples, the office supply chain, has announced they will start selling the Barnes and Noble Nookcolor Android-based ebook reader.  Starting May 1, the Nookcolor will be available in Staples stores and online for $249 – "the best value for any tablet on the market."  Of course, this Nookcolor will have access to the millions of books, magazines, and newspapers in the Nook ebookstore.   Read Julie's review of the Nookcolor, then read the entire press release after the jump.
Staples Announces Plans to Sell NOOK Color™, Barnes & Noble's Award-Winning Reader's Tablet, in Stores and On-line Starting May 1
Highly Acclaimed Product Makes its Staples Debut Just in Time for Moms, Dads and Grads Gift-Giving Season
FRAMINGHAM, Mass.–(BUSINESS WIRE)–Staples, Inc. (NASDAQ: SPLS) and Barnes & Noble, Inc. (NYSE: BKS) today announced that Staples will be selling the NOOK Color™, the first full-color touch Reader's Tablet by Barnes & Noble, just in time for the Mother's Day, Graduation and Father's Day gift-giving season. The perfect gift for people who love to read everything, NOOK Color delivers digital books, magazines, newspapers, children's books and more in immersive, rich color, all in one beautiful, thin and highly portable device. Staples, the only office superstore to carry NOOK Color, will carry the award-winning device in all of its stores nationwide and at Staples.com for $249, beginning May 1.
"We are thrilled to partner with Staples to offer our award-winning NOOK Color Reader's Tablet, at only $249, the best value of any tablet on the market"
"Staples is excited to bring this amazing product with its enhanced applications to our stores this Spring, which is just in time to celebrate Mother's Day and Father's Day with a gift of the newest technology," said Mark Mettler, senior vice president for consumer technology at Staples. "We invite Staples customers to experience a live demonstration of the NOOK's many features in all our U.S. locations and also enjoy the convenience of free shipping when ordering on Staples.com."
NOOK Color features a stunning 7-inch VividView™ Color Touchscreen which brings content to life. NOOK Color customers can shop the vast and growing collection of more than 2 million digital books, more than 140 interactive, full-color magazines and major newspapers and more in the NOOK Bookstore. NOOK Color customers can also easily share books, recommendations, excerpts, reading status and more with friends through leading social networking sites and email. And the highly acclaimed Reader's Tablet keeps getting better. Following a major, free update to the NOOK Color firmware this Spring, customers will be able to discover and enjoy an amazing array of popular apps for NOOK Color, along with full-featured email and other highly requested features.
"We are thrilled to partner with Staples to offer our award-winning NOOK Color Reader's Tablet, at only $249, the best value of any tablet on the market," said Chris Peifer, vice president, digital business development at Barnes & Noble. "NOOK Color is the perfect sleek, sophisticated and reading-centric tablet device for the mom, dad or grad who loves to read everything, surf the Web and listen to music."
NOOK Color is the latest addition in a wide selection of new technology products at Staples. From e-readers to the newest tablets, the shopping experience at Staples extends far beyond office supplies and into a full suite of technology products and services. Staples certified EasyTech associates are highly trained, and able to assist customers in selecting the best technology solutions for their needs.
About Staples:
Staples is the world's largest office products company and a trusted source for office solutions. The company provides products, services and expertise in office supplies, copy & print, technology, facilities and breakroom, and furniture. Staples invented the office superstore concept in 1986 and now has annual sales of $25 billion, ranking second in the world in eCommerce sales. With 90,000 associates worldwide, Staples operates in 26 countries throughout North and South America, Europe, Asia and Australia, making it easy for businesses of all sizes, and consumers. The company is headquartered outside Boston. More information about Staples (Nasdaq: SPLS) is available at www.staples.com/media.
Follow Staples on Twitter at http://www.twitter.com/staplestweets and on Facebook at http://www.facebook.com/staples.
ABOUT BARNES & NOBLE, INC.
Barnes & Noble, Inc. (NYSE:BKS), the world's largest bookseller and a Fortune 500 company, operates 705 bookstores in 50 states. Barnes & Noble College Booksellers, LLC, a wholly-owned subsidiary of Barnes & Noble, also operates 636 college bookstores serving nearly 4 million students and faculty members at colleges and universities across the United States. Barnes & Noble conducts its online business through Barnes & Noble.com (www.bn.com), one of the Web's largest e-commerce sites, which also features more than two million titles in its NOOK Bookstore™ (www.bn.com/ebooks). Through Barnes & Noble's NOOK™ eReading product offering, customers can buy and read eBooks on the widest range of platforms, including NOOK eBook Readers, devices from partner companies, and hundreds of the most popular mobile and computing devices using free NOOK software.
General information on Barnes & Noble, Inc. can be obtained via the Internet by visiting the company's corporate website: www.barnesandnobleinc.com.
NOOK™, NOOK Color™, NOOK Books™, and VividView™ are trademarks of Barnes & Noble, Inc.
Follow Barnes & Noble on Twitter (www.bn.com/twitter), Facebook (http://www.facebook.com/barnesandnoble) and YouTube (http://www.youtube.com/user/bnstudio).