We use affiliate links. If you buy something through the links on this page, we may earn a commission at no cost to you. Learn more.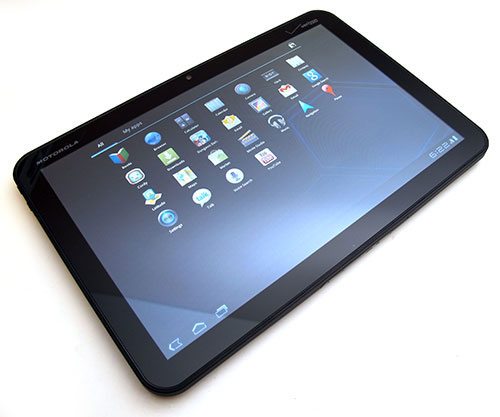 Last fall I dumped my iPhone 4 for a Droid X on Verizon. When a Motorola XOOM tablet showed up on my door step yesterday, I wondered if I'd be dumping yet another iOS device in favor one running Android.  It's a very sexy device and Honeycomb (Android 3.0) really appeals to my sweet tooth. I'll have a full review by Monday, but until then, I thought I'd give you a little teaser.
I only get to keep the XOOM till Monday, when I have to ship it back to Verizon. That doesn't give me a whole lot of time to put it through its paces, but I'm going to try my best.
You all know I'll be comparing the Motorola XOOM to the iPad… that's a no brainer for sure.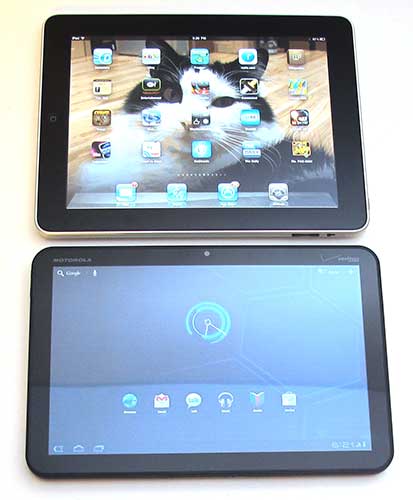 Here we can see the iPad and XOOM to compare their size.  The angle of this image doesn't show that the XOOM is a little narrower than the iPad. The iPad is 9.56 x 7.47 x0.5 inches, while the XOOM is 9.80 x 6.61 x 0.51 inches. According to the specs there isn't a huge difference in size. I think the XOOM's thinner bezel tricks your eyes into thinking it is a lot smaller than it really is. As far as weight, the iPad weighs 25.6 ounces and the XOOM weighs 25.7 ounces. But to me, the XOOM feels noticeably heavier in hand. That said, I got those weight specs from the web, so maybe they are wrong. I'll definitely compare the weight on my own digital scale for the full review.
Besides the physical attributes, the XOOM has a lot of things going for it if you're trying to decide between it and an iPad. The XOOM's 10.1-inch widescreen HD (1280×800) display is larger and has more resolution than the iPad's 9.7-inch (1024×768) display. The XOOM also has a built in 5MP camera on the back in addition to 2MP camera on the front for video chat. You can also expand the XOOM with a microSD card. The iPad has none of those features at this time.
Do I sound like I'm already in love with the XOOM? I won't deny it, but right now I think it's just a crush because I've not really had enough quality time with it yet.
Since I won't have a lot of time with this device, please let me know if you have any specific questions that you would like me to answer or any thing you would like me to test for the review.