We use affiliate links. If you buy something through the links on this page, we may earn a commission at no cost to you. Learn more.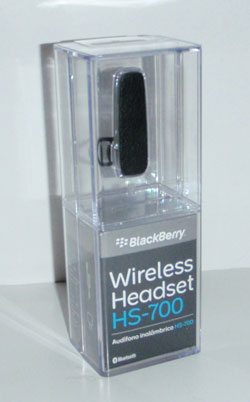 Over the years, I have tried/reviewed many bluetooth headsets designed to free you from the hassle of having to hold your cellphone to your ear. Since they first came on the market, bluetooth headset technology, capabilities, and reliability have come a very long way.
BlackBerry has recently introduced three new bluetooth headsets and a visor mounted handsfree car kit. The BlackBerry Wireless Headset HS-700 is RIM's high-end, feature-rich headset chalked full of capabilities. Being a longtime BlackBerry user, I quickly raised my hand to review the HS-700 and truly test its ability to work with my BlackBerry.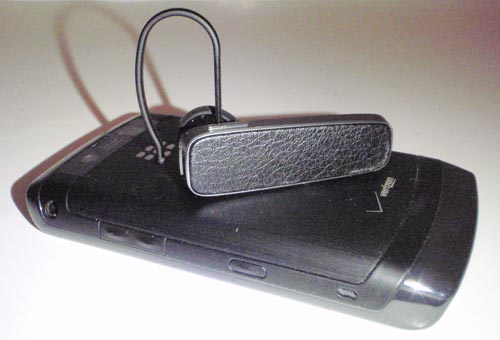 The HS-700 design looks just like a Blackberry device; black leather with a silver bezel. Personally, I like the look and feel of the HS-700. It is not the most high-tech looking bluetooth headset out there, but its simple, clean look is very nice and would definitely do well while wearing jeans to a suit and everything in between.
The HS-700 quickly and easily paired with my BlackBerry Storm 2.

Package Contents:
HS-700 bluetooth headset
MicroUSB cable
Wall charger
1 regular, 3 stabilizing & 1 cushioned ear gels
2 ear hooks
User guide
Bluetooth:
Bluetooth 2.1 (for simplified pairing)
Bluetooth HFP and A2DP Bluetooth profile
Range: 10m/33 feet
Power:
Dedicated on/off switch
200 hours standby time
4.5 hours talk time
Voice Commands:
Status info and call tasks:

Options
Battery
Redial
Call last
Call <phone number>
Call <contact name>
Answer
Ignore
Mute
Unmute
Music tasks:

Play
Next track
Previous track
Pause
Stop
Volume up
Volume down
Other features:
Caller name announcement
Audible voice prompts
Advanced noise-cancellation technology
Audio streaming

Unlike many other bluetooth earbuds, the HS-700 has a positive motion (vs pressing and holding a button) for turning the headset on. To turn it on, you twist the earpiece 90 degrees. At that point, the headset welcomes you and lets you know the earbud is connected to your BlackBerry and ready for use.
The HS-700 has a very simplistic in design; it does not have volume or power buttons. There is only a single button visible. This is used to issue voice commands. When you wish to give a voice command you push the button and say the command or as a call comes in you simply say 'answer' or 'ignore'. The fact that you control the volume via your BlackBerry is not an issue for me but might be for some. The HS-700 automatically adjusts the volume of your call based on the noise level of your ambient environment.
Comfort and fit:

If you prefer more stability than just the cushioned or stabilizing ear gels provide, an ear hook can be attached to the HS-700.

Along with the ear hooks, BlackBerry includes various different sized silicone ear pieces for you to get the best fit of the bluetooth device in your ear.

With so many options and combinations, nearly everyone should be able to find a comfortable fit. I like the placement that just the stabilizing gel bud gave me. But it felt as though the earbud was going to fall out a majority of the time.

I preferred a stabilizing gel bud plus the ear hook. It felt much more secure and would not fall out if I had to sprint for my bus. Although, it did have a tendency to flop around (outward) a little while moving.
Call Experience:
The call quality on the HS-700 was excellent. The speaker provided a loud and clear in coming portion of the call experience. Like most modern day, upper end headset, the noise canceling technology was very good. Those that I talked with said they were able to hear me loud and clear.
Noteworthy Features:
There were several features/capabilities that made me appreciate the HS-700 more than some of the other bluetooth earpieces I use.
Music Playability: I love fact the HS-700 can stream music from my BlackBerry. While the earpiece is only in one ear, it does a good job of simulating stereo sound. All things considered, the sound quality is somewhere between good and excellent depending on where and how far away my BlackBerry is.
Voice Commands: The HS-700 has a very large number of possible voice commands, enabling you to control a good deal of your BlackBerry's functions without having to access the device. Funny story…..I was listening to music and testing out the music control commands while cleaning the kitchen one day. The Gadgeteer Kid was walking by as I firmly said 'Stop' and he froze in his tracks, thinking he was busted for something :).
Verbal Feedback: I like how the HS-700 gives you so much feedback on its status and what is going on (aka better situational awareness). As I mentioned above, when you turn on the earpiece, it welcomes and lets you know its connected to your BlackBerry. It informs you who is calling. Plus if you forget a command it lets you know your possible choices.
Overall, I am very pleased with the HS-700's performance, form, and features. That said, this high-end bluetooth headset has a pretty steep price tag as well. At $129 MSRP, RIM's flagship headset is priced alongside other upper-end, feature packed earpieces like the Plantronics Discovery 975 or the BlueAnt Q2. Although, it can be found online for about $80 like these other headsets as well. Price not withstanding, the HS-700 is well made, nicely designed/engineered. This headset is an ideal companion for those BlackBerry owners in search of a great bluetooth headset.

Product Information
Price:
$129.99
Manufacturer:
BlackBerry
Pros:

- Quality, lightweight construction
- Excellent call experience
- Great battery life
- Verbal feedback
- Music playback
- Automatic volume control
- Good noise-cancellation
- Positive control on/off switch

Cons:

- None really. Although, its high price tag might turn some away.....