We use affiliate links. If you buy something through the links on this page, we may earn a commission at no cost to you. Learn more.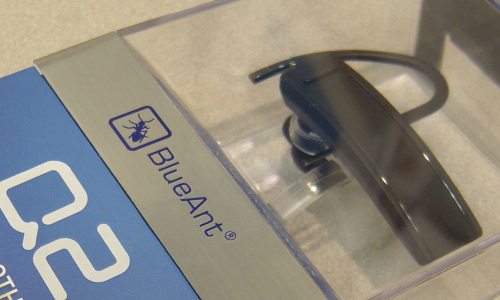 The BlueAnt Q2 bluetooth headset is billed as "the best sounding headset ever built".  Well, that's a tall order.  Most bluetooth headsets I've tried range from merely acceptable, to rotten.  How does the BlueAnt Q2 fare, and what extras are packed on board?
The packaging consists of a clear plastic display box atop a cardboard bottom half that contains all the extra goodies.  You get the headset, an instruction manual, USB wall charger with folding prongs, a short microUSB cable,  four extra ear inserts and a small velvety black carrying pouch.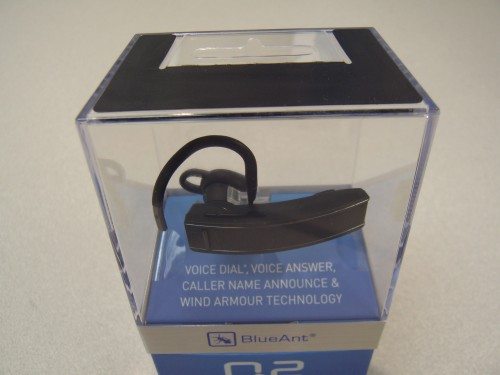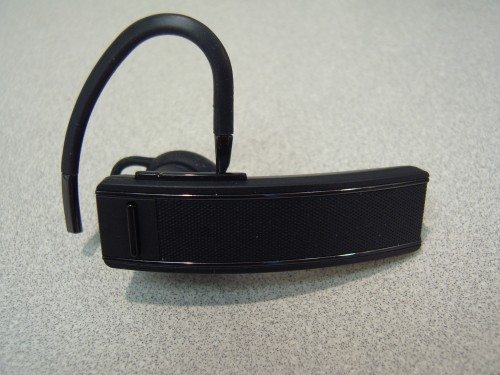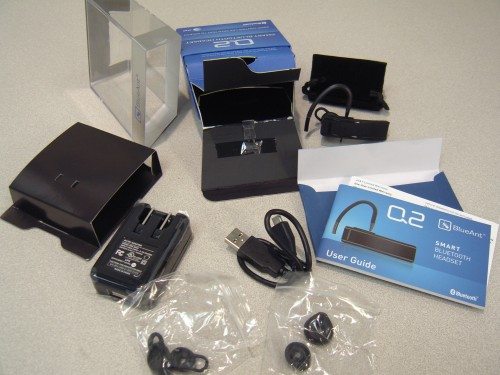 Features
The BlueAnt Q2 features the following:
Voice Control, Voice Dial, Voice Answer
Hear Your Messages on the Go (Android, Blackberry app)
Voice Access to the World (carrier dependent)
A2DP audio streaming
Caller Name Announce with Text to Speech
Wind Armour Technology™
Automatic Gain Control
Echo Cancellation
Simply Connect Technology
Keep Current with Firmware Updates
Bluetooth Version: 2.1 + EDR
Operating Range: up to 10 m
Talk time: up to 5 hours
Standby time:  Up to 100 hours
Charging up is simple.  Takes about 3-4 hours via micro USB connector in the back.  LED glows red when charging.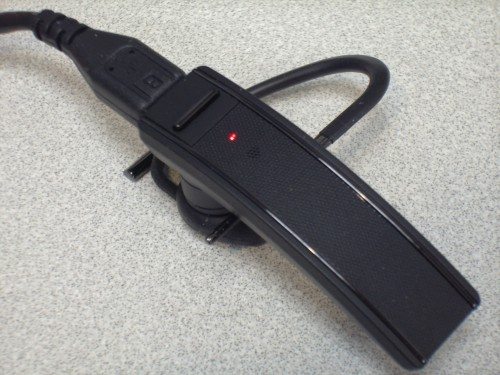 Comes with a variety of ear "gel" bits of different sizes.  I found the hook made for a VERY secure fit on my ear, but it also rested fine without it.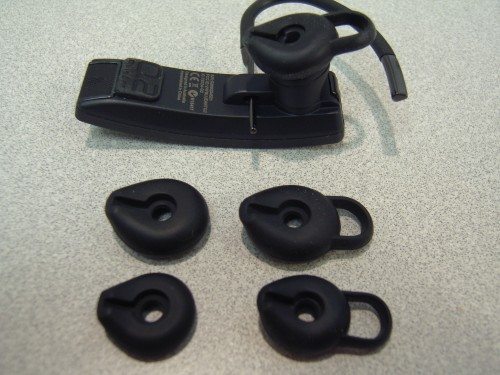 There was a square-shaped, rubbery pad on the inside of the headset with the Q2 logo on it.  No idea what that's for.  The Jawbone headsets use a Voice Activity Sensor on this spot, but the Q2 has no such feature.  It's probably there to prevent the microphone end from rubbing up against your cheek.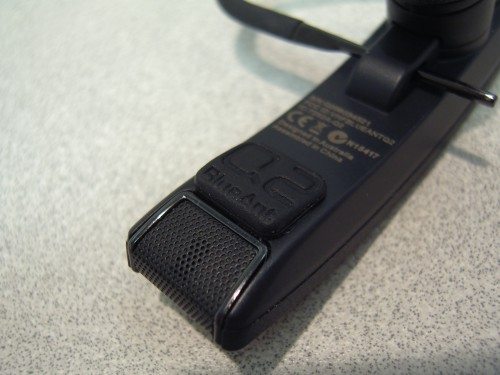 My favorite feature is a really simple one:  A physical, hardware on/off switch.  It's below the micro USB port.  I much prefer this style over the "press and hold a button for x-seconds to turn it off."  Or did I just turn it on?  Yes, this is much better.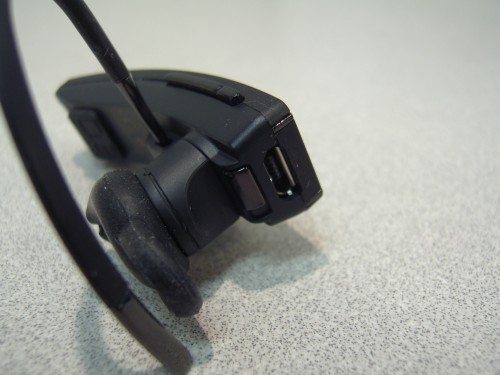 The volume controls are on the top edge of the headset.  It's actually one long button, but pressing on the "long" edge is for volume up, the "short" end for volume down.  The Q2 response with a male voice in the earpiece announcing your action ("VOLUME UP", for example).  The Multi-Function button is on the outer face of the headset, next to the mesh plastic finish.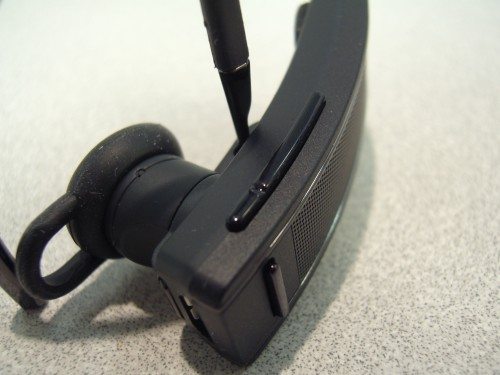 Voice Commands
I paired it up to my Droid X (Android 2.1).  This was easy:  The headset literally talked my way through the pairing process with a very clear, rich-sounding male voice.
The Q2 touts a list of voice commands.  You press the MFB (Multi-Function Button) once and the Q2 asks, "SAY A COMMAND".  This is what you can reply with:
"Am I connected?"  Gives you a status of your bluetooth connection, will connect if it is not.
"Call Back"  Calls the last INCOMING call received on the Q2
"Check Battery"  Reports battery level on the headset (not the phone)
"Favorites" This is a novel feature.  The Q2 then asks, WHAT FAVORITE?  You can reply with things such as "Sports", "Movies", "Weather" and the phone dials a toll-free number to a 411-type service.  I really didn't test this extensively, because I was not sure what charges I might incur.  Yes I'm chicken.
"Pair Me"  Puts the Q2 into pairing mode.
"Phone Commands"  Activates your phone's voice dialing command, if supported.
"Redial"  Redials the last outgoing call made.
"Sensitivity Level"  Configures the Q2's voice recognition
"LED Light"  Turns the headset LED indicator on or off during use.
"Update Phonebook"
"What can I say?"  Not, you're not at a loss for words.  The Q2 reads out a list of possible commands in the current menu.
Wearing the Q2
What headset is the most comfortable?  That depends on you!  Everyone's head and ears are different, and our tastes are unique.  I opted not to use the earhook because I typically don't wear a headset unless I need to make a call.  This is faster for me.  The tradeoff is that the Q2 felt slightly less secure in my ear, but it never fell out.  It doesn't help that the ear "speaker" portion is rather long at about 1/2 inch, so it sticks out of my ear a little more than I personally like it.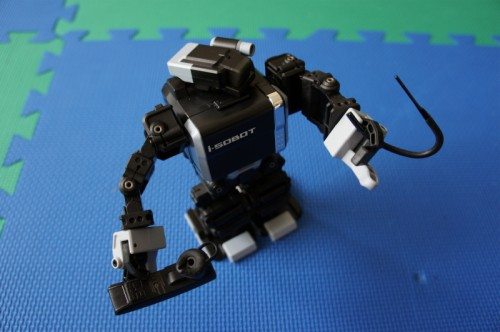 Incoming audio
I'll say this:  If you need a headset that's loud and clear, this is the one.  Period.  BlueAnt wasn't kidding.  I love it!
Outgoing audio
We seldom know how well your headset performs- or how much it fails- until someone tells you so.  So how does the BlueAnt Q2 sound?
Audio recording of the BlueAnt Q2 in a car on the highway
When compared to other headsets I've used, such as the Plantronics Voyager Pro and the 925/975 series, this is about on par, but not exceptional to me.  I'm a pretty harsh judge, but if you're in a regular office environment, this will be just fine.
Oops
No headset is perfect.  My drawer of bluetooth devices is a testament to that.
The "messages on the go" feature was something I could not test.  As of right now, I could not find the proper app for my Droid X in the Android Market (other BlueAnt headsets are listed, however).  The manual also states that this only works with Android 2.2 and above.  Well, since I'm only on 2.1, that's out.
The TTS (Text to Speech) was more miss than hit for me.  When I connect to the phone, a female synthesized voice says "Droid X".  That's nice, especially if you connect between two phones.
However, incoming caller ID was a different matter.  In my testing, I could only get the Q2 to bark out the phone number, not the contact name.  Maybe it's me.
Voice commands are a neat party trick, but you run the risk of looking like a blue-tool, ordering the unseen to redial a number or check stock quotes.  Did I say I was chicken?
My last quibble is the hardware power on/off switch.  It's just too difficult to flick.  The button surface is smooth plastic without any grip.  I end up using my fingernail instead.  And you can forget about flipping the power switch as you're wearing it.  Maybe I need to grow one fingernail longer than the rest, or superglue some raised grippy dots onto the switch.
You should buy this headset…
… if you want crazy loud and clear incoming audio in a bluetooth headset, and you enjoy ordering your headset around with just your voice.

Product Information
Price:
$129
Manufacturer:
BlueAnt
Pros:

Full and rich sounding incoming audio.
Voice-activated commands, text-to-speech, and more.
Hardware power on/off switch.

Cons:

Fit is a very personal thing. You may love it, or not.
Power switch difficult to access when headset is worn.
A little pricey (at the time of this writing)