We use affiliate links. If you buy something through the links on this page, we may earn a commission at no cost to you. Learn more.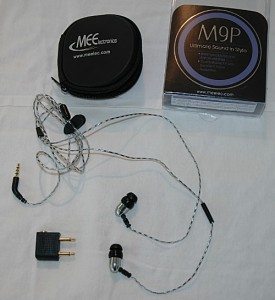 I'm one of those people who have ears that just don't work with the Apple earbud headsets. I really prefer the in-ear style, which is why I was eager to review the MEElectronics M9Ps. They're priced just above the bulk earbud prices, have an interesting style, and looked like they'd be a good solution for those looking for an in-ear wired headset. I've been using them for a couple weeks in my normal routine, and overall they've performed admirably.
Headphones are a tricky thing. You'll probably wear them for hours on end, in a variety of settings. You'll abuse them (admit it – you've swung your iPhone from your ears) and you'll cram them in pockets, sweat all over them, and even chew on them. Is it any wonder $15 "disposable" headphones are available in every store? Add a phone that is your media player as well into the mix, and it gets more complicated. Now you need a mic in case you need to take (or make) a call. Ideally, you'll want some way to do some remote controlling right on the headset. This is the nich the M9Ps are supposed to fill – good sound, mic, durable, and inexpensive in-hear headphones.
The Contents
The retail hanger box contained the headphones, an assortment of ear bud ends to help you get the right fit, an airplane adapter, and a carry case. I was able to find a large size for my ears, which gave me a good snug and sound deadening fit. The carry case is a nice touch, and protects the headphones in a backpack or bag.
Closer look
There are thee important bits to a headset. The ear buds, the mic/control, and the jack. Maybe toss in the cord – I have seen some horribly cheap cords. Let's look at each. First, the buds and mic/control: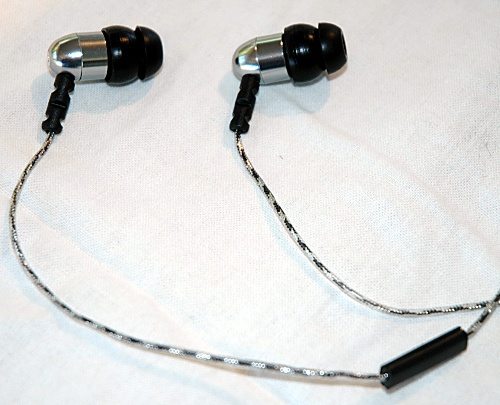 A couple of things stand out. The snake pattern to the wire is a bold fashion choice, as are the chrome headsets. The mic/button is that black rectangle. There's a pinhole on one side (that's the mic) and the whole thing is the button – just squeeze the bottom half to press it – you can feel the "click" when you've pressed it. More telling to me (the cheap headset slayer) is the beefy stress relief cable connectors on the headsets.
The rubber bud ends pull off with a bit of pulling, which is good – I've lost more bud ends then I care to admit, and these don't seem likely to just fall off.
The other end is equally important: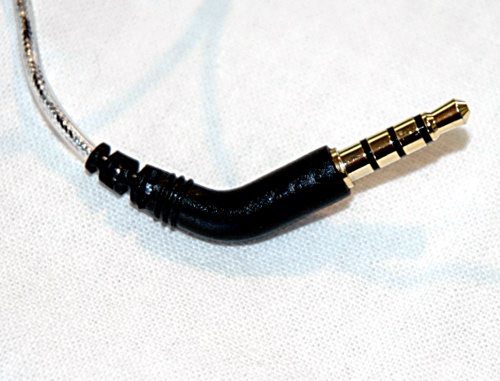 Gold tip, same decently hefty stress relief connection to the wire, and a curious angle distinguish the plug tip. You'll notice that it's case friendly, the jack's plastic housing and ring aren't much bigger than the jack itself. I had no problems plugging this in when using several different iPhone 4 cases.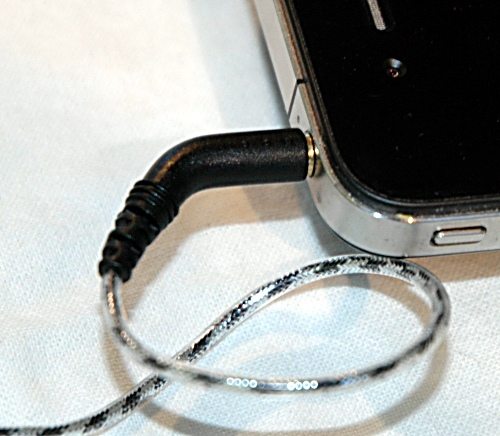 The angled jack works well, but I'm not sure it's any better than a straight one.
Music
I'll admit it's been too many decades for me to claim any ability to distinguish quality audio. I can say that the M9Ps are plenty loud, with a decent low end thanks to the in-ear nature of the ear buds. They're probably not leaps and bounds better than those $15 headsets, but they're at least noticeably better, to my ears. The single button can control the ipod app on the iPhone/iPad: one click to pause/play. Two quick clicks to (most of the time) skip to the next track. The actions are dependent on the device, but most devices that can use headsets with controls will do something similar to that.
Calls
The M9Ps also give you hands free calls, without the Bluetooth robot look. If a call comes in on the iPhone (and again, on most every other device) a single click answers the call. Another click hangs up. Mic pickup was clear according to the folks I talked to, and of course audio is loud and clear mono from both earbuds. They survived the most challenging test – the "dog walk while gabbing on the phone." This adds wind noise, background noise, movement noise, and dog barks to the mix. Again, callers were able to hear me just fine, and didn't complain about background noise. These aren't noise canceling, however, so that background noise is going to get through. I did hear a little wind/friction noise transferred up from the cable, but no worse than usual for headsets while walking outdoors.
Simply Good
What else do you want from a headset under $35? These will do the job – they look nice, they fit well, they sound good, and the mic/control is quite usable. There's no sound like wired sound. Sure it's old school, but at least you can hear, and those who you talk to can hear you, without a phone glued to your head.
Product Information
| | |
| --- | --- |
| Price: | $34.99 |
| Manufacturer: | MEElectronics |
| Requirements: | Audio device that uses headset with standard 3.5mm plug |
| Pros: | Solid construction, good sound (audio and mic), simple control, decent styling |
| Cons: | |