We use affiliate links. If you buy something through the links on this page, we may earn a commission at no cost to you. Learn more.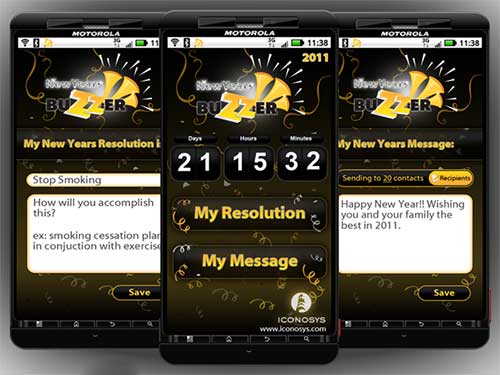 There are only few hours left of 2010, so you know what that means… It's time to bust out your New Year's Resolutions. Whether you plan to stop smoking (always a worthy resolution), get physically fit or something else, January 1st, 2011 will be a good day to start working towards those goals. The only problem with New Year's Resolutions is that most of us give up on them after only a few days. Iconosys wants to help you stick to your goals and are offering an Android app called New Year's Buzzer. Available in English and Spanish versions, it's a free app that gives you regular affirmations and allows you to confirm that you're sticking to your resolutions. Full press release after the jump.
"New Year's Buzzer™" encouraging good health with daily affirmations, resolution tracking, and positive social network connectivity.

Laguna Hills, CA, December 27, 2010 – As 2011 approaches, Iconosys, one of 2010's most publicized Smartphone app technology companies releases their final app of 2010; a fun, social network integrated, New Year's Eve countdown and tracking system for New Year's resolutions in order to promote positive health.  This new app "New Years Buzzer™"(NYB) delivers regular self-tracked affirmations encouraging users to continue adherence to their year end commitments and growth.
New Year's resolutions ultimately are made for improvement and self-help purposes.  Whether it is quitting smoking, abandoning a habit, losing weight, getting in shape, the idea of a New Year's resolution ultimately is focused on making a better person out of oneself.  New Year's Buzzer™ is built to encourage this concept, provide a means to track it, and provide the user a personal incentive to "stay on the improvement program."   And in helping to combat such problems as obesity and smoking, the new Iconosys app carries a wider societal benefit.
For 2011, Iconosys makes a resolution to continue to develop first of kind technologies into the year.   Iconosys management and technology teams further resolve to expand Iconosys' reach into convergence technologies and device computing by building apps for devices that make the most of Iconosys' technologies.   Examples of these technologies include Smart-Apps that run on Flat Panel HDTV's and Internet-enabled App running devices like the Chumby and Sony Dash among others.
NEW YEAR'S BUZZER™ FEATURES:

• New Year's Buzzer™ uses proprietary technology to integrate and maximize the app's social reach by giving the user the ability to send simultaneous Happy New Year's wishes to anyone and everyone in their contacts list.  Everyone gets to feel that they were the most important person to that New Year's Buzzer user.
• The app user can place and track their 2011 New Year's resolutions.  A daily tracking prompt is presented where the user can confirm that they kept their personal commitment to bettering themselves.  Celebratory congratulations are given each day where the resolution is kept.  We at Iconosys feel that "Every day is New Year's Day when you keep your resolutions."
• New Year's Buzzer™ keeps an attractive New Year's countdown running as a service in the background and resets for 2012 after the new year.
• At 10 seconds to New Year's, the phone wakes, strobes, and a huge crowd counts down with you and your party until the stroke of midnight.
• New Year's Buzzer™ is available in English as well as Spanish.
Availability
New Year's Buzzer™ is available now at no charge on the Android OS Smart phones from the Android Market and from www.newyearsbuzzer.com.  Android sold 9.1 Million Smart phones in the last financial quarter alone.
About Iconosys, Inc.
Iconosys, Inc., is developing a series of "first of kind" technologies and technology driven products designed to make convergence, device, and mobile applications better, faster, easier, and ultimately, safer to use.
Iconosys' CEO Wayne Irving II, a pioneer in next-generation telecom concepts, has led the drive to take advantage of GPS and other onboard motion technologies to build lifesaving and life-enhancing products, and to create new and better tools for wireless platforms and operating systems.
Iconosys proprietary technology, developed with support from Motorola, is a complex series of algorithms and readings from the technology running on today's Smart phones; this includes, without limitation, GPS and other motion sensors, coordinated with Google mapping to provide a more accurate and responsive set of background services to most, if not all, of the upcoming Iconosys technology releases.