We use affiliate links. If you buy something through the links on this page, we may earn a commission at no cost to you. Learn more.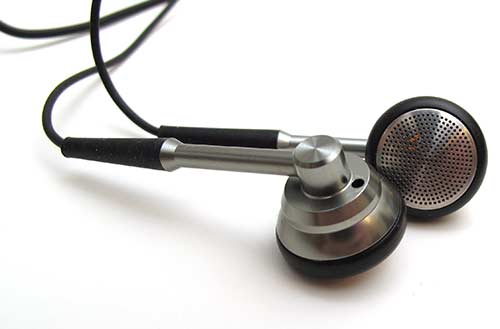 The audiophiles in the audience will probably pop a vein when they read that I don't mind using the stock earbuds that come with the iPhone and iPods. For me, they sound just fine and are way more comfortable than in-ear style earphones that a lot of folks like to use. I can't do the in-ear type because I don't care for the isolation feeling they provide, I also have a lot of walk ups to my desk at work, so I'd be constantly taking them in and out of my ears anyway. For that reason, I'm always on the lookout for some on-ear style earbuds that are better than the stock buds I continue to use. For the past week, I've been testing the TFTA-1101-V1 earbuds from TFT Accoustics. Are they my new favorite earbuds? Keep reading to find out.
What is so special about these earbuds? They use Thin Film Technology – hence their name: TFT Accoustics. According to TFT Accoustics:
Thin Film Technology is a passive dynamic-balancing system, combining acoustic know-how and material knowledge achieved by placing a thin film inside the housing. This creates and combines a deeper, wider sound quality with sub bass capability and enhances frequency range with higher fidelity.
Lack of bass is something that on-ear earbuds tend to suffer from.
Specs:
On-ear Silver Metal Housing
Driver unit 14.8mm
Impedance 32ohms
Rated power input 2mW
Max power input 30mW
Frequency response 20-20,000Hz
Sensitivity 95dB at 1KHz, 1mW
R/L output difference <3dB at 1KHz, 1mW
These earbuds have a cool industrial style due to their grey metal casing. The buds come with a pair of black foam covers, but I never use them. One thing I noticed right away was the long stems that extend 1.5 inches from the base of the earbud to the bottom of the rubber strain relief.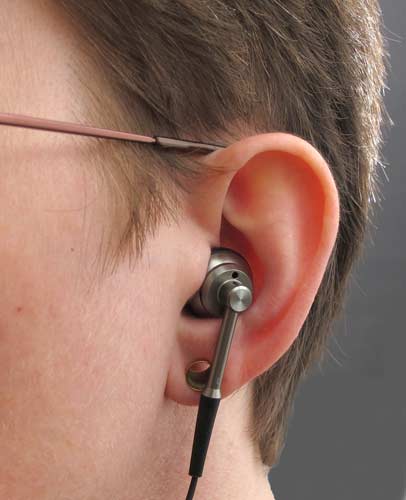 The stem length won't be a big deal to most people, but I notice that the metal sometimes brushes against my earrings. Otherwise, these earbuds fit just like stock iPhone earbuds even though they might have a slightly larger diameter.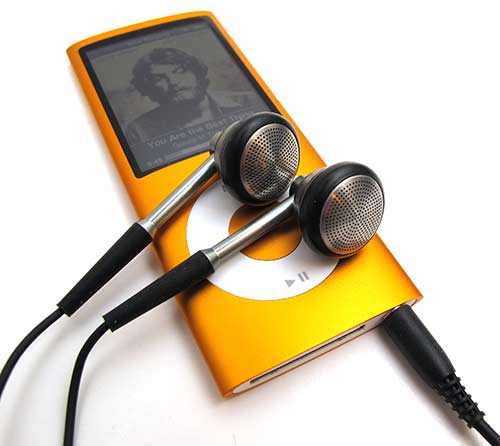 How did I test these earbuds? In a very unscientific way… I listened to a variety of music through a 4th generation iPod Nano, and a Motorola Droid X, switching back and forth between stock iPhone buds and the TFTA-1101-V1's.  I tried Pop, Country, Rock, Jazz, Classical, and Orchestral music. One thing I noticed right away was that I didn't have to have the volume turned as high as I do with stock buds. I could typically turn the volume back about 10% when using the TFT's.
I did notice a definite boost in bass when using the TFT's. Drums and bass guitar sounds are quite a bit warmer and thumpy. Instrumentals, Classical, Jazz and Orchestral music really benefits from this boost. Enough to make you thing wow, are these really on-ear buds? But I found that when listening to pop and country music, the vocals would sometimes lack a certain crispness that would border on being muddy. For that reason, I wouldn't recommend these buds if your genre of choice has a lot of vocals. If you're into Instrumentals, Classical, Jazz and Orchestral music though, the TFT Accoustics TFTA-1101-V1 earbuds are a great alternative to stock buds. At least to my non-audiophile ears. Look for a review of TFT Accoustic's in-ear style headphones soon from our own Bill Henderson (aka Mr. Earphone).
One caveat though… they currently aren't available here in the US. At the time of this writing, they are only available through Amazon UK for £99.99 (~$155.00 US).
Product Information
Price:
£99.99
Manufacturer:
TFT Accoustics
Retailer:
Amazon UK
Pros:

Good bass
Good volume
Great for Jazz, Classical, Instrumental

Cons:

Stems may interfere with earrings
Sound lacks a bit of crispness, vocals can sound muddy