We use affiliate links. If you buy something through the links on this page, we may earn a commission at no cost to you. Learn more.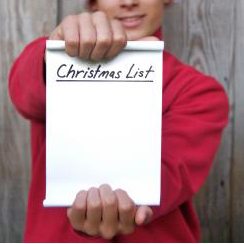 Ok, here it is.  Can I have a drumroll please?  I know you've all been wondering what to get me for Christmas, so here you go.  I know you have money burning a hole in your pocket, so this should provide you with an outlet.
1.  Nikon D5000 – I have wanted for some time a D-SLR that provides excellent image capture with HD video capture.  The Nikon D5000 is the first one that I find myself wanting.  I am a Nikon guy, and this is the one I want!
2.  Samsung Galaxy Tab – I have used an iPad for several months, and I am a little tired of it.  It's too heavy, too limited, and too locked-down for my taste.  I have wanted an Android tablet ever since the iPad came out, and the Samsung Galaxy Tab is the first one that I have envy for.  It's the perfect size for me, and it's on my favorite platform, but  I don't want a contract so I will take a WiFi version please.  Now, I do reserve the right to change my mind up till Christmas Eve if another company comes out with a better Android tablet, so pay close attention.
3.  Mystery Android Super Smartphone – this one is gonna be hard for you.  I have an HTC Droid Incredible smartphone from Verizon.  I love this phone, and I am a huge HTC Sense fan.  But I have had huge cellphone envy from my friends who have the Sprint Evo from HTC.  That is the phone I was waiting for from Verizon, and it went to Sprint.  So I jumped at the Droid Incredible.  I have heard rumors that Verizon is getting their own version of the Evo for the holiday season.  So I would like you to monitor the cellphone rumor sites and hang out at the Verizon store periodically to find out when it will be here.  Oh, and I need an Invisible Shield with that too.
4.  802.11N router – I don't particularly care which one, because any of them will be better than what I have at home now with my aging 802.11G router.
5.  Seagate FreeAgent GoFlex Hard Drive – No matter how big of a harddrive I get for my computer, I always run out of room.  I am tired of it.  I want a 2 TB drive to store everything I have, and more!
Now let's talk about some technology products that I own that I think you should own too.  These have 'kept on giving' to me for some time, so I feel 100% confident that you'll love these too:
1.  HP Touchsmart PC – We gave this as gift to the kids last Christmas, and I must admit that they have enjoyed this PC almost every day since.  It has a gorgeous 23 in. touch screen, Windows 7, wireless mouse and keyboard, DVD burner, built-in webcam, and other goodies.  It also comes with lots of games to show off that touchscreen.  Just make sure the kids wash their hands after dinner!
2.  Kodak Playsport camera – I absolutely love this camera.  It is smaller than an iPod, holds over 3 hours of HD video on the 16 GB card, can be dropped in the mud or whatever or whatever, and it costs less than $150.  Get this camera.  It won't replace your high-end HD camcorder, but I guarantee that you'll be reaching for this camera more than any other camera.
3.  Plantronics Voyager Pro UC bluetooth headset – Ok, just get over it.  You look like a geek no matter which bluetooth headset you are wearing, so just embrace your geek-ness and like it.  And if you are gonna wear one, this is the one you need to be wearing.  It doubles as a bluetooth headset for your computer, it auto-pairs with both your phone and PC, it audibly tells you when you need to recharge, and because of the humongous battery hanging behind your ear, it lasts for days.  I have used this one for 9 months and I still use it daily.  Seriously.  I love this headset.
So there we have it.  You probably even have enough boxes in your house to wrap all of them.  To be honest, I wouldn't even mind if you wrapped all those gifts for me in the same box!  Hurry up Dec. 25th!