We use affiliate links. If you buy something through the links on this page, we may earn a commission at no cost to you. Learn more.

The difference between a computer monitor and a TV screen seems to be becoming more irrelevant every day. Whether because we dropped cable or want a second computer display, more and more of us are connecting our computers to TVs. Devices like Warpia's SWP100A Wireless USB PC to TV Audio/Video Display Adapter claim to let you do anything you would normally do on your computer on your TV.
The SWP100A comes with the USB PC transmitting dongle, a receiving dongle and a 'dock' that can be mounted horizontally or vertically, a power cord, a CD-ROM for Windows XP or newer, and instructions. You need to provide a VGA or HDMI cable.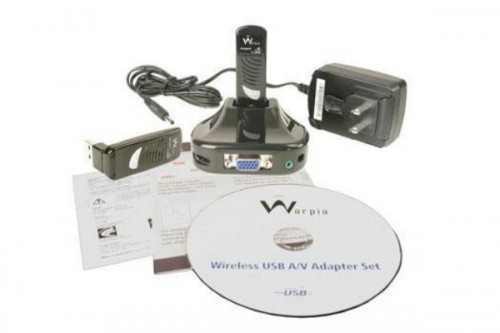 Installing the software was easy, although it is one of those where you need to follow the directions correctly as far as what you plug in when. When installed, two new icons show in your System Tray- a connection indicator and the Display icon.
The transmitter half just plugs into a USB port on your computer, and the receiver dongle plugs into the dock, either pointing up, as shown, or straight out the back if you mount the dock on a vertical surface. One oddity is that both the dongles have indicator lights on them (the 'swoop' shape in the photos). If you look at the photo, you see that the indicator points out the same direction as the cable jacks and ports- which in actual use, is the back of the dock. Therefore you cannot see the receiver dongle lights to confirm operation when you use the horizontal configuration.
You can do either HDMI or VGA and a separate audio cable. Connecting the base unit is as easy as plugging in the power brick, hooking up your cables, then positioning it where it can 'see' the laptop.
The range is given as 30′ within the same room, but as usual with wireless devices this is an 'ideal situations' figure and your own results will vary. (The actual specs of the antenna, etc. can be found here.) The manufacturer has done testing to ensure that if the signal is quickly regained if interrupted. This is fortunate since it seems easy to disrupt- even when only about 12′ away.
So what is it like in actual use?
I need to share my rather embarrassing set-up to answer that fairly. We are experimenting with giving up cable, etc. and trying to find a way to use an older Fujitsu Lifebook T4030 with 810.11g wi-fi and an older video card, an older wireless 810.11g wireless router, and a cable connection of 15Mbps. I was connecting this to a flatscreen HD TV with VGA and HDMI inputs using a VGA and an audio cable. We use this for watching YouTube, episodes on Hulu, etc.
The existing set-up is admittedly sub-par. The images rasterize, freeze, break-up, and more. For the most part, we just put up with it but are planning to upgrade the router and laptop over the next few months, and maybe bumping up to a faster internet connection as well. I just point this out to show that I know the set-up is not perfect.
Using the SWP100A in this set-up was… not optimal. It adds another wireless step, and wireless is always slower than wired. The images that used to rasterize now froze, what stuttered before ground to a halt now. I had to set my video settings to the lowest they could go to even get that much.
Having said that, it was also obvious that for someone with a faster overall system, the SWP100A would bring you a simple wireless option that would take any image, movie, game, presentation, text, or sound you could bring up on your computer and send it to your TV. I think the company might want to consider making this clearer to help avoid frustration from other potential buyers.
UPDATE:
I was unexpectedly able to upgrade both my router and laptop, and am pleased to report that the SWP100A works much better with this new set-up. When I use a cable from the laptop to the TV, I no longer have many image quality issues, and what I do have is probably due to the lower-level cable package I subscribe to.
With the new set-up, the Warpia SWP100A works much better- better than my old system performed when hard-wired.  It is definitely not as good as direct-wired still, but not so much that it disrupts the viewing experience.
In an attempt to quantify this, I would suggest that watching cable TV is a 10, to establish a baseline. My old system, hard-wired, was about a 4. Old system using the Warpia was a 3 with occasional dips to a 2.
My new system, hard-wired, is a solid 8 and would probably be a 10 with a faster cable connection. New system with the Warpia is a high 7 with dips to a 6 depending largely on what else I am asking the computer to do.
Product Information
Price:
MSRP: $179.99; Amazon has them for $140
Manufacturer:
Warpia.com
Retailer:
Amazon.com
Pros:

Easy set-up
Wireless convenience

Cons:

Sub-optimal performance with older, slower existing hardware and service
Signal is easy to disrupt