We use affiliate links. If you buy something through the links on this page, we may earn a commission at no cost to you. Learn more.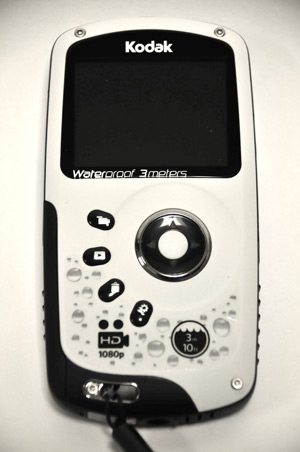 I have used video cameras for as long as I can remember.  My first video camera was one of those really hefty kind that you sat on your shoulder and it used regular VCR tapes.  Yeah, and I admitted it.  Since then I have used every imaginable type of video camera, from ultra expensive to cheap, small to large, and everything in between including the Flip cameras.  I have loved the form factor and ease of use of the Flips, but not enough to make me fall in love with them.  But I think I finally found something that I can give my heart to… the Kodak Playsport!
The Kodak Playsport is about the same size as an iPod classic and just a little bit thicker.  It feels solid in your hand and it weighs just slightly less than said iPod Classic.  It has a standard threaded hole on the bottom that can be used to attach the camera to a tripod mount.  And it has a hole next to that for attaching a lanyard, which is included in the box.  The speaker is on the bottom as well, next to the tripod hole.  The colored back and about half of the edges are covered in the soft-touch rubber that you see on alot of cellphones today, which I happen to like.   That helps in holding it when it is wet, like when you take it around water.  The other surfaces are shiny plastic.  The LCD screen is 2 inches in size which is not too bad for previewing the videos you make.  They even included an HDMI cable in the box… who does that anymore??  Kudos to Kodak!  To round out the box contents we have a quick start guide, and USB charger cable, and an audio cable.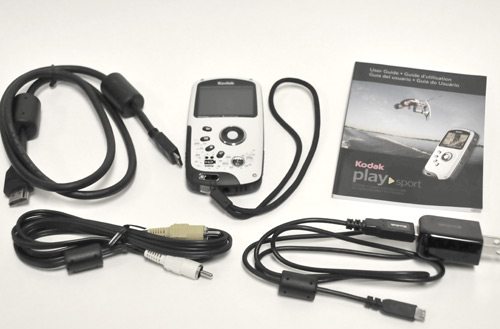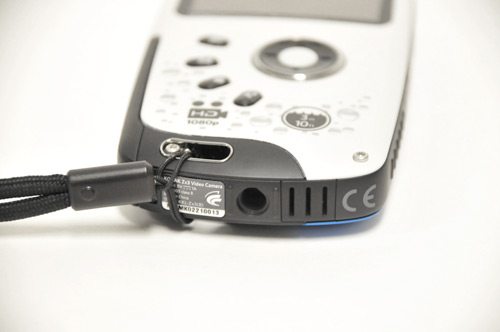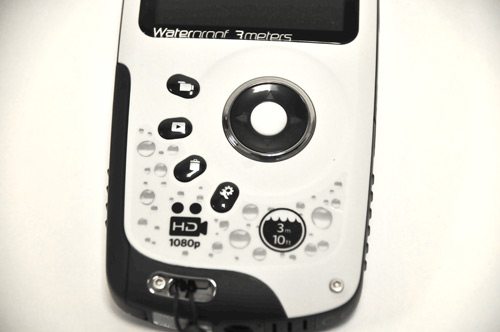 The doors that open on the sides to get access to the battery, ports, etc, are very tight to open, but that is a good thing because they need to be tight to keep water out of them.  The door on the left side give you access to the Li-Ion rechargeable battery and the storage card, which can handle up to a 32 GB card.  The camera comes with 128 MB internal storage which would be fine for a few pictures, but for taking video that internal storage is pretty much useless so you'll need to purchase a storage card.  The door on the right side gives you access to mini USB 2.0 connection (which is also used to charge it), the HDMI port, and an A/V out port.  The power button is right above the door on the right side.  On the back is the 5 MP camera lens and the led indicator which blinks red when you are recording.  The 4 buttons on the front are (from top to bottom) for recording mode, viewing mode, the delete button, and settings.  The round directional pad is explained in more detail below, and the white button in the middle of the d-pad is for pressing enter, like to start and stop video, confirm deletes, etc.  By the way, this camera is very speedy between starts and stops when you press that white button!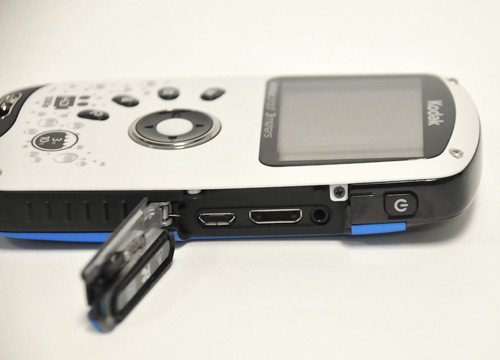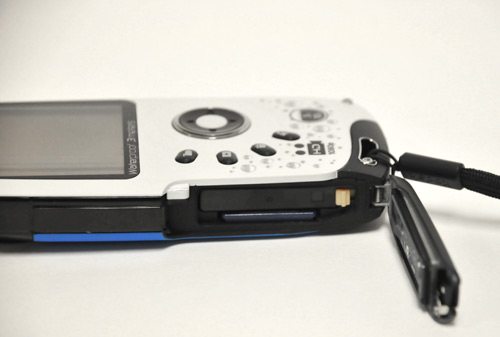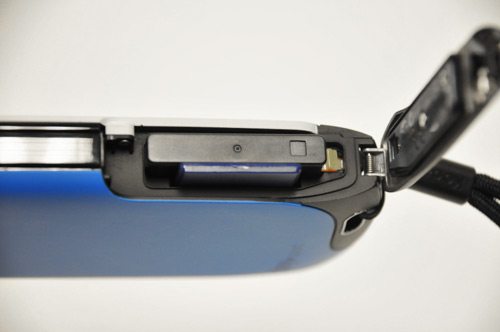 As you can see from the picture below, when you are in video-taking mode you can press left or right on the round black directional pad in the middle, which will bring up the choices you have for video quality and still pictures.  Video can be WVGA (640×480 – 30fps), 720p (30 fps), 720p 60fps, and 1080p (30 fps).  There is an LCD Glare shield option that reduces sun glare on the screen when outdoors, and it does provide a little bit of help in that regard.  It also has an Electronic Image Stabilization feature that helps reduce the 'shaky-ness' that I think plagues cameras of this type, such as the Flip cameras.  I was more pleased with the video I got with this camera than when I played with a Flip HD camera last year… much less shaky video. The video format is H.264 MOV format.  When recording video, if you press up and down on the d-pad you can zoom in and out slightly (4X digital zoom), but I found this useless.  You won't be zooming with this camera.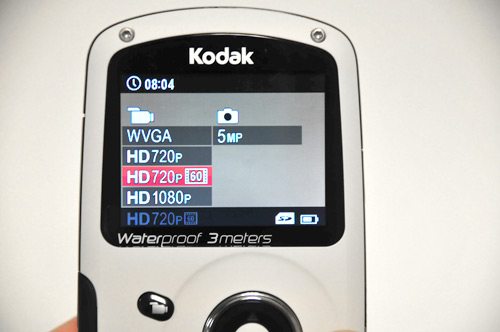 There is also a feature called 'smart face tracking technology' that is supposed to focus on faces in the frame.  I know alot of cameras these days have something like this, but I honestly couldn't tell a difference between the videos I did with this feature turned on and off.  I took videos using all the settings listed above and I found myself going back to the 720p 60fps option.  This option was designed to capture video of things that are moving fast on the screen, like your kid's soccer game or something.  The video using all the other settings were good of course, but with 60 fps video versus 30 fps, I really could see a difference.  And since almost all my videos are uploaded to Youtube or on my website, I end up sizing down the videos anyway so I don't really need 1080p quality.  Which is funny because the 1080p ability was the deciding factor for me getting this camera in the first place!  If you have a 32 GB card in the camera, you'll get about 10 hours of 720p (30fps) video.  Less if you use the 720p 60 fps option.
Still pictures with this camera are what you would expect with a quality of 5 MB.  You won't be taking anybody's official wedding photos with this thing, but for a weekend jaunt or a party at the house, it works great.  It is also important to note that this camera's main purpose isn't still pictures, so you don't have very many picture settings at all compared to the multitude of consumer cameras out there today.  You don't have ISO settings, or the ability to change from Aperture Priority to Shutter priority, and so forth.  So photo enthusiasts won't be impressed with this still camera.  Where this camera shines however is in taking video.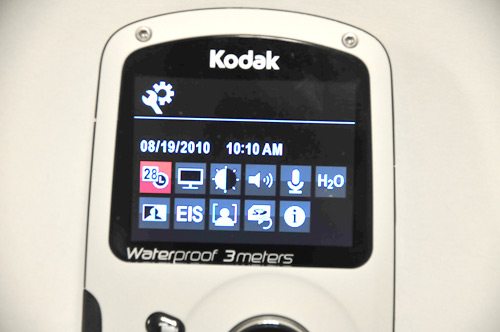 With the included HDMI cable I was able to connect the camera directly to my HD tv and we watched the videos on the big screen.  Very, very nice!  I didn't have to spend time using my pc to convert the videos over to a DVD to watch them in the living room… plug it up and away we go!  I was also pleasantly surprised with the sound quality with the monaural (not stereo) microphone.  It picked up sound extremely well especially in outdoor situations, even under the water.  Under the water you say??  Oh yes!  (As long as it isn't deeper than 10 ft, of course.)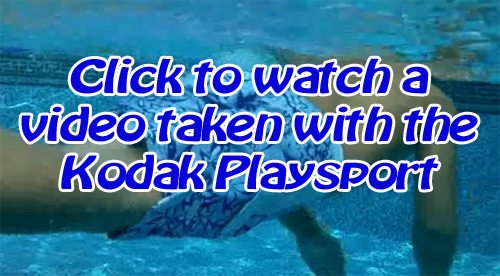 This camera is promoted as a rugged, outdoor, on-the-go, can-handle-anything, type of camera.  And I have say I agree with them.  With the soft-touch rubber shell and water-tight seals on the doors, I wasn't afraid to do anything with this camera.  We had a blast in the pool with this thing and as you can see from the video above, the video under the water is remarkable.  I won't be leaving my 9MB still camera at home for the next vacation, but all the video will be shot with this camera for sure.  Can you say white water rafting?
The camera comes with built-in software (pc only) to allow you to edit your videos, and when you plug it up to your computer with the included USB cable, it prompts you to install the Acrsoft software.   From that point forward, once you connect the camera it will open up the software to allow you to see all the videos on the camera and import the ones you want to whatever destination on the harddrive you want.   I have done lots of video editing over the years with a multitude of video editing software.  So the software they provide isn't very impressive to me and doesn't give me the editing capabilities that I would expect in a consumer-level video editor… for example, you only have 6 transitions to choose from, and the video timeline isn't that intuitive.   But for people who don't want to purchase something else to edit videos, it is a fairly easy-to-use package that does allow you to upload directly to Youtube, Facebook, Vimeo, and Twitter, which is where most of the videos will probably end up anyway.  That's a nice touch to include Vimeo… not many video programs are doing that yet, so again, kudos to Kodak!  I uploaded a video to Youtube and Facebook and it worked fine.  But let's be honest… it didn't cost me extra, so who am I to complain??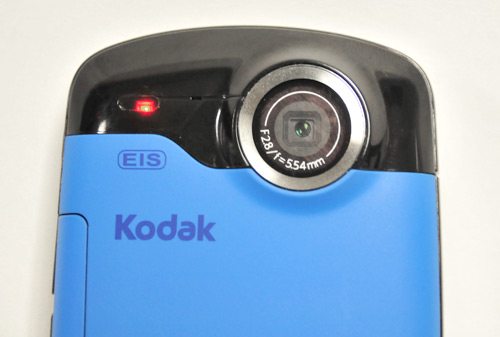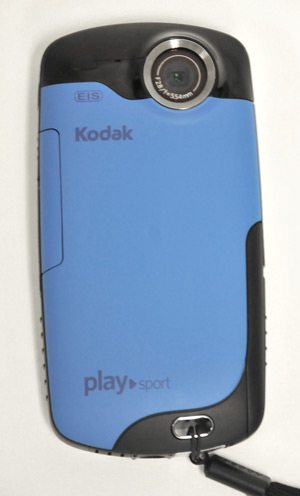 The bottom line is that this camera is my new favorite gadget.  I am walking around looking for things to video, and my family keeps rolling their eyes when they see me coming!  The zoom is useless though, and the still camera is not the best you'll see.  But the ruggedness and ease-of use is wonderful, and the video is takes is fantastic.  I highly recommend this camera, and for the price you pay… well, that's just icing on the cake.  Anybody wanna go swimming?
Product Information
Price:
$130
Manufacturer:
Kodak
Pros:

Rugged and solid.
Great price for all these features.
Video quality is excellent.

Cons:

Digital zoom is worthless.
Digital camera options are sorely lacking.