We use affiliate links. If you buy something through the links on this page, we may earn a commission at no cost to you. Learn more.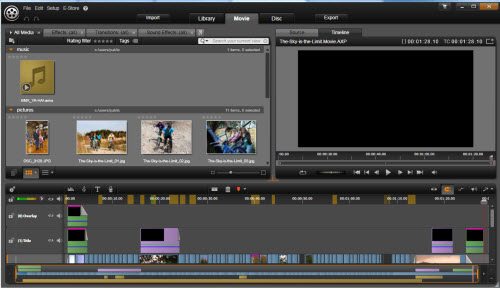 Several years ago Avid Technology bought Pinnacle Systems, in their attempt to grab some of the consumer level video market.  Avid is known the world over for their professional level products for video editing, so I was excited at the chance to review their latest product, Avid Studio.  Almost a year ago on this website, I reviewed Pinnacle Studio 14 MovieBox Ultimate, and it was generally a good review.  Pinnacle has always had solid performance at a good price for consumer level editors.  But for a little bit more cash, would I be willing to jump up to Avid Studio?  Let's find out!
Having been a long-time Pinnacle user, it didn't take me long to get used to the Avid Studio interface.  While not exactly the same, there are some similarities in the location of buttons and general layout of the screen.  My reaction when I opened the program for the first time was 'wow, there is a lot going on here.'  But compared to Adobe Premier Pro, this program is way easier to get up and running.  But maybe that isn't a fair comparison to make because it seems to me that Avid Studio sits between the likes of Pinnacle Studio and Adobe Premier Pro.  In pricing that is certainly true, and I think in terms of features and power that is also true. Because of that, I believe I am safe to say that Avid Studio is a prosumer package.
There are tabs across the top that allow you to quickly flip back and forth between importing, the library, editing your movie, editing your DVD menus, and exporting.  The layout of the program (seen in the first screenshot above) while you are editing your movie is similar to other programs.  The video preview area is in the upper right, your collection of media for your project is in the upper left (which is a mini-view of your library), and the timeline is across the bottom.
The import tab is easy to understand and use. You can scan your computer to automatically grab media from all over your harddrive, you can import from your DVD/Blueray drive in your pc, you can capture video and stills from your webcam, connect a digital camera or import converter box, and of course you can individually grab files from the harddrive, although you can do that in the library so I don't really see the point of having that option in the import screen.  Something neat is that you can capture a stop-frame animation using your webcam, at either 8 or 12 fps. This was pretty cool because it leaves a halo-effect on the screen to help you line up your still frames. Here is a screenshot: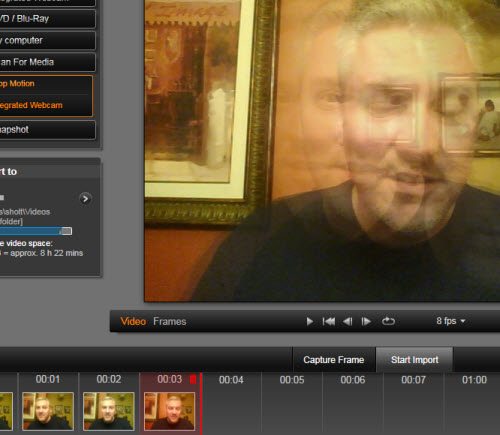 I will go on the record to say that the Library tab (screenshot below)  is awesome! I am a very organized person in just about every aspect of my life, and the Library tab is a dream come true for me. Just about every video editor has a small area/panel on the screen to organize your photos, videos, music, etc, and Avid Studio has that as I mentioned (the mini-library).  But the Library tab is a full screen way to view all your media in your project.  It's just fantastic.  You can even set 'watch' folders for the library and any new content that is added to the 'watch' folder on your harddrive will automatically be added to your library.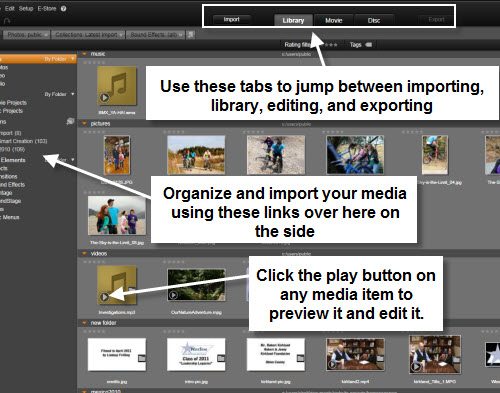 You can preview media in the library by clicking the triangle play button at the bottom of the media item.  Very nice touch!  One of the things I do on a daily basis is graphics editing, so I have been a Photoshop user for over a decade.  But I must admit that providing you a way to quickly edit any media in your Library is pretty darn neat.  For example, if you want to adjust the brightness of a picture, change the contrast, remove the yellow hue, fix the red eye, etc, you can do that right there in the Library without having to hop over to Photoshop to do it. Very nice.  I will be honest and say that occasionally I experienced some lag in editing the photos.  A time or two I had to wonder if the program had locked up, but after 5 seconds or so everything was fine.  I am willing to overlook that for the benefit of having the tool there, but it did annoy me just a little.
The timeline has unlimited tracks available to you, and you can place any type of media on any of the tracks.  So you can have titles, audio clips, video clips, and images all on the same track if you want.  You simply layer your timeline tracks based on the type of effect you want.  As expected, you can lock the tracks to prevent any changes happening to them, and adding a new track is as simple as right-clicking.  Audio editing tools are available for each track by clicking the audio mixer button above the timeline which slides out an audio panel beside each track.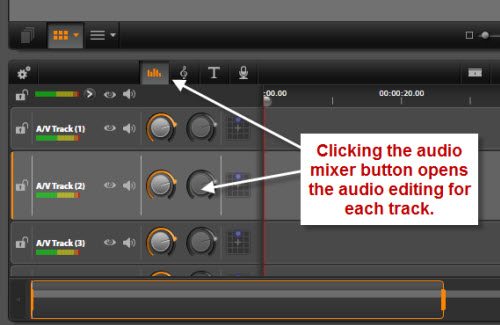 If you don't want to spend hours of your time editing a movie, then you can let the program do it for you by using the SmartSlide and SmartMovie features in the Library.  Just tell it which pictures, video and music you want to use, and it creates the whole project for you.  You can also edit the movie afterwards if you don't like what Avid created for you.  For example, I used SmartSlide and it told me the optimum number of pictures that I needed to use based on the music that I chose.  My pride tells me that I could have done a better job at it, but the end result wasn't bad. To access either of these, go to your library and the buttons are in the middle at the bottom.
The start-up speed of the program was not bad compared to Adobe Premier Elements and Pinnacle Studio, which I have used for years.  Also, the help files and video tutorials on Avid's website are also superior to what is available for Pinnacle and Premier Elements.  I must also mention a feature that I have not seen in any other video editor that I can recall.  I was looking at the bottom of the timeline for a scroll-bar to scroll my timeline.  It wasn't there.  At the very bottom of the program window is what I am going to call the Zoom Slider/Timeline Navigator.  Here is a screenshot: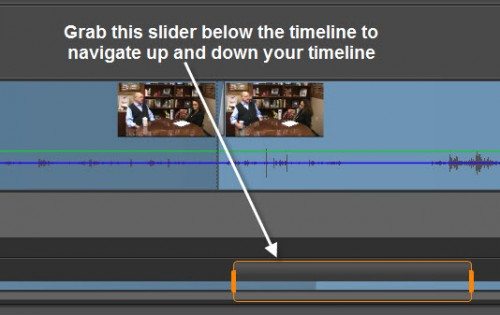 It allows you to zoom in and out of the timeline by dragging the ends of that orange box, as well as navigate along the timeline by dragging it left and right, instead of having a scroll-bar to deal with.  I guess you have to just use it to understand, but all I can say is that I like it, alot. And it is especially useful when working with a large project that is quite long.  Double-click it and it zooms your timeline to fit the window.  If you are a Pinnacle user then you will find that you can still zoom the timeline like you have always done… use your mouse to grab the ruler above the timeline and drag it left and right.
When I first starting using Avid Studio, I wasn't too keen on the way that transitions are implemented.  In most other video programs when you drop a transition between clips, it puts highlights on portions of each clip to visually show you that a transition is in place.  The screenshot below is from Pinnacle to show you what I mean.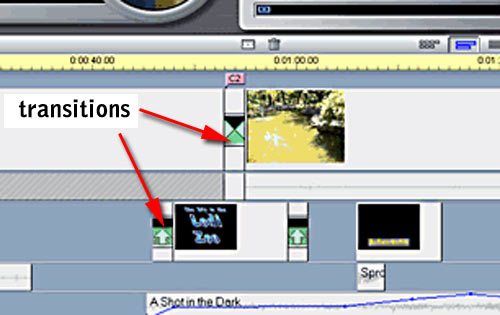 In Avid Studio you basically grab the top corner of a clip and pull it down, sort of like grabbing the page of a book and folding down the corner to 'dog ear' it, so to speak.  This drove me crazy because I simply wasn't used to it.  But after using it for awhile now, I can say that it makes alot of sense.  Visually, it makes it much easier looking at the timeline and seeing all your transitions.  Well done Avid.  I haven't seen this implemented like this before.  Here is a screenshot of the transitions in Avid Studio: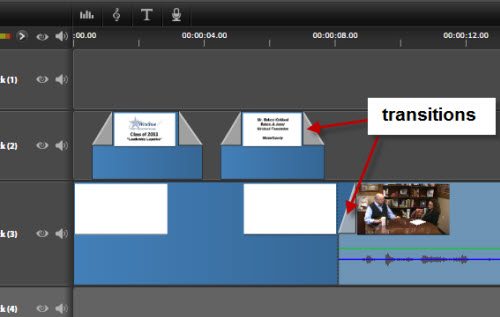 I was successful exporting in various formats.  You can see from the screenshot below that there are a large number of choices for output formats, as you would expect in a product of this level.  I was also able to successfully burn a DVD and use some of the built-in menus and montage themes.  I will say that the time it took to burn the DVD seemed a little slow to me, and I would even go so far as to say that it might have even been slower than Adobe Premier Elements, which to me is slow.  I was also able to upload directly to Youtube without any hiccups.  I don't own a Blueray player or drive, so I couldn't test that.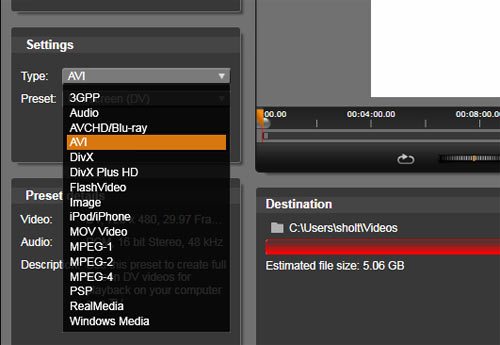 Lest I be accused of drinking the Avid Koolaid, let me say it wasn't all a bowl of cherries.  It's great that there is a Youtube upload in the Export tab, but why is there no Facebook upload?  Even Pinnacle Studio has Youtube and Yahoo Video upload.  Avid Studio only has Youtube upload.  Very disappointing.  Not even a Vimeo upload.  This must be fixed.  Also, I found that this program could be a bit overwhelming for a novice video creator.  It isn't nearly as simple to use as iMovie, and it is even a bit more complicated than Pinnacle.
For example, adjusting the audio properties of clips can be confusing at first.  The 'rubber band' audio line on each clip is similar to Pinnacle and Premier Elements, so if you have seen that then you know how to use it.  But using the pop-out audio mixer tool on the timeline wasn't intuitive to me.  It is just more complicated than editing audio in other programs I have used.  You could argue that with a more complex program comes more complexity, and you would be right.  And creating a title threw me for a loop at first. I think it is a little too complex for a novice to figure it out.  Opening up the title editing panel exposes you to a unbelievably powerful title editor, complete with its own timeline, layers, motion effects, and more. Just trying to figure out how to change features of the text in your title is too complicated in my view. Everything seems to be hidden under drop-downs and plus symbols. Again, too complicated I think for the novice. Now that I have figured it out, I can see the power you have at your fingertips, but the novice is gonna freak out just trying to add a simple title.
To wrap-up, let me mention in a bulleted fashion some of the little pleasant surprises that I discovered while using this program:
In the mini view of the library while editing your movie you can use a zoom slider to change the size of the thumbnails to see smaller or larger thumbnails.
You can customize the mini library with tabs for whatever items you want to see… newly imported media, sound effects, transitions, custom collections, etc. I like customization.
In the capture window you can set a specified time that you want to capture and then walk away. It will stop capturing when it has captured the specified amount of time.
When you delete a piece of media from the library you can decide to just delete it from the library or actually from the harddrive.
If you start a project in 4:3 aspect ratio and then realize at some point that your footage is actually in widescreen format, you better hope you aren't using Adobe Premier Elements because you'll have to create your project from scrach and start over.  However, with Avid there is a button above the timeline that allows you to change those settings with a few clicks. Very nice!
So did Avid win me over despite the higher price?  Yep, it did.
To me, the icing on the cake boils down to 2 things.  First, the sound & video effects and transitions (Hollywood FX, Creative Pack, Red Giant Plugins, etc) that come with Avid Studio are great.  And those things can turn a so-so video into a great video and make the author look good with little effort.  When I first started looking through all the effects, transitions, sound effects, etc, that came with the program it took me forever because there were so many.  I wasn't expecting that, so it truly was a nice surprise. Having options like this is great because you don't want to get in the rut of using the same transitions/effects over and over.
Secondly, the Library with its organization and editing features is the best I've seen.  I can't emphasize that enough.  If you love to be organized, you are gonna love this. You can tag your media items to make them easy to find and then use the Library search feature so you can search your pictures, videos, transitions, effects, etc.
Right now, even at the premium price and despite some of the complaints I had, I like Avid Studio better than Pinnacle Studio or Adobe Premier Elements and highly recommend it.  If you are a novice video editor would Avid Studio be the best program for you?  I tend to think the answer to that is no.  I have used video programs for years and I think this program would be great for those of you who want to graduate from the entry-level consumer video editor but you don't want to make the jump to something like Adobe Premier Pro or Sony Vegas Pro. If you can't afford it, then Pinnacle Studio will do just fine, but you won't be disappointed with Avid Studio. I have always believed in paying for quality, and Avid fits that bill.
UPDATE (6/24/11):  A patch has been released for this product.  Grab it here:  http://bit.ly/jemGvM
Product Information
Price:
$169.99
Manufacturer:
Avid Technology
Pros:

Library organization is wonderful.
Built-in editing of media.
Unlimited tracks on the timeline.
Very useful Zoom selector box.
Included effects & plugins is impressive.

Cons:

No Facebook or Vimeo upload.
Occasional lag in photo editing.
Expensive for average consumer.