We use affiliate links. If you buy something through the links on this page, we may earn a commission at no cost to you. Learn more.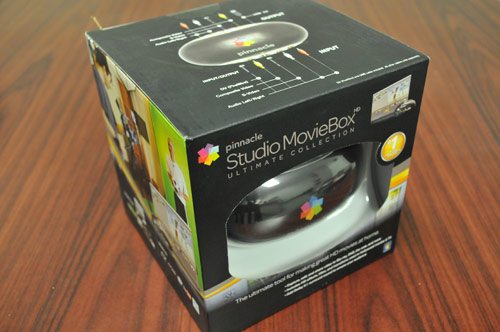 The latest offering from Pinnacle Systems is Pinnacle Studio 14 MovieBox Ultimate, and there are some new goodies under the hood for those of you who are long-time Pinnacle users.  I started using Pinnacle video software about 6 years ago and still stand by their products as good entry-level consumer video editors.   There is alot to love in version 14, but it isn't all good news.  Is version 14 worth it enough to make you jump at the new version?  Let's go see…
Let me start by talking about what comes in the box with this version.  This is the Pinnacle Studio MovieBox Ultimate edition, which means it comes with a converter device that you can use to attach to your computer and connect to other devices such as cameras, VCRs, etc.  I have used Pinnacle converter devices for years and this one performed good.  It recognized anything I connected to it and the software recognized the devices just fine.  No complaints in that department.  My only gripe is that in the past the converter devices that I have received as part of the Pinnacle products were much 'beefier' and made of finer materials.  This converter box is 'plastic-y', whereas the converter box I have used for years from Pinnacle is made of brushed metal.  It just feels 'quality', whereas this one feels 'cheap'.  A sign of the times I guess.   Time will tell how it holds up.  Also in the box is a quick-start guide, some software on CD, a USB cable, a Firewire cable, and a green screen for doing green screen work.  Here are some pictures of what came in the box: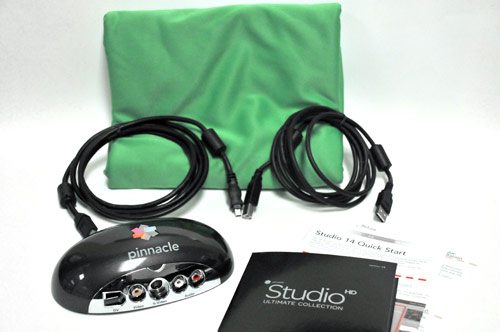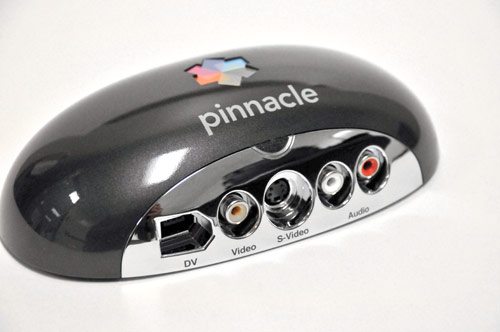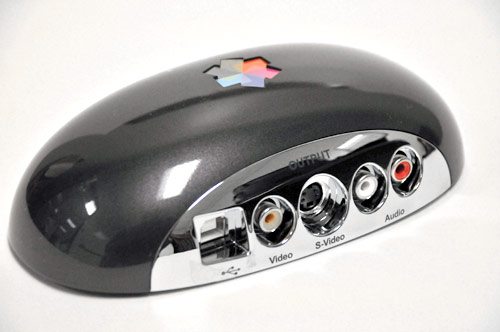 Pinnacle has always built ease-of-use into their products.  This is what makes Pinnacle such a joy to use.  The interface is simple, and it just makes sense.  You have 3 steps to making a video and each is represented by a tab across the top…. 1. import, 2. edit, and 3. make movie.  I am not trying to say that the interface has been completely revamped, but it does look cleaner in this version than previous versions.  They streamlined everything it appears to me, and it just looks more modern, which is refreshing.
Anything you want to use in your video is represented by a row of icons down the left side of the screen:  (starting from the top)… video, transitions, montages, titles, photos, menus, sound effects, and music.  You click on each icon and you see the available items you have in each category.  For example, you click on the Photos icon and see the pictures you have chosen for your project.  If you haven't chosen any, then you click a little folder icon and go choose which folder contains your pictures.  Easy as pie.
There is a preview area in the upper right corner of the window which shows you what your items look like before you insert them into your project.  So for example, you click on a picture it loads up so you can look at it.  You click on a video clip and it loads up so you can watch it.  You get the point.  The preview area is also re-sizable by dragging a slider bar above the preview window to make the preview bigger or smaller, depending on your personal preference.
The main area is across the bottom, which is the timeline.  This is where you assemble the various items you want to include in your project.  While the layout of the timeline is more streamlined, it is still extremely easy to use and control.  Pinnacle still only has 2 video tracks, which is somewhat of a disadvantage compared to its competitors, such as Adobe Premier Elements and CyberLink PowerDirector, which both have more layering capabilities.  Like most video editors, you can switch between different views of the timeline, depending on your personal preference.  I personally prefer the regular timeline view.  Here are some screenshots of each view:
Storyboard view of timeline: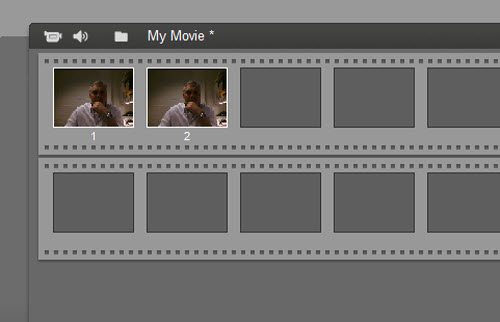 Regular view of timeline: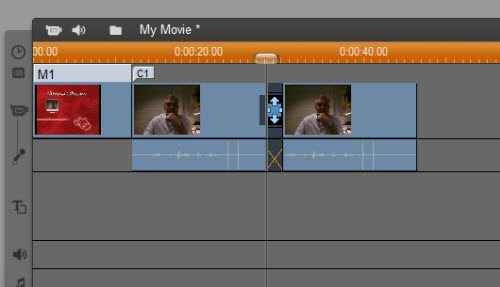 On the timeline you have several tracks available to use… the video track, a track for the audio that comes from the video, a music track, a sound effect track, and the Overlay track, which is used for titles and other video clips that are used in picture-in-a-picture effects.  You simply drag items from the various areas in the upper left (video clips, photos, sound effects, titles, etc) and drop them where you want them on the timeline.  As you can see from the screenshot above, for a transition you simply drop it between 2 items on the timeline and it creates the desired transition.
You also have numerous items in what is called your 'toolbox' to enhance/edit audio files, video clips, titles, etc.  The toolbox menu across the top provides access to these things, but there are some small buttons scattered here and there among the interface that give you access to the toolbox items as well.  Let me talk about some of these…
Audio Toolbox
The Audio Toolbox provides many options for editing the audio clips in your project.  You get access to it by clicking the small speaker icon located right above the timeline area from the Toolbox menu item at the top of the window.  With the Audio toolbox you can do things like… adjust the volume of audio clips, import audio from CDs, record a voice-over narration, create background music automatically with the Scorefilter tool, and add effects to audio clips like changing the speed or adding reverb or echo.
Let me mention something about the Scorefilter tool.  It automatically adds music to your video and adjusts itself to fit.  I tried several different pieces of music and it automatically filled in the exact length that I needed for my movie and it sounded seamless.  Pretty darn neat for someone who wants to quickly add some music to their video without any audio editing.  I have always been skeptical of tools like this, but I was pleasantly surprised.  I tried to trip it up and it performed well.
Scorefilter screenshot: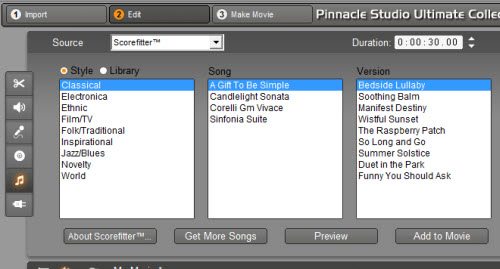 Video Toolbox
With the Video Toolbox you can you do things like… grab a frame of video and create a still image, add great effects such as pan-and-zoom, auto color correction, stabilize (to help correct that shaky camera shot you took), picture-in-a-picture, old film effect, earthquake, motion blur, and lots more.   You get access to it by clicking the small camera icon located right above the timeline area, or again, from the Toolbox menu item at the top of the window.  You can also edit the properties of a Montage (more on that in a min) that you have chosen for your project.  You really could get out of hand with all these and the temptation is large for sure.  But having them there means that you'll have lots of options for your videos and you won't have to repeat the same ones over and over for all your videos.  But of course if those aren't enough for you, there is always Hollywood FX!  Hollywood FX effects add special effects to both photo and video.  As I mentioned, the program comes with a bunch, but of course Pinnacle offers many more effect packages for sale on their website.  Of course!
Motion Titler
This tool allows you to 'jazz up' your titles by adding motion and graphics to your text titles.  I will say that some of the motion graphics for the titles were a bit cheesy and reminded me of PowerPoint transitions circa 2003, but there are a bunch of them and some of them are pretty cool.
Create Smartmovie Tool
In the video toolbox you can also let Pinnacle create a music video for you using the "Create Smartmovie" tool.  This was pretty darn cool.  Simply use this tool to add opening titles, closing credits, drop your video clips on the timeline, choose what type of music video you want (fast-paced, elegant, old movie, romantic, etc), and the tool does the rest.  I won't say that I would have chosen all the things that the Smartmovie did for my attempt at using this tool.  But for a novice video person, wow, this tool could really make some movies quickly for you.
Project Bin
A great feature is called the 'project bin'.  It is accessed by choosing "Show Project Bin" from the Toolbox menu, or by clicking the small folder icon right above the timeline.  The 'bin' is a panel that opens up above the timeline that shows you only the items that have been using in the current project… video, audio, pictures, menus, etc.  Very nice touch.  This way, you don't have to scroll through dozens and dozens of little thumbnails trying to figure out which picture or which video clips you used.
A feature that has been included with Pinnacle for several versions is what are called "Montage themes".  I have always considered myself a creative type and for years I have stayed away from such things because in my mind I was more creative than these canned themes!  But I like the way these have evolved.  Pinnacle has included some great new themes in this version and I used several of them in the video project that I did during this review.  Let me explain what Montage themes are…
Montage themes have been around since version 12, but there are several new montages added in version 14. For those who don't know, Montage Themes are where you select any pictures and/or video you want, and it displays them in the pre-formatted animated presentation of the montage.  What's cool about using Montage Themes is that the montage comes with an opening animation, a closing animation, and several segue animations.  So you can maintain the same theme throughout your video and it gives is a much more professional look as opposed to using just plain-jane transitions like fading in and out.
Let me now mention some a couple other really great features of this program…
First of all, a great new feature that I haven't seen before in previous Pinnacle products is the ability to right-click on a video clip in your timeline and choose "copy all effects" (or just individual effects) and then right-click on another clip and 'paste' the effect(s).  This is a huge time-saver, especially when you have a large video project.  Here is a screenshot: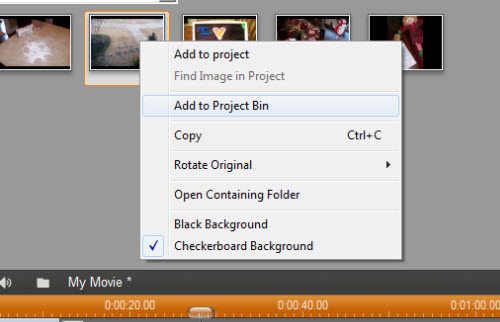 One of the biggest improvements in this product is the unified import tool.  This is a huge improvement and will be the most noticeable to those of you who have been Pinnacle users for years.  I love this feature!  It is very intuitive and also allows you the ability to set the start and stop points in your importing process.  This is important because it allows you to start a video import (from a digital video camera for example) and then walk away knowing that Pinnacle will stop importing when it reaches the point at which you told it to stop.  This has been one of the biggest gripes I have had with Adobe Premier Elements.  I don't have that option in Elements, so I have to either sit there and watch it until it is done or be willing to import the entire video tape to my computer harddrive, therefore taking up harddrive space with video I'll never use.  You can even let the import tool import stop-motion clips every 8 or 12 frames.  Pretty neat option!  This improvement alone would be worth the upgrade to me!  Here is a screenshot of the import tool with an arrow pointing to the various things you can import from… VCRs, digital video cameras, your webcam, a Blue-Ray player, your computer's DVD drive, etc.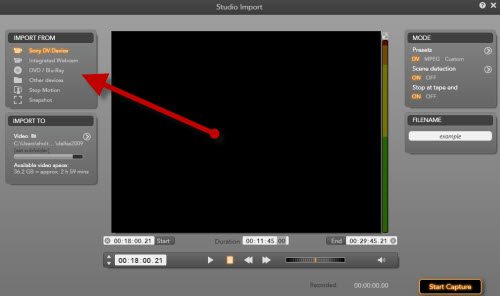 Your export options are on par with all the other video editors… you can pretty much export to any format you want, including uploading directly to Yahoo video or Youtube.  I used the Youtube upload and it worked great.  Here are the available output options (along with a screenshot):
'Disc' output formats:  AVCHD, Blue-Ray, HD DVD, DVD, SVCD, VCD
'File' output formats:  AVI, DivX, Flash video, iPod compatible, MOV, MPEG-1, MPEG-2, MPEG-2 TS, MPEG-4, Real Media, Sony PSP, Windows Media, 3GP
'Web' output formats:  Yahoo video, Youtube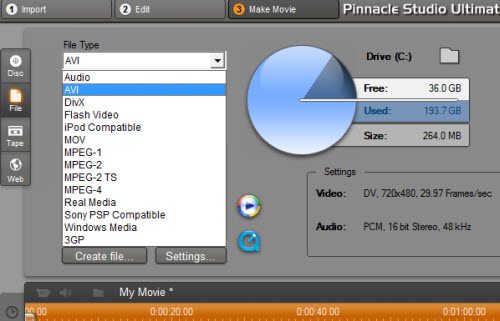 Finally, let me mention some of the things that I think are drawbacks of this program…
First of all, I experience the same problem that I have had with Pinnacle products for years, and I just don't understand this.  I have used Pinnacle on Windows XP, Windows Vista, and now Windows 7, and the same thing happens.  I'll try to explain it…
On my laptop the Pinnacle window can't open up big enough for me to avoid having to scroll down the window just a little bit to see the very bottom part of the timeline.  This is no big deal really, I know how to scroll obviously and I have a mouse wheel.  But here is where it gets strange.  Sometimes when I am working with various tools… editing audio files or video files, working with pictures, etc., the scrollbar down the right side of the window will expand to fill up the entire scroll area, preventing me from scrolling down the window any further, even though I can't see the entire window.  I hope this makes sense.  But basically, I can see that there are parts of the window at the bottom that I can't see, but I am prevented from using the scroll bar to scroll down and see them.  The only solution is to minimize and then maximize the window.  I just don't get it.
Secondly, there were several times that I was doing something during the editing process and the program simply locked up.  And there was no pattern for this.  One time I was editing a DVD menu.  Another time I was trying to grab an MP3 file and drop it on the timeline.  So I got into the habit of saving my work often.  To be fair, I also have this issue with Adobe Premier Elements, so perhaps it is an issue with my computer.  But reading message boards told me that others have this issue as well, so I am not sure what to think.
Final comments
Finally, I will mention this.  Knowing I was going to be doing this review, I enlisted my retired father to try using this program and see what he experienced.  He has never done any kind of video work using a program like this, so he is about as green as they come.  I didn't give him any guidance at all… I simply handed him the box and said "good luck, let me know how it goes".  Here were some of this comments…
"The initial video tutorial that came up when I first started the program was good, but it does not effectively replace the detail of an owner's manual.   As a first-time user it was difficult to understand all of the necessary details of the software and it was cumbersome having to return to the videos, then having to watch the video from the beginning to get to the part that would explain the detail I needed.  The HELP menus were too summarized to provide the detail I needed."
"The IMPORT function was simple; easily understood.  I used the box to import video from my VHS-C video camera."
"I only did minor editing of each clip, deleting footage from the beginning or end of the clip.  That editing was simple."
"The most challenging part of the project was creating the disc Menus.  The problem was NOT the actual creation of the menus but KNOWING that the menus would NOT take effect until the project was 'processed' to fit on the blank DVD.  This was frustrating!  After I saved the finished project I wanted to play it back to preview it before loading it to DVD.  On playback the menus appeared at the beginning of the video but were NOT selectable and did not appear at the beginning of each Chapter.  It was only AFTER going through the process of resizing the video and loading it to the disc that I discovered the menus had become active.  As I mentioned above, having TEXT instructions available would have made the project much easier."
Bottom line
If you want a video editing program and you are new to video editing, you can't go wrong with this program.  The ease-of-use and set of features out of the box mean that you can be successful quickly, and you'll have some great videos.  And sharing to Youtube is a breeze, which is where most of your videos will end up.  The converter box performs well and you'll be able to connect older as well as newer devices.  But it isn't all a bowl of cherries, as you read from my comments and my father's.
This program doesn't includes some of the more professional features that more high-end programs would have like Adobe Premier or Final Cut Pro, but then for this price you can't expect that.  Although, Adobe Premier Elements (which is a direct competitor to this product) does have more feature-rich options available to you, but Elements doesn't perform quite as snappy as Pinnacle Studio does and it isn't nearly as easy to use as this product.  If you want more features and a higher-end video editor, this program is not for you.  But it is so easy to use and adds new features with every release, I can create videos alot more quickly with this program, which is why I still use it.  I won't give up my Adobe Premier Pro for my sophisticated projects, but Pinnacle Studio will still remain one of my recommendations when people come asking for my opinion!

Product Information
Price:
$149.99
Manufacturer:
Pinnacle Systems
Pros:

Very easy to get going fast.
Unified import and capture utility.
All-in-one solution in the box.

Cons:

Still locks up occasionally.
Competitors are more feature-rich.
Weird scroll-bar issue.