The Gadgeteer is supported by readers like you! If you buy something through links on our site, we may earn an affiliate commission at no cost to you. Thank you! Learn more.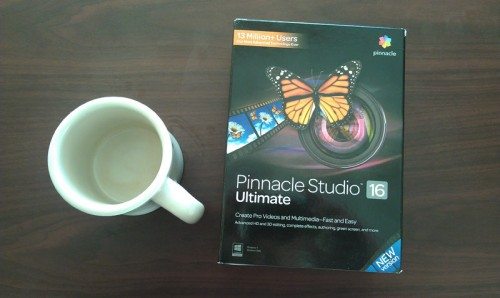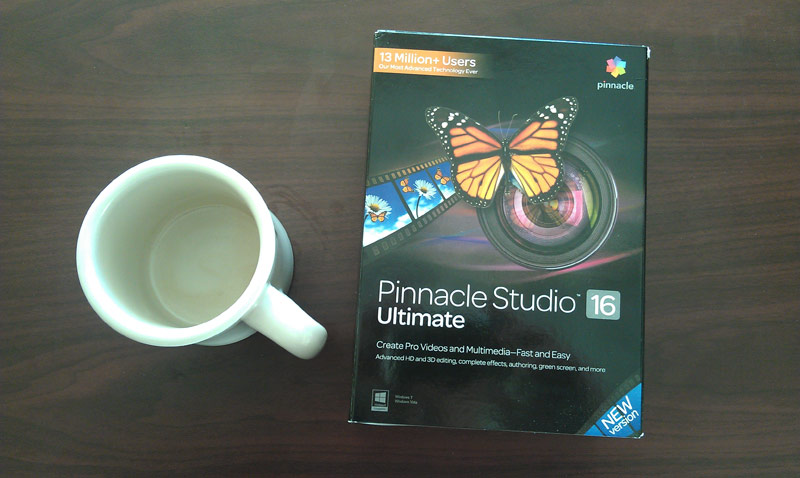 The other day a friend of mine showed me their new cellphone.  I couldn't tell a difference between their old one and the new one. The new version looked exactly like the old one.  This has happened to me before with various things, like software programs for example. Sometimes the new version simply doesn't provide enough reason to upgrade.   Avid bought the Pinnacle software line a couple years back and turned Pinnacle Studio into Avid Studio, which I reviewed in the summer of 2011.  It was a serious, fundamental change from the Pinnacle Studio I had grown to love, but my review was favorable.  And now Avid recently sold the software line to Corel who decided to return to the Pinnacle brand loved by so many. So with the new release of Pinnacle Studio 16 Ultimate, would version 16 live up to the Pinnacle brand I had known and loved? Would it best Avid Studio? Would it again be another complete departure from previous packages? Let's find out!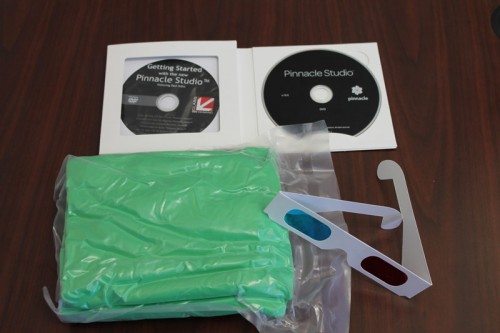 When I opened Pinnacle 16 the first time I thought I was looking at Avid Studio.  Honestly, I thought I had mistakenly opened the Avid Studio package because I was expecting to see an updated Pinnacle interface from a previous version of Pinnacle. But what I discovered was that Pinnacle Studio 16 is an upgrade from Avid Studio.  I initially couldn't see any difference between them, which caused me to be a little disappointed. But that quickly changed, as you will soon find out.  But first…
My initial thoughts when I opened the box:
Green screen sheet.  Nice.
3D glasses… whoa… what's this?  Interesting indeed.
Tutorial DVD… nice touch as well.  Although the same videos are on the Pinnacle website.
Installation guide.  Helpful.
Quick-Start Guide. Very helpful.
Free 25GB of storage from Box, and an additional 25GB when you register the product. Wow. 50GB?? That's more than I have with Dropbox, Google Drive, and Skydrive. Sweet.
So I got the Pinnacle Studio 16 Ultimate package ($129.95), which is a step up from the Pinnacle Studio 16 Plus ($99.95).  So what do you get for that extra $30? A bunch:
Green screen sheet
Red Giant toolkit
Motion Graphics toolkit
2,000+ 2D/3D effects, transitions, titles, & templates (as opposed to 1,800+)
Unlimited audio and video timeline layers, instead of 24 you get in Plus
Installation and first use
I had some issues right after installation. My video camera that I use the most records in .MOV format. And none of my .MOV files would play in the timeline. I submitted a tech support request (after registering my product, of course), and working with them revealed that there was an issue with the codecs that my files were using and the Pinnacle software. Tech support provided me some files to replace on my system after they discovered the issue, and it was resolved. I give them props for a quick resolution to that problem.
What's new in Pinnacle 16?
I am going to refer several times to Avid Studio, since this package is an upgrade to it, so if you want to read my review of that package then go here.
I discovered a whole host of upgrades and enhancements from Avid Studio to Pinnacle Studio 16. Little things that I didn't initially notice but that now are really big in my mind. Let me simply list them in bullet form for you. (Some screenshots that refer to these bullet points are below.)
There is a toolbar right above the timeline.  You can customize which buttons show up on that toolbar, which you couldn't do in Avid Studio.  Very, very nice!
In Avid Studio if you wanted to grab a still frame from a video (which is a common thing to do in these video packages), you had to open up the clip in 'corrections mode' and then grab it there. Big hassle. Now with Studio 16 you can use the Snapshot button on the timeline toolbar without opening up anything else. This is one of the biggest improvements, and whoever decided to do this deserves a hug.  Seriously.
Also on the Timeline toolbar is the Dynamic Length Transitions button, which allows you to set the duration of the transitions you add.  If you don't have this selected, a standard transition length will be added, which you set in the project settings.
All the options available in the Import tool remain (webcam, DVD, computer, stop motion, snapshot), but now you can also import media from the "cloud", which is that free Box.com account that I previously mentioned. It sure would be nice if they integrated Dropbox, Skydrive, and Google Drive as well.
In the Library when you preview clips, you have many more options, including scrubbing through the clip, uploading to Box.com, applying tags, etc.
The Export tool in Avid only had options for File, Disc, and Web, and the only destination for 'Web' was YouTube. Now the Export tool has options for File, Disc, Cloud, and Device.  Cloud allows uploading to Box.com, Facebook, Vimeo, and YouTube. And Device adds types for Apple, Nintendo Wii, Xbox, PSP, and PS3. This update to the Export tool is awesome, and much needed.
The Export tool also added an 'image sequence' output option, which creates a series of HDV TIFF images.
In the Control Panel, you now have an option for "Keyboard", where you can create your own keyboard shortcuts for almost every task you can perform.  Very nice touch!
The Corrections Editor and Effects Editor have more options available to you.  In fact, in the Effects editor you can now apply affects to any transitions that are attached to the clip, which is a nice addition.
The updated Import Tool: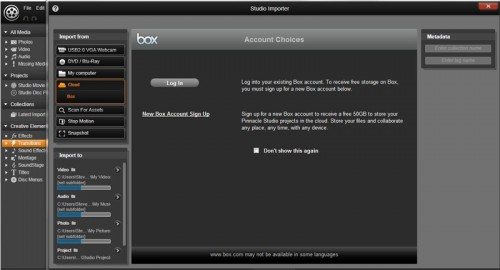 The updated Effects Editor tool: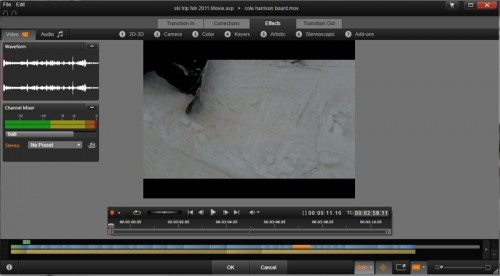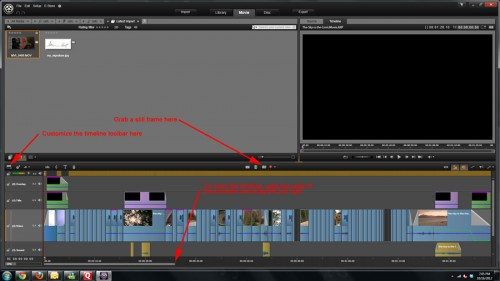 Timeline zooming
One of the biggest interface changes is something I wanted to specifically mention. In Avid, if you wanted to zoom the timeline to see more or less of it on the screen, you had to use this Zoom Selection window below the timeline. The use of it grew on me, yet the manner in which you use it still doesn't seem natural. In Pinnacle 16 ,they completely changed it so that you simply grab the ends of the scroll bar on the left or right ends and drag it to show more or less of the timeline. I will be honest and say that I think this is a step back. Not in the aspect of how it works because once I figured it out, I get it. But for the average person, especially the novice, this feature may never be discovered because the usability of the feature is unlike anything in use today.
I think that Avid needs to quit getting creative with the zooming for the timeline. Just make a zoom slider to do it, which most users will recognize because they are used in a bunch of other software programs.  In fact, there is already a simple zoom slider in the library panel view, so why not do the same thing for the timeline??  Makes no sense to me. The person who came up with that does not get a hug.
3D features
A big enhancement in Studio 16 is the ability to import 3D clips, edit in the timeline and apply effects to the 3D clips, and output in full 3D format. Using the 3D glasses included in the package you should be able to use the package for all your needs.  Unfortunately I didn't have any 3D footage to test this, so I can't speak to how it performs in this regard.
Claiming your Box.com account
The first time you export to the cloud to Box.com, you'll be prompted to open your free Box.com account with the free storage. There are no instructions in the box on this, so let me just go ahead and say "you're welcome".
Studio 16 update
Before using Pinnacle Studio 16, go grab the system update here.  There are many improvements and fixes, which you can read about at that link.
Performance
The bottom line in performance is that the software imports files faster, renders faster, plays preview clips faster, and generally operates faster than Avid Studio in just about every way.  I am very, very happy about this.
Bottom Line
The improvements and enhancements between Avid Studio and Pinnacle Studio 16 are huge, although you won't be able to initially tell it by looking at the interface. But make no mistake, this update is big. And the fact that they knocked off $40 from the price and gave you more is simply icing on the cake.  The price is still higher than other consumer-level products, so that will keep some folks away. And I still think, as I did with Avid, that this package is a little more than the complete video novice will be able to handle. But what you get for the price is amazing, and the interface and performance improvements will make existing customers upgrade for sure.  There are still some improvements that Avid can make, but on a scale of 1 to 10, I give this package at least an 8, maybe a 9.
Product Information
Price:
$129.95
Manufacturer:
Corel
Retailer:
Corel
Requirements:

Windows 8, 7, Vista (64 bit recommended)
2 GB RAM
1024x660 screen or bigger
4.5 GB HDD space
128 MB VGA VRAM

Pros:

Improved interface
Faster performance
Great price for what you get
Tons of great add-ons included
More export options

Cons:

Novices may be overwhelmed
Timeline zooming needs to be fixed
More expensive than other consumer level products
Need more cloud import options