We use affiliate links. If you buy something through the links on this page, we may earn a commission at no cost to you. Learn more.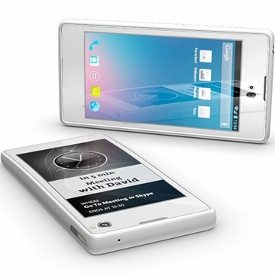 From Russian company Yota Devices, the YotaPhone  (confused you must not get ) is a dual-screen Android phone. One side is a normal high-resolution 4.3″ 1280 x 720 LCD screen that you can use to watch videos or play games; flip it over and the other side has a 4.3″ E Ink screen to read a book, display maps or e-tickets, or other more static applications, such as calendars or widgets.
Using the E Ink screen for some functions should lead to better viewability in direct sunlight and result in better battery life, given that eInk only uses power when it refreshes.
The YotaPhone will run a Qualcomm Snapdragon MSM 8960 chip (1.5 GHz), come in a 32 or 64GB version, and will be running the latest Android OS (Jelly Bean 4.2). Size wise, it measures in at 67 x 131 mm (2.64″ X 5.16″) and weighs 140 g (5 oz)
The phone will be released at Mobile World Congress 2013 (February 25-28, 2013) in Barcelona, with  sales scheduled in Russia in the third quarter and international release the following quarter.
E Ink to the flipside leads 🙂