We use affiliate links. If you buy something through the links on this page, we may earn a commission at no cost to you. Learn more.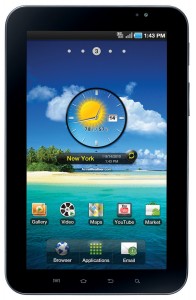 I'm really enjoying my Droid X and the Android OS. I still miss my iPhone here and there, but for the most part, I made the switch and haven't looked back. Could I make the switch from my iPad to an Android tablet though? That's a good question and one I've been asking myself since hearing that Verizon Wireless will have the Samsung Galaxy Tab available soon (no word yet on pricing). It's smaller than an iPad, but it includes both rear and forward facing cameras and Adobe Flash. Hmmm, very tempting – as long as it's better than the Camangi!

VERIZON WIRELESS ANNOUNCES ITS FIRST MOBILE TABLET, THE SAMSUNG GALAXY TAB™
 
Delivers Premium Mobile Entertainment Experience through 7-Inch Touch Screen Display, Android 2.2 Platform, Front and Rear-Facing Cameras, Entertainment Applications and 1GHz Application Processor
                                  
BASKING RIDGE, N.J., and DALLAS – Verizon Wireless and Samsung Telecommunications America (Samsung Mobile) today announced that the Samsung Galaxy Tab™ will launch in the coming weeks.  Equipped with a brilliant 7-inch touch screen and a 1GHz Cortex A8 Hummingbird Application processor, the Galaxy Tab will provide customers with a robust HTML Web browsing experience.
 
"The Samsung Galaxy Tab is an exciting addition to the Verizon Wireless Android portfolio," said John Stratton, executive vice president and chief marketing officer for Verizon Wireless.  "Coupled with the nation's largest 3G network, the Galaxy Tab is a powerhouse that will be as exciting to use as it is practical for both consumers and business customers."
 
Verizon Wireless will introduce the Galaxy Tab with a number of exclusive applications such as V CAST Music with Rhapsody®, V CAST Video on Demand, V CAST Song ID, VZ Navigator®, along with games "Let's Golf" and "N.O.V.A."
 
 "As we head into the holiday travel season," Stratton added, "We expect customers will find the Galaxy Tab is the perfect traveling companion – download a book to the Kindle™ eReader, and you won't miss your favorite paperback.  Tune in to Slacker Radio, and create your own custom station or choose from over 100 expert, preprogrammed radio stations from every genre.  You can even download a movie and take advantage of a screen large enough to enjoy all the action." 
 
The Galaxy Tab refines the mobile multimedia experience by offering full support for Adobe Flash 10.1 for video and mobile gaming and an integrated entertainment, multimedia and social networking experience.  An image of the Galaxy Tab is available at: http://news.vzw.com/images/releases/Samsung-Galaxy-Tab.jpg.  The Galaxy Tab will be available in the coming weeks in Verizon Wireless Communications Stores and online at www.verizonwireless.com.
 
Key features:
 
·         Enhanced TFT display with WSVGA resolution – Offers brighter colors and clearer pictures and delivers 1024 x 600 resolution whether watching a movie or reading a book
·         Rear-facing, 3MP camera and camcorder – AutoFocus captures DVD quality video
·         Front-facing, 1.3-megapixel camera and camcorder – Enables video chat (Wi-Fi® only) with other people who have video conferencing capabilities (applications available in Android Market™).
·         Corporate Email – Supports Android 2.2 Exchange ActiveSync e-mail to synchronize corporate e-mail, contacts and calendars from office e-mail accounts
·         Wi-Fi® connectivity (802.11 b/g/n) and 3G Mobile Hotspot support
·         Built-in 2 GB internal memory with 16 GB pre-installed microSD™ expandable to 32 GB
·         4,000 mAh Battery – Provides ample power to watch movies, share content and surf the Web for hours
·         Ultra thin and weighing less than a pound – For users who don't want to be weighed down by adding a mobile tablet to their pocket or purse
 
Lifestyle features:
 
·         Samsung Social Hub – Built around messaging, contacts and calendar sync, which allows users to send and receive daily activities, whether it is e-mail, social network updates or SMS messages
·         Customizable touch screen menu with drag-and-drop widgets
 
(EDITOR'S NOTE: A full list of features and specifications on the Samsung Galaxy Tab is available at: http://news.vzw.com/news/2010/09/pr2010-09-16a.html.  Media can access high-resolution images of the Galaxy Tab in the Verizon Wireless Multimedia Library at www.verizonwireless.com/multimedia.)
 
About Verizon Wireless
Verizon Wireless operates the nation's most reliable and largest wireless voice and 3G data network, serving more than 92 million customers. Headquartered in Basking Ridge, N.J., with  79,000 employees nationwide, Verizon Wireless is a joint venture of Verizon Communications (NYSE, NASDAQ: VZ) and Vodafone (LSE, NASDAQ: VOD).  For more information, visit www.verizonwireless.com. To preview and request broadcast-quality video footage and high-resolution stills of Verizon Wireless operations, log on to the Verizon Wireless Multimedia Library at www.verizonwireless.com/multimedia.
 
About Samsung Telecommunications America
Samsung Telecommunications America, LLC, a Dallas-based subsidiary of Samsung Electronics Co., Ltd., researches, develops and markets wireless handsets and telecommunications products throughout North America. For more information, please visit www.samsungwireless.com.