We use affiliate links. If you buy something through the links on this page, we may earn a commission at no cost to you. Learn more.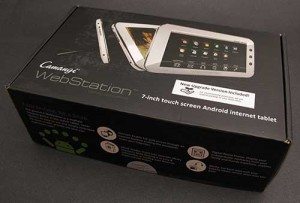 Back in December I was tired of waiting for the iPad to be announced, so I ordered the Camangi WebStation Android Internet Tablet hoping it would fill my gadget needs for a few months. When I received it, I was in love with its Apple-like design, but in use, I was underwhelmed. So much so that I didn't even want to review it – so I gifted it to Bryan in exchange for his review. Before Bryan could churn out the review, the folks at Camangi offered to send me version 2 of the WebStation in exchange for my full review. Since I hadn't really given the original one that much of a shot, I decided to take them up on their offer and here we go!
Hardware Specs
CPU: Marvell PXA303 624MHz
OS: Google Android v1.5 (Cupcake)
System memory: 128MB Mobile DDR
Flash memory: 256MB NAND (system)
Display: 7-inch TFT LCD, 16M True Color 800-by-480 pixel Resistive touch panel with hard glass
Expansion: Micro SD Card: 8G (included)
Communication: Wi-Fi (802.11 b/g)
Power: Rechargeable Lithium Polymer battery (3.7V 4000mAh)
Standby time: up to 4 days(without GPS & Wi-Fi connection); Internet and media use: up to 4-5 hours
Size: 4.72 x 7.87 x 0.57 inches (120 x 200 x 14.5mm)
Weight: 13.75 ounces (approx. 390 grams)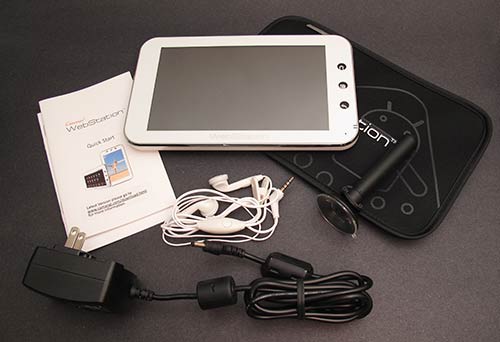 Package Contents
Camangi WebStation
8GB microSD card
AC Adapter
Earbuds with built in microphone
Suction cup stand
Sleeve
Screen wipe
Quickstart Guide
The Hardware
This device looks great and is actually the exact size that I had hoped the iPad would be. Not too big and not too small.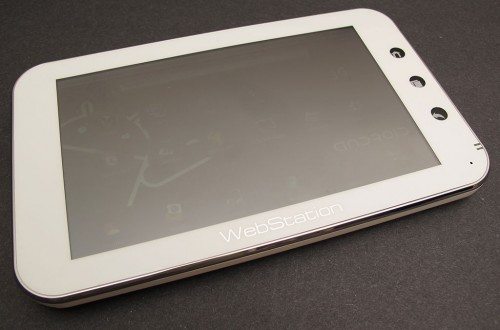 The case is made of a sparkly White plastic with chrome accents. It has a nice solid feel with no flexing, creaking or cracking when I performed my world famous Gadgeteer squeeze test on it.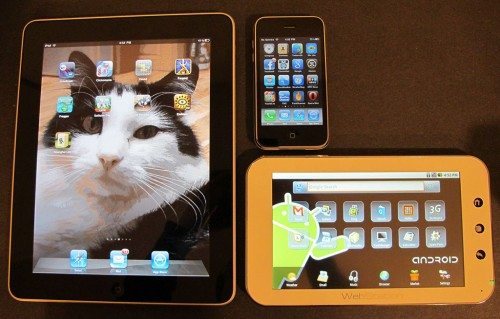 To give you a better idea of its size, here it is compared to an iPad and an iPhone 3Gs.
Never miss one of our posts again. Sent MON, WED, and FRI with the latest gadget reviews and news!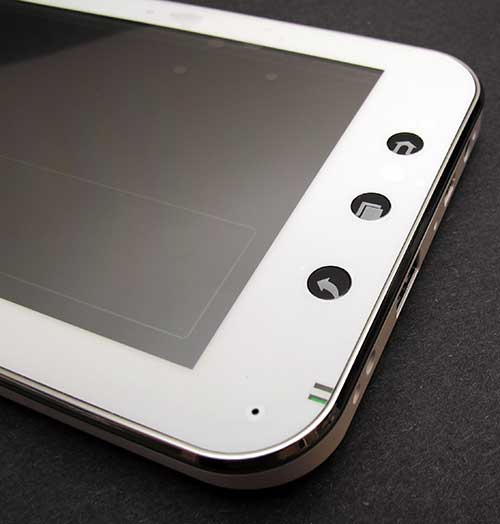 The top surface of the WebStation has 3 buttons (Home, Menu and Back), 2 status LEDs and a microphone.

Along the top edge is a small power button and the microSD card slot (an 8GB card is included with the purchase of this device).

On the Left side you will find the volume buttons and two screw holes.

On the opposite side is the power port, full-sized Type A USB port, reset switch, mini USB port and a 3.5mm earphone jack along with 2 more screw holes. There are also two 80hm 1W speakers built into the back of the unit.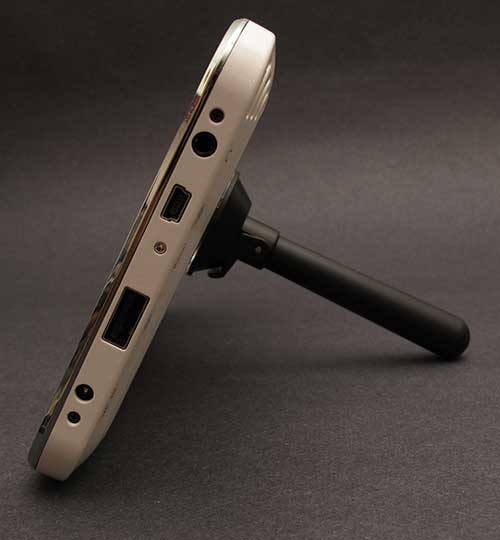 The WebStation ships with a nifty suction cup mounted stand that will let you use the tablet as digital frame, clock, etc.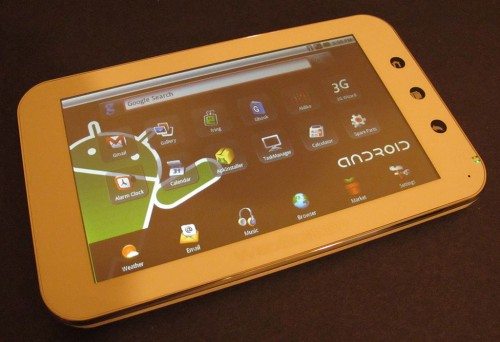 The Camangi's display looks pretty nice. It's large enough and bright enough. But it suffers from a big problem in my opinion – it's not a capacitive touch screen like the iPhone and iPad. Why is that a problem? Because it detracts from what the device is supposed to be, a finger friendly tablet computer. There's even a built in stylus… eew. Yes, you can use your fingers to tap icons and control the WebStation, but those tasks (mainly scrolling and typing) that are easy and effortless on a capacitive display are kind of blah with a resistive display. FYI, no multi-touch either kiddies. 🙁
While we're at it, the WebStation doesn't have Bluetooth either, and it can't be charged via USB. I suppose the lack of USB charging isn't a big deal, but the AC adapter included with the tablet is bulky. Another weird thing that I noticed with regards to charging is that my tablet makes an odd clicking noise when it is charging and the screen is off. It's not real loud, but it is noticeable enough to be annoying if you have the tablet next to you on a desk in a quiet room. I'm not sure if mine has defect or if they are all that way… I don't really have a firm grasp on the battery life yet, but according to Camangi's site, it should last 4-5 hrs per charge.
In addition to the charging oddity, I also noticed that the tablet seems to have an issue with WiFi connectivity. Surfing the web within 3 feet of my wireless router will often result it in saying it has lost the connection. I surf with my iPad all the time in a completely different room and have not had this happen, so go figure.
Overall system performance feels fine until you open a few apps. Then it gets very sluggish very quickly. Luckily, they have included a task killing app.
The Software
The WebStation ships with a small set of apps that include:
GMail
Gallery – Photo viewing app
fring – Chat and VOIP app
Gbook – eBook website portal
Aldiko – eBook reader app
3G Wizard – For use with a 3G USB dongle
Alarm Clock
Calendar
ApkInstaller
TaskManager – Task killer app
Calculator
Spare Parts – Secondary settings app
Weather – Full screen weather forecast app
Email
Music Player
Web Browser
Market – App store
Settings
One of the biggest disappointments with the WebStation is the fact that it can not access the full Android app market. Instead, it accesses a special Camangi market that doesn't have very many apps at all. You can get around that by downloading packages and installing the with the package manager, but it's a significantly less elegant way to do it.
Another problem that I see is that the OS can't be updated. The WebStation only has Android version 1.5, while 2.1 is already out in the wild. I asked the folks at Camangi if there would be a way for tech savvy people to do their own update and they said this device only supports v1.5 and there are no plans to make 2.1 available.
I have another complaint to add to the list… you are unable to add widgets to the home screens like you can with phones. 🙁
Bottom Line
I was hopeful that the Camangi WebStation would be a great little tablet when I first purchased one late last year. Unfortunately I wasn't impressed by version 1. I was then hopeful that version 2 would be much better, but again, that hasn't been the case. If you have been considering this device as an alternative to the iPad and other slate / tablet computers that are starting to show up, I would reconsider. The only task that I feel the WebStation is good for would be an eBook reader using the installed Aldiko application. It might also make a decent (yet pricey) digital photo frame.
Anyone else out there buy the Camangi and feel differently?
Product Information
Price:
$275.00
Manufacturer:
Camangi
Pros:

Nice size
Makes a good ebook reader

Cons:

Weak WiFi connectivity
Can't access full app market
OS can't be upgraded