We use affiliate links. If you buy something through the links on this page, we may earn a commission at no cost to you. Learn more.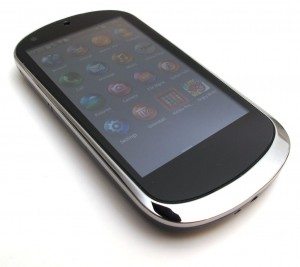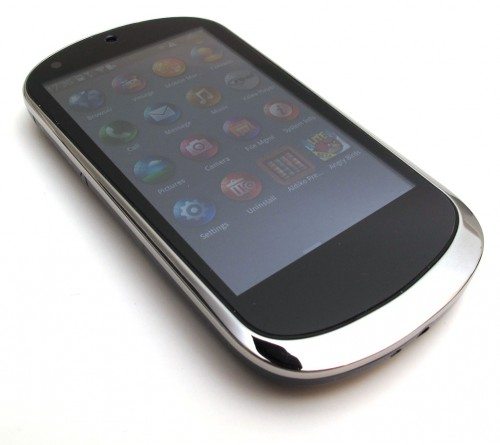 Lenovo is well known for their laptop and desktop computers, but they aren't a company that most of us think of when it comes to smartphones. It is interesting to note that they are actually China's best selling cellphone manufacturer and now the Lenovo LePhone is available here in the US from Chinavasion. It's an unlocked GSM Android smartphone with a 1GHz processor and an AMOLED display. Let's take a closer look.
Note: Some images in this review can be clicked to view a larger size.
Hardware Specifications
Platform: Android v1.6 OS + Custom Lenovo OS (Pseudo 2.1)
Network: GSM: 850/900/1800/1900 MHz, WCDMA/HSPA: 850/1900/2100 MHz
Processor: Qualcomm QSD 8250 1Ghz
Display: 3.7in (800×480) AMOLED Capacitive Touchscreen
Storage: RAM 512MB, 512MB
Expansion Slot: 8GB microSDHC Memory Card Included (Maximum Memory for Expansion Slot: 32GB)
Bluetooth Version: 2.0
Wi-Fi: 802.11 b/g
Battery: Rechargeable Lithium-ion battery 1500 mAh
Talk time: WCDMA: Up to 5 hours, GSM: Up to 7.5 hours
Standby time: Up to 400 hours
Camera: 3MP
Dimensions: 120 x 61 x 12mm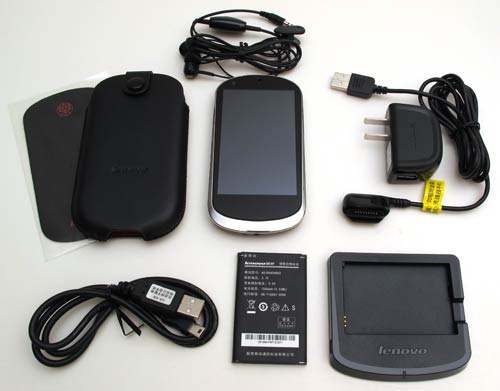 Package Contents
Lenovo LePhone
User Manual
Cleaning Cloth
Leather Case
Earphones
8GB Micro SDHC Memory Card
Battery x2
Battery Charger
Battery Charger Cable
Lenovo 9PIN Pogo USB Cable
Power Adapter
Free Travel Adapter (for UK, AU, NA, SA customers)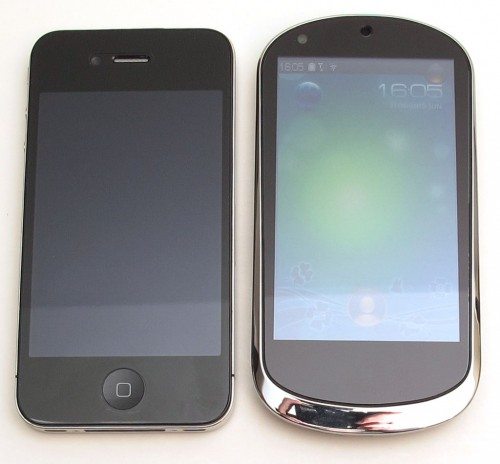 Even though the LePhone and iPhone do not share the same physical shape, they do resemble each other when it comes to how they feel in hand. The LePhone is a solid / heavy phone that has a quality feel that I like. It doesn't flex or creak when I squeeze it or rattle when I shake it. The rounded back and beveled bezel make the phone comfortable to hold and use.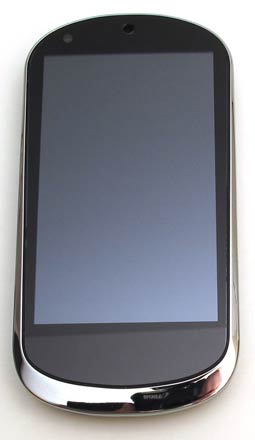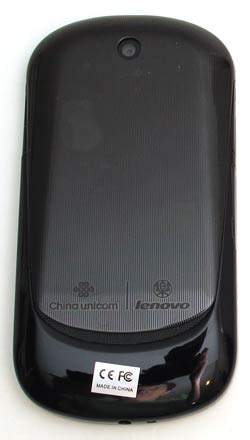 There are no buttons on the face of the phone. All you notice is the glass display with the speaker at the top and the touch swipe area at the bottom.
The back of the phone has the 3MP camera lens (sorry, there's no LED flash) and speaker grill below the battery door. It's hard to see in this photo, but it's the 'smile' below the Lenovo logo.

The Left side has the volume up/down button and the sync / charge port which is protected with a magnetic cover.

As you can see the cover is a thin strip of plastic. Since it isn't tethered to the phone, it will be really easy to misplace. You'll also notice that the sync / charge port has a proprietary connector. I like that it's magnetic, but I think I'd rather it use mini or micro USB.

The Right side has the dedicated camera shutter button and right above it is a status LED that will blink in white when an email is received.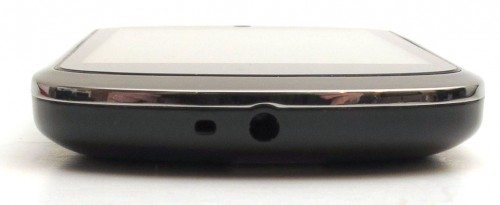 At the bottom is the standard headphone jack and microphone.

And on top is the power button.
When it comes to the hardware, I like everything about the LePhone except for the camera. It is slow to react, doesn't seem to auto focus and doesn't have a macro mode. Here are some samples.
Blurry… The lens is recessed into the back of the case, making it hard to clean if it gets smudged.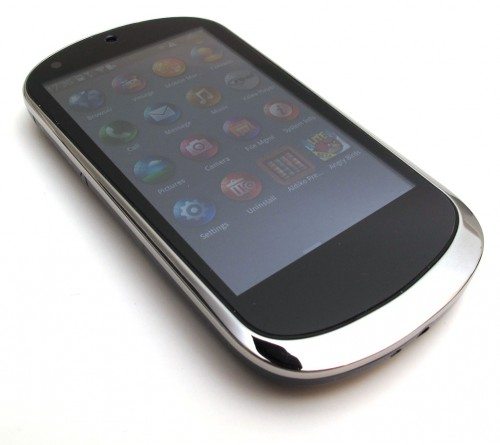 The large Black area below the gorgeous AMOLED display is a touch panel. There are three gestures that you can do that perform 3 different tasks. On the home screen, swiping Left to Right will page through open apps like a task manager. You can switch to an open app or close them. To bring up the menu in a running application, you swipe your finger from the bottom of the touch panel to the top. Swiping Right to Left is like pressing a back button in your web browser, except that it will let you move back through various apps you've opened in the order you opened them.
Making calls with the LePhone worked fine. The volume and call quality is comparable to other AT&T GSM phones that I've tested over the years.
System performance and battery life on this phone have been very good. The processor is a 1GHz Snapdragon, so it feels as snappy as the Droid X, Samsung Fascinate and the Droid 2 that we've already looked at. No complaints about the battery life either. And the fact that Chinavasion gives you an extra battery is also a real plus.
Now let's take a look at the software side of things. First of all, the Lenovo LePhone essentially has a special Lenovo OS build on top of Android v.16 which gives the phone its own unique feel but does complicate things with regards to upgrades. This means that you won't be able to upgrade to Froyo (Android version 2.1), but Chinavasion tells me that they are working with Lenovo to try to get an Android update for this phone.
I had no trouble syncing the LePhone with my google account to pull down my email, calendar and contacts info. In that way, this phone works just like my Droid X. But, the user interface for the home screen is definitely not stock Android. The top Right corner has a Orange button that brings up the app icon view. At the bottom of the home screen are several clovers that can have apps assigned to them.
One disappointing thing to know is that you can't install widgets on the home screen. And as far as I can tell, the clock is stuck in 24hr time with no way to change it. You might also notice the globe on the upper Left corner. It shows a live view of the weather for your location. The only problem is that the weather app that it is tied to doesn' thave all the US cities. The closest one for me is Indianapolis, Indiana, but when I choose it, it says it can't find the info and to try again later.
Apps already installed on the LePhone include:
Android Marketplace
Gmail
Google Maps
Navigation
Google Talk
Facebook
Google Translate
Browser
Real Video Player
File Manager
Aldiko eBook Reader
Angry Birds Lite
To Do
Documents to Go
App Brain
Barcode Scanner
fring
Googles
Robo Defense
Missing is a stock YouTube viewer and there are also several apps that won't work in the US.
I also noticed pretty quickly that the LePhone doesn't recognize gestures like pinch to zoom, which is a bummer.
If you can get past the fact that this phone is meant for the Chinese market, doesn't come with an English manual, has a weak camera and most importantly, can't easily be upgraded with newer versions of Android, the Lenovo LePhone is a gorgeous phone as far as the hardware and the display. It feels great in hand and works fine as a phone, for emailing, surfing etc. The price seems in line with other unlocked phones GSM phones with comparable features/OS/processor. The main worry for me is being locked into Android version 1.6, which is already old news. If Chinavasion will be able to promise an upgrade path, I'll happily recommend this phone. Until then, I wouldn't this phone for myself.
Product Information
Price:
$499.37
Retailer:
Chinavasion
Pros:

AMOLED display is very nice
Unlocked GSM
Good battery life
Comes with a spare battery

Cons:

Android upgrade path unknown
No English manual
Camera doesn't take very good pix and no flash