We use affiliate links. If you buy something through the links on this page, we may earn a commission at no cost to you. Learn more.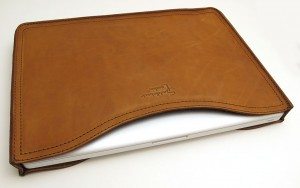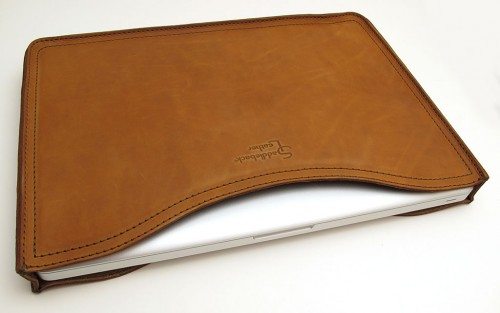 Saddleback Leather Company offers a variety of rugged leather bags, suitcases, duffles, wallets and accessories that have earned the reputation of becoming heirloom quality items that your family will fight over after you're dead. I don't know if Macbook Pro laptops will be around at the time of my demise, but if they are, I give my family permission to wrestle over the Saddleback Leather Macbook Laptop Sleeve that I was offered for review.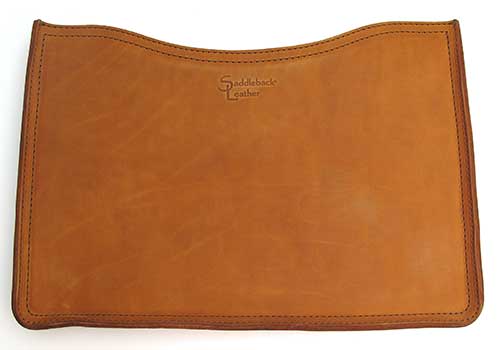 The Laptop Sleeve MAC as it is called on Saddleback's website, is a simple leather sleeve that has been designed specifically for Apple's Macbooks and Macbook Pros. The sleeve comes in 3 sizes:
Small (13 ¼" x 9 ½" x 1″) – 13″ diagonally measured screen of Macbook & Macbook Pro
Medium (14 ¾" x 10 ¼" x 1″) – 15″ diagonally measured screen of Mackbook & Macbook Pro
Large (15 ¾" x 11″ x 1″) – 17″ diagonally measured screen of Macbook & Macbook Pro
Available in Chestnut, Carbon Black, Dark Coffee Brown and Tobacco Brown, I was sent the 15″ version in Tobacco Brown.

The sleeve is an open topped holder made of thick full grain boot leather and lined with pigskin which is super strong. This isn't a super soft leather sleeve that you'll want to nuzzle against your cheek. It's not rough to the touch, but it is semi rigid. If you're more into soft leather products, give it some time… with use, this sleeve will soften too.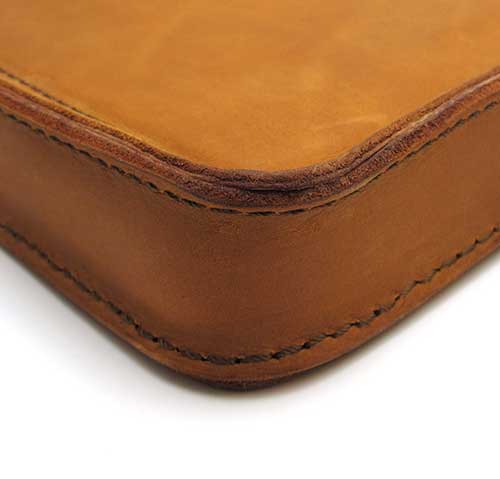 All edges have been sewn with industrial heavy gauge marine grade thread.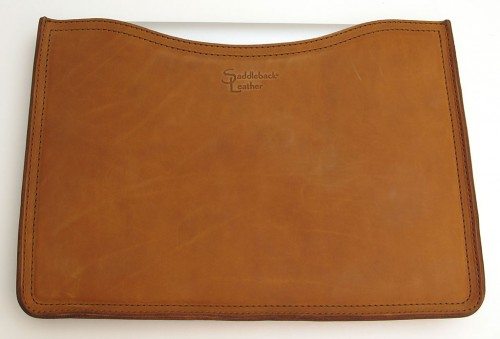 Never miss one of our posts again. Sent MON, WED, and FRI with the latest gadget reviews and news!
My 15″ Macbook Pro fits like a glove in the sleeve. A tight glove though…

Sliding it into the sleeve for the first time wasn't much of a problem, but removing the laptop required two people. One to hold the edges of the sleeve and one to pull out the Macbook. No, I'm not kidding. Leather stretches with use though, so after a few times, it gets easier.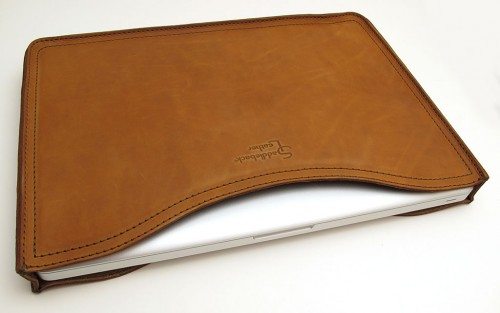 Although the Laptop Sleeve is made well and looks gorgeous, there are a couple of reasons why I wouldn't use this sleeve as my only means of protecting my Macbook Pro. The first reason should be obvious – there's no flap on the sleeve, leaving the whole top open. The other reason is that although the case does have neoprene padding between the exterior leather and pigskin interior on the front back and sides, there's not enough padding that I would trust  the sleeve to completely protect my laptop from a fall of more than a foot or so to a hard surface. In my opinion, this sleeve works best as transport type of laptop protector inside another more padded case like a briefcase or laptop bag. Or even something just to keep the dust off your laptop when it's not being used while sitting on your desk. It is also a great way to make your friends envious when they see you using it. With a 100yr warranty, this sleeve will last much longer than your laptop and your friends. What more could you want?
Note: The links to Saddleback Leather Company on this page are affiliate links. If you use one of these links to make a purchase, we will earn a small percentage of the sale, so we appreciate it if you click through.
Product Information
Price:
$75.00 - $95.00
Manufacturer:
Saddleback Leather Company
Pros:

Gorgeous rugged leather
Feels like it will last forever
100yr warranty

Cons:

Snug fit may require considerable effort to remove the laptop from sleeve when new