We use affiliate links. If you buy something through the links on this page, we may earn a commission at no cost to you. Learn more.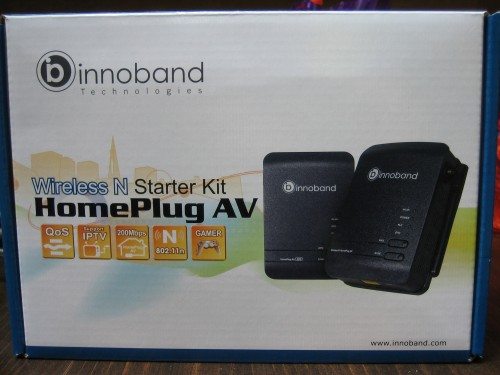 I've been using powerline ethernet for several years and it's allowed  me to extend my home LAN to every corner of the house without having to rewire the building.   I have used and tested several HomePlug devices, but the innoband Wireless N solution is unique in that it also includes a WiFi access point.
You may remember that Powerline ethernet is a technology that transmits ethernet signals over power wiring.  The advantage is the use of already available wiring to connect devices on a LAN.  The innoband Wireless N HomePlug solution takes this a step further, by including a WiFi access point in one of the two required transmit/receivers providing another way to get on the LAN.
Powerline Features:
Provides physical layer data rate of up to 200Mbps over existing in-home powerlines
Utilizes powerline technology that takes advantage of the unused bandwidth of the electrical wiring in your home
Utilizes Quality of Service (QoS) control
Supports 10/100 Base-T Ethernet
Compliant with the HomePlug Powerline Alliance industry specifications
Wireless Features:
Extended wireless coverage of up to 3 times the range of 802.11g products
Pre-configured WPS (Wi-Fi Protected Setup)
Auto channel select
Compliant with IEEE 802.11n, 802.11g and 802.11b standards
2.4 GHz-2.484 GHz frequency range
Up to 150Mbps wireless operation rate
64/128 bits WEP supported for encryption
Wireless Security with WEP/WPA-PSK/WPA2-PSK support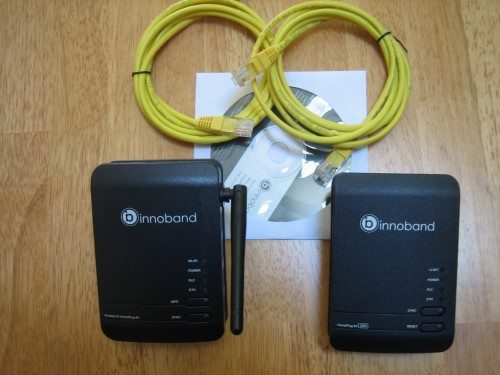 The kit contains 1 x HomePlug AV device, 1 x Wireless N HomePlug AV device, 2 x ethernet cables and a CD with the manual and a monitoring utility.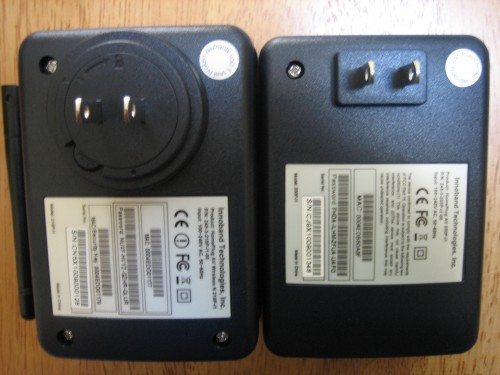 The 2 HomePlug devices plug directly into a power outlet.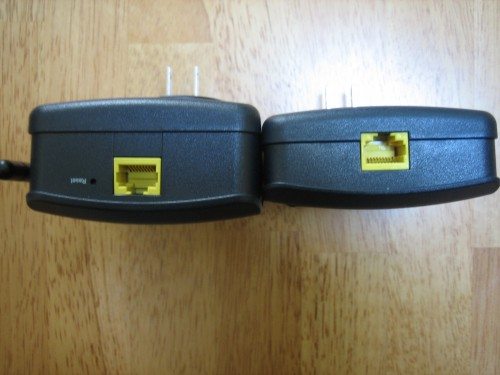 The only other plugging necessary is the ethernet cable between your modem/router and either device, and  then repeat with the other device to your laptop, PC, game, etc.  To setup, push the sync button on either HomePlug box for 1-3 seconds and repeat on the other box within 2 minutes.  Simple, isn't it?  Well, not really.  I had a problem.
Never miss one of our posts again. Sent MON, WED, and FRI with the latest gadget reviews and news!
I couldn't get the boxes to talk to each other.  I pressed the sync button and the lights flashed , but the PLC LED did not light up as it was supposed to.  To make a long story short, apparently the innoband devices didn't like the fact that my powerline network already had several NetGear HomePlug AV devices attached and running.  After I removed the NetGear boxes, I was able to establish a connection between the innoband boxes.  This situation is unfortunate because previous HomePlug AV devices I have reviewed, from different manufacturers were interoperable.  I have written to innoband about this and have not yet received a reply.
With only the innoband devices in the LAN, everything worked as advertised.  I plugged the non-wireless box into my router in the home office on the second floor and the wireless N box into an outlet in my den.  To test the powerline portion of the net I attached my trusty Media Center extender to the ethernet port.  I was able to stream video and audio at the same speed as with my other powerline gear.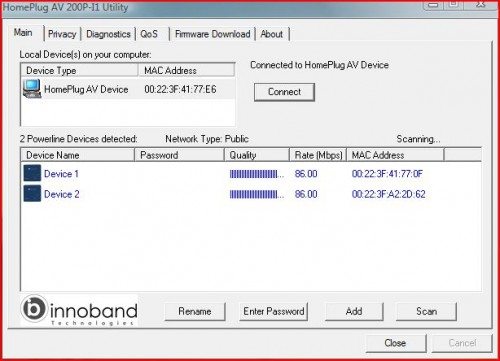 Although not required, a utility is provided that allows for monitoring of the powerline network and adjusting parameters, but for the most part the default settings are sufficient.
While I was streaming a recorded TV show, I fired up my laptop and searched for available WiFi networks and sure enough, Innoband was on the list.  I clicked on it and was presented with a request for a password.  That made me think for a bit.  I knew the device was preconfigured for WPA, but where was the password?    With a little research, I discovered it was on a label on the retail box.  Just another reason not to throw the packaging away until everything is working!
I swapped back and forth between the innoband and my normal wireless access point to see if there was any apparent difference in speed.  Both streaming video and audio worked the same, however, to be honest I don't have any 802.11 N devices so I was operating at G speeds.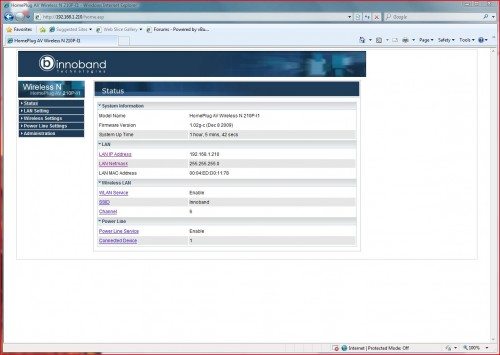 The manual details the steps needed to access the web interface for the wireless configuration utility.  This is not an activity for those of faint heart.  It requires that you set all your LAN devices to a static IP in the range of the innoband access point.  For the majority of users the default settings will work fine, as they did for me.  However, if you need to open ports or access the DMZ, you'll need to use the web interface.  For testing purposes, I changed the IP for my desktop so I could log into the interface, then I changed back to DHCP when I was done.
The innoband solution isn't as complicated as it sounds.  For the most part, it's as simple as plugging two devices into an electrical outlet, attaching the router and net work device with an ethernet cable and pushing the sync buttons.  You will then have an ethernet connection.  Although I entered a password for the WiFi connection, if your wireless device is WPS capable, there is a button on the innoband box that will connect automatically.
Over the 2 years that I've had  powerline technology as part of my LAN, I've found it to be a mixed blessing.   If you want a 100% reliable ethernet connection, run cable.   Powerline ethernet is a compromise.  It will save you having to run cable and tear up your house, but there will be times when throughput will suffer.  For me, it's very noticeable when large appliances turn on.  When streaming video the picture stalls as will also happen with music.  There are also certain lamps in the house, mostly LED and fluorescents, that will bring the LAN to a grinding halt.  I know what devices cause the problems, so I've learned to live with it and not run them when I want to watch a movie.  When there's no electrical noise on the power lines, it works great.
I don't know how a powerline solution would work for you.  My advice, as I've said before, is to buy from an outlet that has a liberal return policy.  The innoban Wireless N HomePlug AV would be a good way to get started, as long as you don't have another vendor's powerline devices already.  After I discovered the incompatibility issue, it really was plug and play.
Product Information
| | |
| --- | --- |
| Price: | $154.99 |
| Manufacturer: | innoband |
| Requirements: | Windows operating system and 10/100 10 Base T ethernet devices |
| Pros: | Easy setup, both wireless access point and powerline ethernet in one package |
| Cons: | Incompatible with other vendor powerline devices |