We use affiliate links. If you buy something through the links on this page, we may earn a commission at no cost to you. Learn more.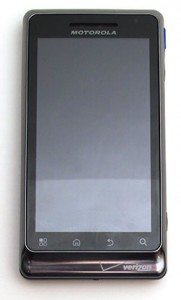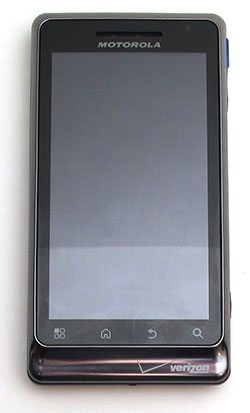 The Motorola Droid has been a very popular Android based smartphone for Verizon. It's been out for close to a year, so of course it's time for an update. The Droid 2 takes all the goodness that was packed into the original version, but kicks it up a notch to make it a worthy choice if you're looking to upgrade or buy a new high end Android phone with a QWERTY keyboard from Verizon. Let's take a look.
Note: I have not used the original Droid, so I won't be doing any comparisons as far as speed, battery life, display, etc.
Hardware specs
Processor: TI OMAP 1GHz processor with Dedicated GPU
OS: Android 2.2 (Froyo) OS with Motorola Application Platform
Memory: 8GB Internal memory for emails, texts, and apps, 8GB pre–installed microSDcard for music, videos, and pictures (expandable to 32GB)
Display: 3.7″ Touch Screen 480×854 WVGA Display — supports up to 16M colors
Wireless: BLUETOOTH v2.1+ EDR, Wifi 802.11b/g
Camera: 5.0MP with dual LED flash
Battery: 1400 mAH Li–Ion
Dimensions: Dimensions: 4.58″ (H) x 2.38″ (W) x 0.54″ (D)
Weight: 5.96 ounces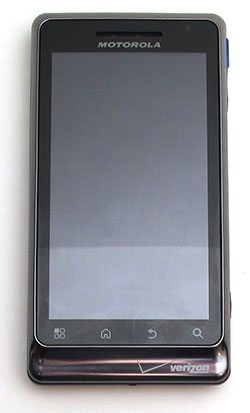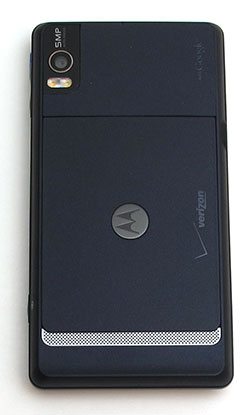 Even though the shape and size of the Droid 2 has not changed all that much from the original Droid, this new model looks more modern and cool. I think it's all due to the grey chrome top and curved edges. Original Droid owners will notice that the soft buttons below the display have changed positions.  The search button is the only button that has stayed in the same place.
The back half the case is a deep Blue with a soft rubberized coating.  For those of you that are afraid of color, don't worry. In most light, the Blue looks like a deep Grey – at least to my eyes. You'll also notice a classy looking silver speaker grill below the battery door. I was a bit worried about the location of the speaker, but even when held with my hand wrapped around the back, it doesn't seem to be an issue unless I used a death grip.

The left side of the phone has a micro USB connector. Next to it is an LED that glows white while charging and turns off when the battery is full. It's little touches like this one, that I really like.

On the right side you will find the volume button and camera shutter button.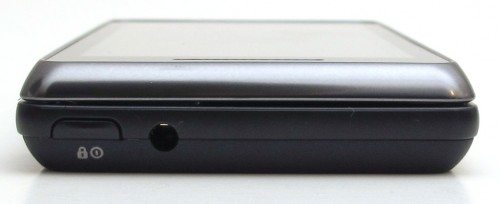 On top, you'll find a standard earphone jack and the power button. I'm not a fan of the power button. I think it's too flush with the case, doesn't have very good tactile feedback and is hard to locate with your finger tip.

The microphone is located in the center bottom edge of the phone.
Keyboard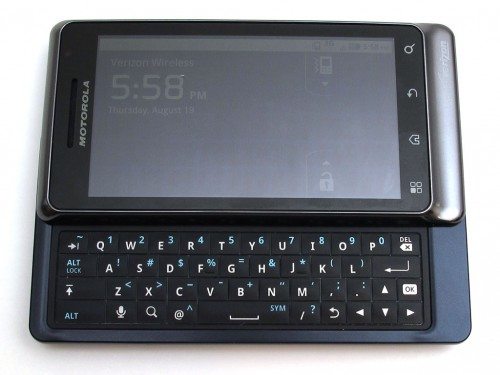 Other than the curved case edges, the other main visible upgrade between the original Droid and the Droid 2 is with the slide out QWERTY keyboard. The new keyboard is quite a bit roomier because the D-pad has been removed. The keys now have a slightly domed shape, but they still don't have much travel. One of my friends who has the original Droid tried my loaner and really liked the new keyboard layout, but I still prefer the keyboard on the LG Ally a lot better because its keys are more defined and it has a dedicated number row.
The slider mechanism feels sturdy and is easy to use. The whole phone feels comfortable in hand. It has a perfect not too big, not too small size. I'm also happy to report that it passes the ever popular gadgeteer squeeze test with no creaking or cracking protests.
Display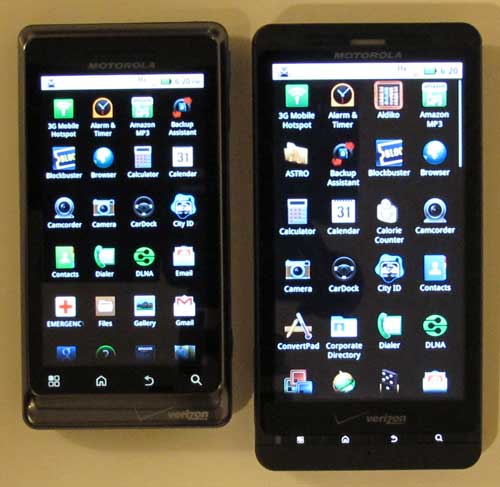 Here we see the Droid 2 next to the Droid X for a display comparison. I have no complaints with the display. It's bright, vivid, crisp and very easy to read. It also has good sensitivity for scrolling and tapping with your fingers.
I should also mention that the touch buttons below the display are easy to use too. I remember when I reviewed the Nexus One, I would often need to press the soft buttons multiple times to get the desired effect. This is not an issue with the Droid 2.
Camera
I was a bit disappointed to see that the Droid 2 only has a 5MP camera instead of 8MP, which it seems most of the latest high end phones have. That said, using the built in camera is easy due to the dedicated shutter button. There's also an onscreen shutter button that is nice. I'm wondering if it is a new Froyo feature though since my Droid X doesn't have it.
One weird thing I did notice is that when I launch the camera application, or focus on a subject, I will hear a very odd noise. I guess it's the lens focusing. It sounds like little gears or something turning inside the phone.
Here are some sample images:
Click the images for a full size view. I think the camera does a good job. I wouldn't want to use it as my only camera, but you'll never be without a way to snap pix as long as you have this phone.
Call Quality
This is the one feature of this phone that I'm most disappointed in. Although call volume is great, the audio quality for calls is lacking a bit. Audio sounds a little muffled on both the caller and receiver sides of a conversation. I called the same person multiple times with the Droid 2 and Droid X back to back and each time, I was told that the Droid 2 didn't sound nearly as clear and crisp as the Droid X. Yes, you can hear the other person and what they are saying just fine, but just doesn't sound as crisp as it could be.
Battery Life
I've been really happy with the battery life on this phone in the short time that I've had to test it. It seems like I'm able to wait longer between charges with the Droid 2 than I am with my Droid X. So no complaints there.
System Performance
The Droid 2 feel snappy all around. Scrolling through lists, launching applications, playing video over the web via a 3G connection, etc are all enjoyable experiences.
I don't notice any speed differences between it and my Droid X which also has a 1GHz processor.
Software – Android 2.2 AKA Froyo
The Droid 2 is one of the first (maybe THE first) Android phone to ship with Android 2.2. I'm going to defer to The Gadgeteer's resident Android expert – Bryan Sherman to fill us in on the details with regards to the updates between 2.1 and 2.2. My own Droid X is still running Android 2.1 and I am not seeing any glaringly obvious differences between the two devices other than some small graphical changes / interface changes, which include a slightly modified lock screen, modified google voice search widget and a contact operation popup window when you click on a person's icon in the address book. I'm sure that I'm missing lots of changes, so stay tuned for Bryan's article soon.
Summary
I have enjoyed testing the Motorola Droid 2 from Verizon and except for the call audio issue, the fact that it only has a 5mp camera instead of 8mp and doesn't come with a 16GB SD card, I still give it a thumbs up. Not an enthusiastic thumbs up, but it's still a very nice device.
I continue to be glad that I chose the Droid X as my first Verizon Android phone, but the more I use the Droid 2, the more I like it. I didn't think I would ever want another phone with a build in keyboard once I got used to using onscreen touch keyboards. But it's good to know that there's at least one high end Android smartphone with a keyboard option from Verizon.