We use affiliate links. If you buy something through the links on this page, we may earn a commission at no cost to you. Learn more.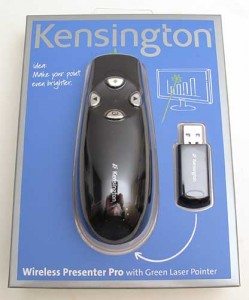 Working in a corporate office setting like I do, meetings are a fact of life. Heck, at Cummins, we have meetings to talk about meetings. No, I'm not kidding… Although I have to attend more meetings than I care to, I'm lucky that I don't have to present them. Recently I overheard one of my co-workers asking about a Green laser pointer and I thought I would help him out by having him test a Kensington Wireless Presenter Pro Green Laser Pointer that had been sent to me to review. Let's take a look.
Hardware Specifications
Extended range up to 150 feet
Operating Frequency: 2.402GHz to 2.478GHz
USB receiver
Operates on 2 AAA batteries (included)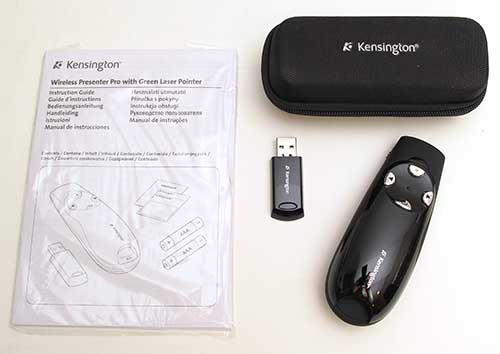 Package Contents
Wireless Presenter Pro
USB Receiver
2 AAA Batteries (included)
Zippered carrying case
User Manual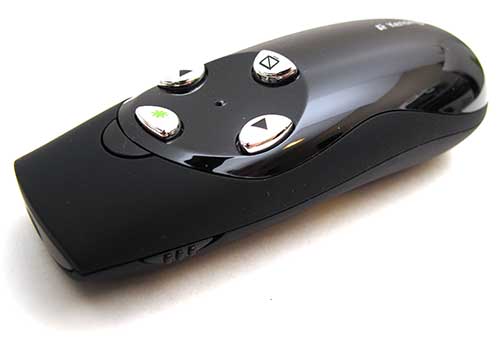 The Wireless Presenter Pro is a small hand sized device with a Black shiny case and a rubberized hand grip.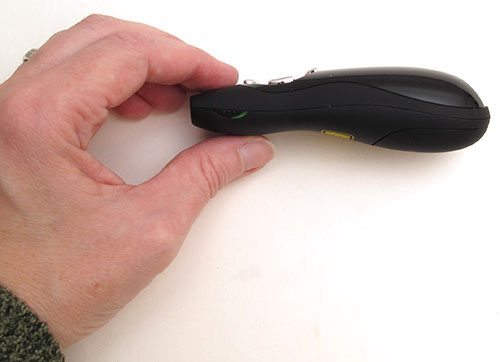 It is comfortable to hold and has a solid feel.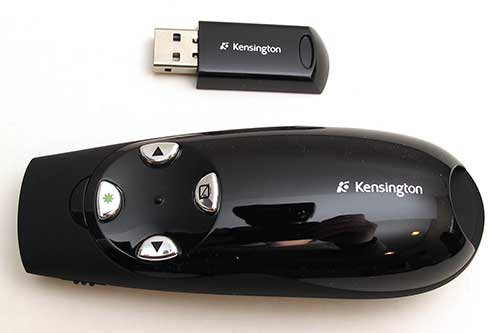 Chromed plastic buttons on the top control the Green laser, next / previous slides and screen blanking. There's also an on/off switch located on the side.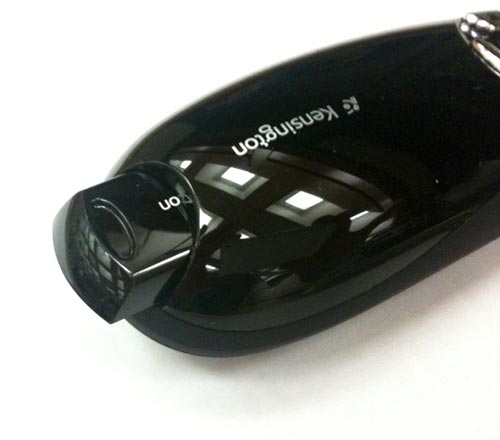 The USB receiver dongle stores conveniently inside the pointer. The Wireless Presenter Pro works with Microsoft PowerPoint and Apple's Keynote presenting software and does not require any special drivers to be installed in order to user it.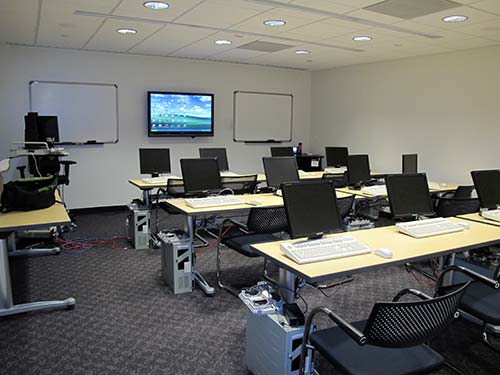 At Cummins it seems that more and more training rooms and conference rooms are ditching traditional projectors and pull down screens for mounted LCD displays like the one you see in the image above. If you've ever tried to use a common Red laser pointer on an LCD display, you will have noticed that it doesn't work. The laser point just won't show up on the screen. That's where the Green laser comes in…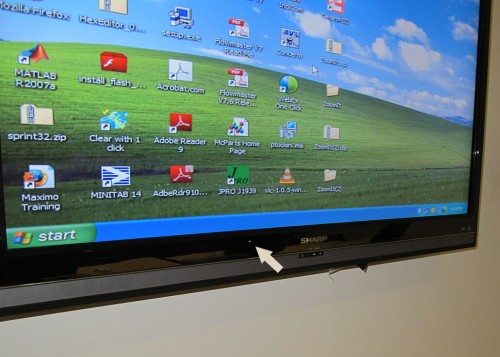 If you click the image above, you'll see the Green laser pointer on the Black bezel of the LCD display.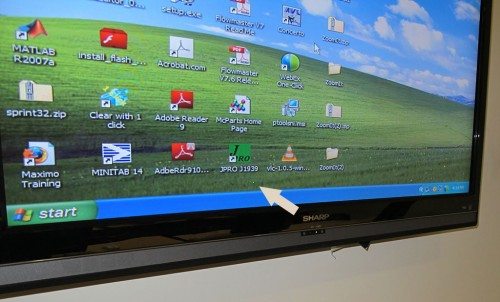 And here it is on the display itself. It does show up where a Red laser won't, but it's really tiny dot of light. Depending on what is being displayed on the screen, people more than a few feet away might not be able to see it. It does work best on lighter backgrounds though.
Here are a few notes from Greg after he used the Presenter Pro for a few days.
Positives:
* The intensity of the green laser while still being absorbed by an LCD screen is still visible unlike many red laser devices whose laser beam is absorbed by the LCD screens.
* The ergonomics of the device is a major improvement over the older Kensington products that I have used in the past.
* The on/off switch is a nice addition that has been available on other products.
* The "blank screen" button is a nice feature that was not available on other presenting devices that I've tried. It allows the presenter to keep the audience focused on the item the presenter is wishing to have focused on instead of on the image on the screen.
Negatives:
* I have used devices that include timers as part of the package and have proven very beneficial when a presentation is required to be held to a specific time frame.
The fact that Greg has continued to use the Kensington Wireless Presenter Pro Green Laser Pointer, is probably the best recommendation that I can offer people considering such a purchase.
Product Information
Price:
$79.99
Manufacturer:
Kensington
Pros:

Shows up on LCD displays when red laser pointers do not

Cons:

Green laser dot is very tiny on some LCD displays
No timer feature