We use affiliate links. If you buy something through the links on this page, we may earn a commission at no cost to you. Learn more.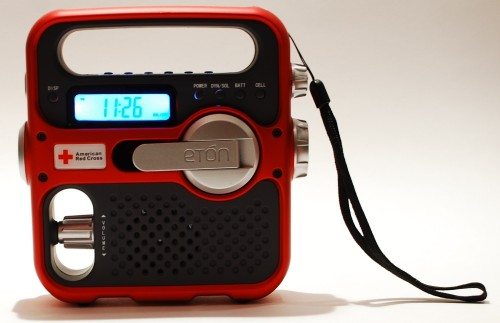 I live in the piedmont region of North Carolina.  In exchange for our usually mild winters, we have hot, humid summers that are ripe for thunderstorms and even tornados.  (We've already had tornados in the area this year, and it's not even summer yet.)  We often also find ourselves in the path of hurricanes.  About 6-7 years ago, we had one especially bad summer that resulted in a series of very bad storms, one of which left 4.5 FEET of water in our basement.  When we do have a bad winter, we often get ice storms.  Winter or summer, this inclement weather often finds us without power, sometimes for days.  Just after our first tornados of the season a few weeks ago, Julie offered me the chance to try out the Etón SolarLink FR360 Emergency Preparedness Digital Radio.  I was very happy to give it a try.
I received the American Red Cross version of the Etón SolarLink FR360 radio.  When you buy an American Red Cross branded radio from Etón, they make a donation to the ARC of $0.49 to $1.00.  Etón donates $0.73 to the ARC for each SolarLink FR360.
The FR360 I received is bright red and dark gray.  The red areas have a slightly rubbery feel and a slight golden metallic sheen – very pretty!  It is 6.25" X 6.5" X 2.75" and weighs one pound.  There is a wrist strap included with the radio.  (Most of the pictures in this review – including the top picture – are clickable for an enlarged view.)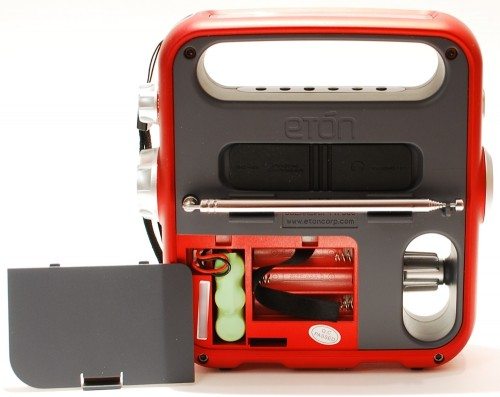 The FR360 comes with a Ni-MH battery.  The batteries are charged by the solar panel on top of the unit; it takes 10 hours of direct sunlight to fully charge the battery.  You can also power the unit and recharge the battery with an AC adapter (not included, but can be ordered from Etón for $9.95).  I was not sent the AC adapter.  You can  run the unit using three standard AAA batteries, but these will not be charged by the FR360 nor will they charge the Ni-MH battery.   There's a hand-cranked dynamo, but this is for a short burst of power – a few minutes of radio time or a small charge to a cell phone for an emergency call.  I'm not sure you could crank it long enough to fully charge the Ni-MH battery.
I've been keeping the FR360 in my south-facing kitchen window so my Ni-MH battery should be charged if I need it.  After trying the hand crank, I know I'd much rather use solar power if I can!  It takes about 10 hours to charge the battery with solar power, and about 6 hours to charge with AC power.  You get about 10 hours of radio use with a full charge.  You get about 15 minutes of radio time with 90 seconds of hand-cranking.  It takes some effort to crank the dynamo, and you have to turn it at about 2 revolutions per second to produce power.  There's a little green LED just under the DYN/SOL power selection button to let you know if you're turning it fast enough.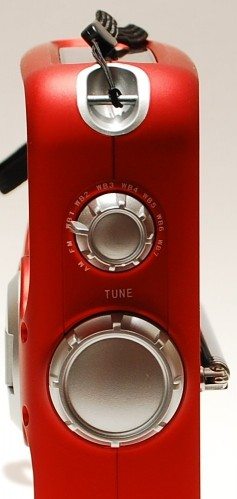 The SolarLink FR360 has a lot of functions in a small package. It has AM (520-1710 kHz) & FM (87-108 MHz) radio.  There's a telescoping antenna on the back that should be extended for FM and weather band radio, but AM reception doesn't require it to be extended.  The FR360 receives all seven NOAA weather band stations.  You should try all seven bands and choose the one with the strongest signal. 
With AM radio, there is static between stations, but the sound is clear when a station is tuned in and the radio is oriented correctly for best reception.  FM is much quieter overall, and my local stations came in nice and clear when I extended the antenna.  I tried all the weather band stations and found that WB1 worked best for me.  With the antenna extended, WB1 was clear and easy to understand.  Naturally, with only one speaker, I didn't get stereo reception for the FM stations.  The FR360 works well as a radio.
If you've listened to weather band radio before, you'll know that they continually broadcast the forecast and other information about the weather in your area.  The FR360 has an "Alert" feature; enable it by pressing the Alert button on the right side of the clock controls.  When this is selected, the radio turns off but continues to monitor the selected weather band for emergency information.  When an emergency alert is detected, the radio turns back on and plays the information.  There is a blinking "Alert" notification on the LCD display notifying you that the radio is in the alert monitoring mode.  You won't be able to listen to any other radio broadcasts while in the alert mode.  I like this feature.  You don't get used to hearing the broadcast and tune it out; if you hear something from the radio, you know it's information that you must hear.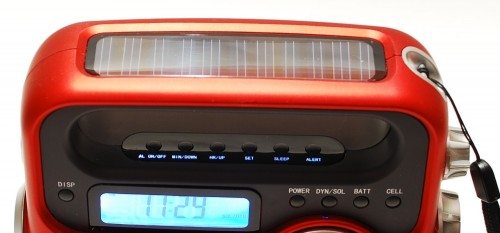 If you find yourself without power for several days, you'll probably need the alarm clock function.  The LCD displays the time in 12 or 24 hour mode, and there's even a backlight for the display.  Press the DISP button to the left of the LCD panel for five seconds of light.  You can set a single alarm; there is no snooze for this alarm clock.  The alarm turns the radio on; there's no buzzer.  The alarm will still work even if you have the weather radio set to alert mode; the weather band station will turn on at wake-up time.
The radio also has a sleep timer when you aren't using the weather band alert mode.  The radio can be set to play for 90, 60, 30, or 10 minutes, then it will turn itself off.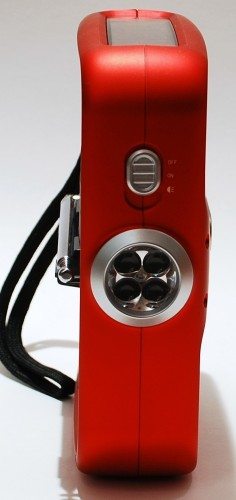 The FR360 has a built-in flashlight with four white LEDs.  It gives sufficient light to find your way around in the dark.  It also has a single red LED flashing emergency light located in the center of the circular flashlight area.  I'm not sure the red signal would be strong enough to use as an emergency flare on the highway if your car breaks down, but it should attract attention to your location if someone is looking for you.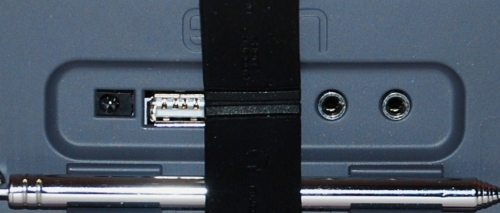 The feature that most interested me was the cell phone charging function.  The manual instructs you to purchase a connector cable and a phone-specific tip from iGo.com.  I want to make this radio a permanent part of my emergency kit, so I went to iGo to buy a phone cable.  I realized that the recommended iGo cable was simply a USB cable for which you bought device-specific tips.  My LG enV3 phone came with its own USB to micro-USB cable, so I didn't need the iGo cable.  You connect the phone cable to the USB jack on the back of the radio.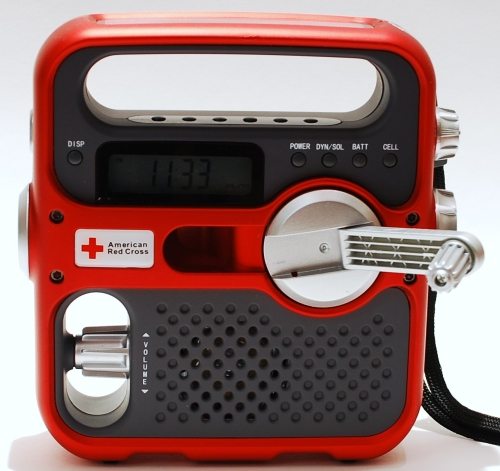 You can charge a cell phone only using the dynamo – not from the Ni-MH battery or from the solar panel.  You have to crank for about 3 minutes (at two revolutions per second) to make a short emergency call.  It's tough cranking for three minutes, but you can easily reach the two revolutions per second needed to charge the phone.  I could see the "charging" indicator on my phone when I plugged it into the FR360 and started cranking the dynamo.  Let's just say I won't decide to call friends to chat or to order pizza using this method for charging my phone, but it's wonderful to know that I'll be able to call for emergency help if we need it.
There are two audio jacks on the back of the FR360.  One is a headphone jack so you can listen to the radio without disturbing others.  The second is an audio input jack.  You can actually plug in an mp3 player and use the FR360 as a speaker to share your music.
I really like the Etón SolarLink FR360 radio, and it is joining my emergency preparedness kit.  I'll be very happy to have a flashlight, a radio, and a cell phone charger in such a compact little unit when we have our next bad storm.
Product Information
Price:
$50.00
Manufacturer:
Etón Corporation
Pros:

Can set it to only receive weather alerts
Has AM & FM radio as well as weather band
Has an alarm clock and a flashlight
Can charge a cell phone
Has four sources of power

Cons:

Can only charge a cell phone using the dynamo - not solar