We use affiliate links. If you buy something through the links on this page, we may earn a commission at no cost to you. Learn more.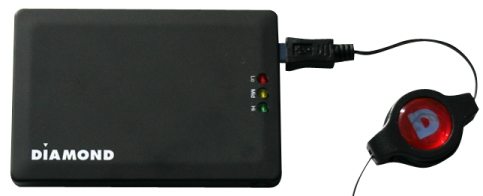 Last year, Julie was kind enough to send over the
Artwizz Powerbat
for me to review and I thought was a great piece of kit.  It was small, light, looks great and it's a cinch to use.  And, since having done the review, I've used it countless times to provide power to my gear whilst traveling, without any issues whatsoever.
Recently however, Julie kindly sent a similar product for me to review and potentially, I think it could be even better!
It's called the Diamond Multimedia DP1800 Mobile Battery and just like the Artwizz Powerbat, it's basically a portable lithium battery, which is small enough to carry around in your gear bag.  Don't be fooled by its size though, as it's able to provide a good level of power to your devices such as iPhone/iPod, Blackberry and HTC (or any other devices which have a Mini-USB connection), whenever and wherever you need it.
Product Specifications
Capacity: Powerful 1800mAh Li-Polymer Battery Pack
Power Indication:  A 'check' button & LED indicators (3 LEDs, Hi – Mid – Lo) to check charge capacity
Input (mini USB): DC4.5~6V/480mA
Output (USB-A Type): DC5V/500mA max.
Charging Time: 4hours for 480mA charging current
Battery: Li-Polymer Rechargeable
Size: L 89 x W 60 x D 9.6mm (3.5 x 2.36 x 0.38 inches)
Weight: A lightweight 88g (3.5oz)
What's inside?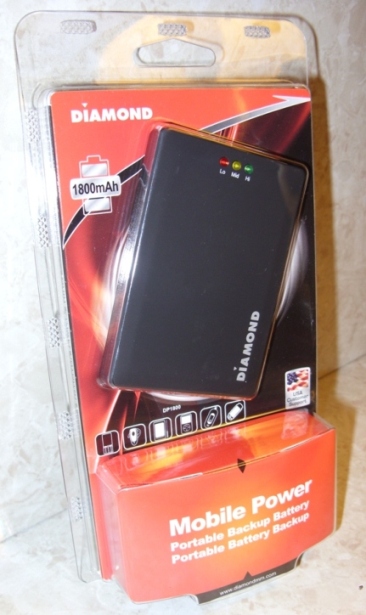 The DP1800 arrived in a see through clam-style plastic pack, showing the battery itself, which is about the size of a credit card.
Along with the DP1800 there is also:
1 x Retractable USB cable (60cm fully stretched)
2 x USB connectors (One for iPhone/iPod and another for Blackberry/HTC)
1 x Instruction Manual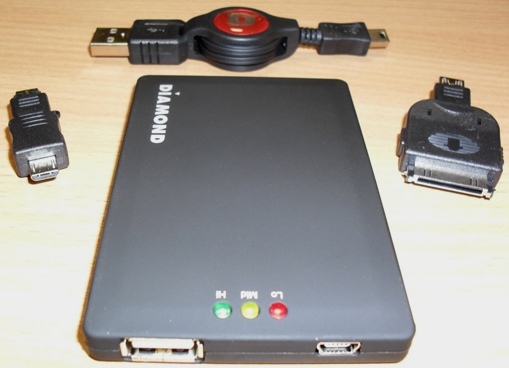 Charging the DP1800
On the main panel of the battery, you'll notice that there are three small LED's (Red – Lo, Yellow – Mid and Green – Hi) which indicates the level of charge currently available from the battery.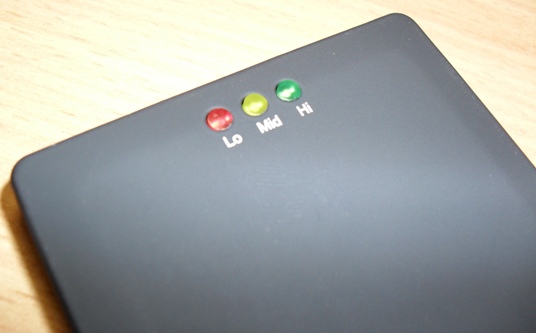 You can check the power level of the battery very easily, simply by pressing a small 'check' button, located on the side of the case.  If the red LED illuminates then the battery has less than 20% charge in the power bank and requires a charge itself before you can use it to power any of your gear.  If the yellow LED illuminates, this indicates a power level of between 80-20% which is ok and is sufficient to provide power to a device.  And finally, if the green LED illuminates, this indicates a good level of power (80% or more).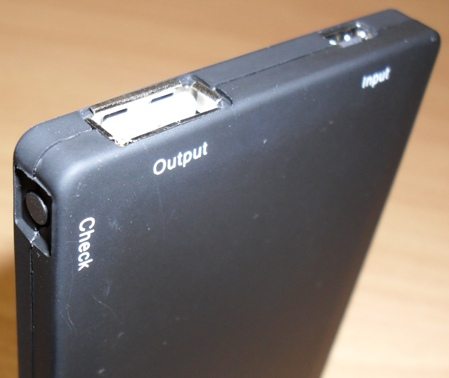 Out of the box, the red LED lit up when I pressed the check button, indicating that I needed to charge the battery itself before I could use it.  Although, Diamond do advise that due to the battery being packaged and left in transit, you ideally need to charge the battery for around 4 hours, either by using the included retractable USB cable, or by using a mini-USB wall charger (Not included!).
For the benefit of the review, I decided to charge the DP1800 for the full four hours beforehand, thus allowing the battery to obtain a full charge.  Charging the DP1800 is very straight forward and I did this using the included USB cable, which keeps everything tidy thanks to its neat, retractable design.  When you charge the DP1800, all three LEDs remain lit.  However, when it reaches its full charge capacity, the LEDs will switch off and the battery stops receiving a charge.  At this point, you'll know the DP1800 is ready to be used.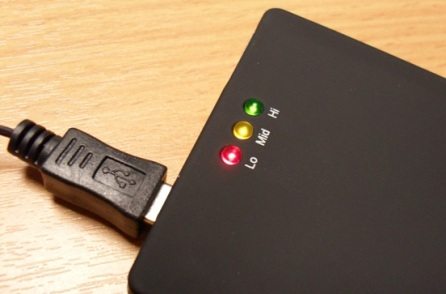 Charging the DP1800 (Note – All LEDs are lit up)
I plugged the mini-USB connector into the input port on the DP1800 and the cable into my laptop.  After the four-hour charge period, a quick press of the check button illuminated the green 'Hi' LED, advising a charge of 80% or more.  The DP1800 is now ready to charge your device!
In Use
The first thing I noticed, as soon as it came out of its packaging, is just how light the DP1800 actually is.  It weighs just 88g and measures the same size as a credit card, so it's perfect to carry around in your gear bag, or if you don't want to carry your bag around with you, your jacket pocket will easily suffice!
Diamond have primarily designed the DP1800 to charge either the iPhone/iPod and Blackberry or HTC handsets, but it will also charge any device with a mini-USB connection.
During the review I charged my Blackberry 8900, which uses a 1400mAh battery, from an almost flat state to fully charged, in 90 minutes.  I then also charged my iPod Shuffle, again from a flat state.  As the iPod Shuffle dock connected straight into the output connection on the DP1800, I didn't even need to use the USB cable.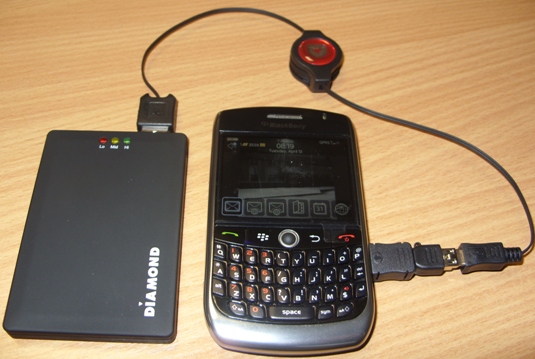 After this point, when I pressed the check button, the yellow LED lit up, which meant that it was probably getting close to the 20% capacity stage, however even after charging both the Blackberry and the iPod Shuffle, the red LED still wasn't lit.  So, I began to charge my wife's iPod Nano too, which was also very low on battery power, however the DP1800 died before the Nano's battery reached approximately 1/4 full.
Overall Conclusion?
All in all, the Diamond DP1800 Mobile Battery is a sleek, well designed and very capable mobile battery.  Although the capacity of 1800mAh isn't huge, especially compared to other mobile batteries that are available on the market, you'll find that when you're on the move, the DP1800 will be the perfect companion for you and your devices.

Product Information
Price:
$39.99
Manufacturer:
Diamond Multimedia
Pros:

Slim
Lightweight
Easy to use

Cons:

No carry case for the battery, USB cable & connectors