We use affiliate links. If you buy something through the links on this page, we may earn a commission at no cost to you. Learn more.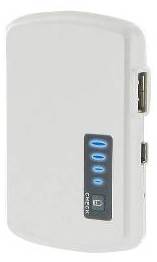 For the last couple of weeks, I've been carrying the Artwizz Powerbat around in my gear bag.  I've already had the pleasure of reviewing the Artwizz Woodphones, which I really liked, so I've got high expectations for this product.
Basically, it's an external battery that you can use to charge up your kit (iPhone, iPod, MP3 players or USB support Mobile phones) 'on-the-go' whether you're on a plane, train or in the car, without the hassle of switching on your laptop.  When you're back at home or in the office, you charge the Powerbat using your PC/Laptop and once fully charged this allows you to charge your kit on the go.
Specifications
Capacity: 2000mAh / 5v
External Lithium-Ion Rechargable Battery
Input: Mini USB  5v / 500mA
Output: USB DC 5v / 500mA  (Max: 8WH)
High Quality battery that retains full power capacity even after many, many charge cycles
Integrated surge protection
Smart LED Power Indicator and Full Charge Auto Shutoff
First Glance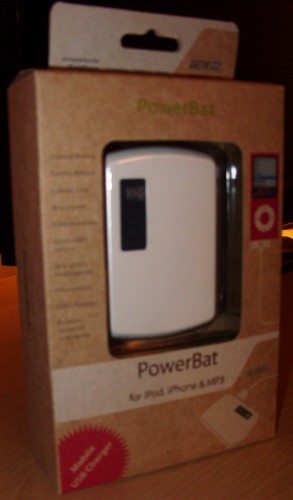 The Powerbat is packed extremely well.  The packaging is the same as you get with the Artwizz Woodphones and you can see it quite well through the clear window of the packaging.  You get a good idea of it's size and indeed, how light it is!
So, what's in the box?
1 x 'Powerbat' External Li-Ion rechargeable battery
1 x 3.5 mm jack on mini USB 'A male plug' (cable)
1 x USB 'A male' plug for 3.5 mm jack adapter
1 x Velvet Carry bag
Instruction Sheet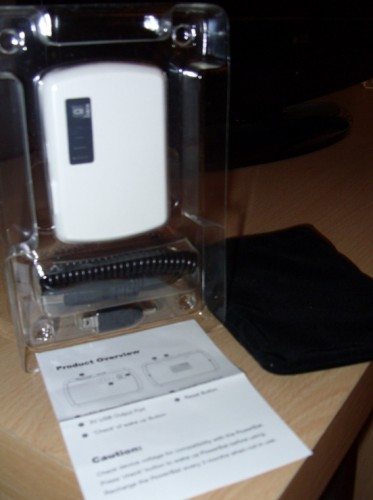 In Use
The Powerbat is very slim and doesn't take up hardly any space at all, so keeping it handy on your desk or in your bag is easy!  It's very straight forward to charge your kit and this is made even easier, as Artwizz have kindly pre-charged the battery for immediate use out of the box.  There is a simple but effective, range of bright blue LED bars showing the current battery power.  By pressing the battery 'check' button you can see current charge of the Powerbat.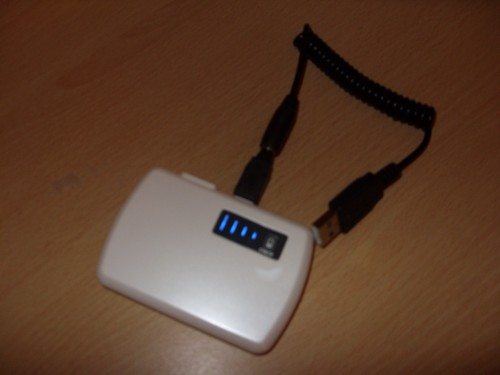 As the battery is already charged for you, all you have to do is press the 'Check' button on the front  in order to prime the battery prior to using it.  You need to do this everytime you need to charge a device.   The battery indicator bars flash for a few seconds, showing the amount of power available.
If need be, charge the Powerbat first.  If not, simply plug in either your devices own USB cable to the USB Output port on the back of the Powerbat (i.e. I plugged in the dock for the iPod Shuffle) or use the cable and attach the mini USB cable to your device.  Then, simply leave your device to charge.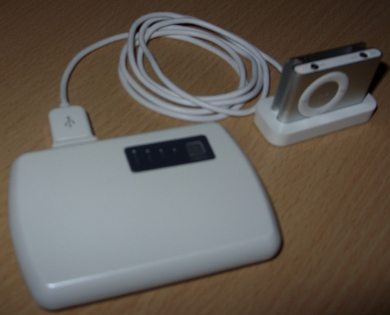 As I only use the iPod Shuffle, we're not talking massive amounts of power required for a full charge, so it only took a approximately 15 minutes and I was listening to my favourite tunes again.  So, I also tested it using my Blackberry 8820.  The battery in the blackberry is the standard 3.7 volt, so I waited until the battery warning message flashed on the handset, plugged in the device and waited for it to charge.
The Powerbat managed to charge the blackberry battery to around 3/4 full before it stopped charging.  However, I think if the Powerbat had a FULL charge on it (As I had used it to charge my iPod Shuffle), it would easily charge the blackberry to full capacity.
Charging the Powerbat
In order to charge the Powerbat itself, you simply plug in the mini USB attachment to input port, plug in the USB cable to your PC or Laptop and within around 40 minutes the battery is fully charged again, ready for use.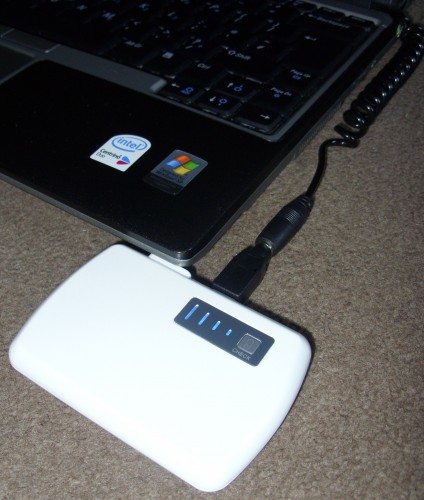 I would say the only downside is that the USB cable is a curly 'telephone' style cable (shown below) so the battery needs to sit quite close to your PC/Laptop during a charge.  You can of course stretch it right out, although maybe it would've been a better idea to use a straight cable in the first place?
Also, as it is a battery, I would suggest applying the normal 'discharge & recharge rules' (i.e. Using all available power, prior to recharging it again).  Although the instruction manual doesn't state that you have to do this, I apply it to all my battery powered products.   It simply helps to prolong the life of the battery.
Conclusion
In conclusion, the Artwizz Powerbat delivers exactly what is promises.  It's a nicely designed, lightweight external battery that does exactly what it says on the box.  Also, at €39.99 (Approx $57) it's well priced, against other USB batteries available on the market.
Don't get me wrong though, there are other USB batteries on the market that can deliver just as well as this, some offering even more power.  However, the more power they have, typically the more they cost.   So, in terms of value for money linked with performance, Artwizz have produced an excellent product!
Would I have one?  Definitely!  The product looks great, the price is right and it performed very well in testing, so it will certainly have a place in my gear bag from now on!
Product Information
Price:
€39.99 (or approx $57.00)
Manufacturer:
Artwizz
Pros:

Nice Design
Lightweight
Value for Money

Cons:

Straight USB cable would be better!