We use affiliate links. If you buy something through the links on this page, we may earn a commission at no cost to you. Learn more.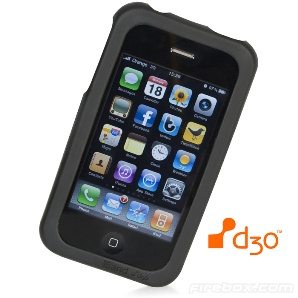 If you have a habit of dropping your iPhone, then give it the ultimate in protection (and peace of mind for you!) with the iBand.
The iBand is basically a protective band that fits around your iPhone and unlike a standard hard case, it will offer 100% protection from knocks and drops.
It's produced using a revolutionary product called 'd30' and when the material takes an impact (i.e. when you accidentally drop your iPhone onto the concrete walkway beneath your feet!) the molecules instantly lock together and absorb the impact, thus dispelling any energy created, whilst your iPhone remains completely intact.
When the iBand is fitted you still have full access to the iPhones controls and ports.  And, even though the screen and rear remain fully visible, the iBand is just thick enough to raise your handset off whatever surface you choose to sit it on.
The iBand is compatible with the iPhone 3G and 3GS (8GB/16GB/32GB) and can be ordered from Firebox for £19.99