We use affiliate links. If you buy something through the links on this page, we may earn a commission at no cost to you. Learn more.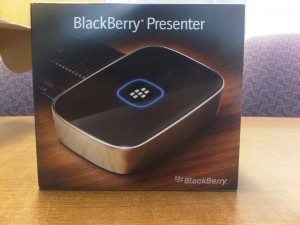 The Blackberry Presenter is a small device that plugs into a projector or monitor. Then the user is able to display a PowerPoint presentation wirelessly via Bluetooth from their Blackberry smartphone.This device is definitely meant for the mobile professional that is looking to carry less in their bags. Not that a professional on the go would leave their laptop behind but this device allows you to do just that.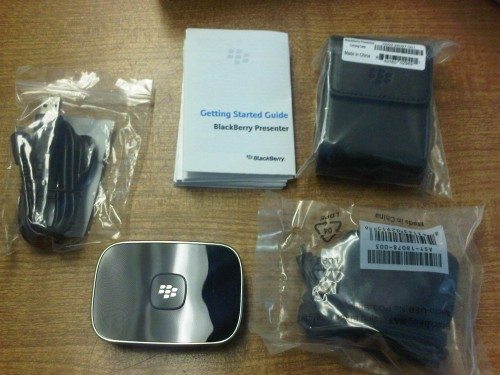 It is definitely a very eye-catching device. It comes with everything you need to get going except for S-video or VGA cables. The Blackberry Presenter is actually very simple to setup. If you have ever connected a PC monitor or a projector then you should have no problems hooking this up.
There is a free application that you must download for your Blackberry phone first. Once you have installed this application, all you do is open the app then load any PowerPoint you would like to present. The user options are very similar to the user options of the actual Microsoft PowerPoint application on your desktop.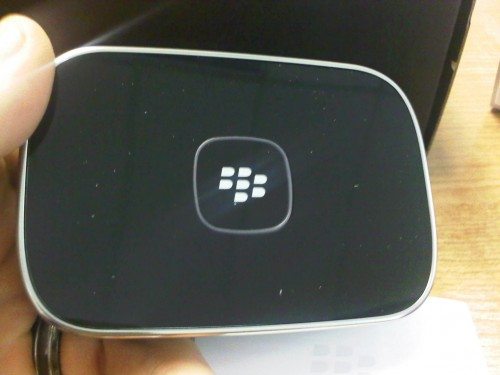 Once you are up and running, the Blackberry Presenter allows you to navigate presentations, view speaker notes, loop presentation slides, and even reference info on one slide while viewing another. And you can do all of this on your phone from up to 30 feet away from the device.
So far it sounds pretty good right? However the BB Presenter is only compatible with the newer devices. The Curve 8300 series and the Pearl Flip series are not compatible. Basically any newer device running OS 4.6 or higher should be supported.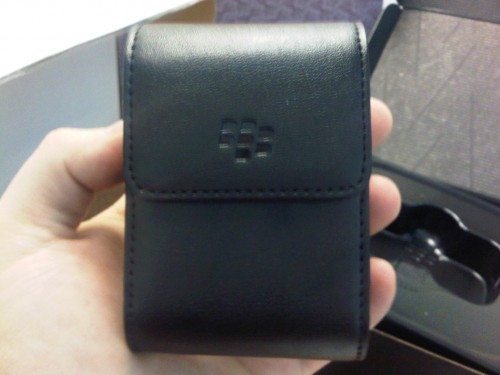 The specs of this device are fairly simple as well. It supports NTSC and PAL video formats. You connect the device using an S-Video or VGA cable (not included). The power connection is a micro usb connection, which is basically what RIM is using on all of their devices now. 640×480 (vga), 800×600 (svga), and
1042×768 (xga) are the display resolutions you are capable of presenting in. And if course it is Bluetooth 2.0 compatible.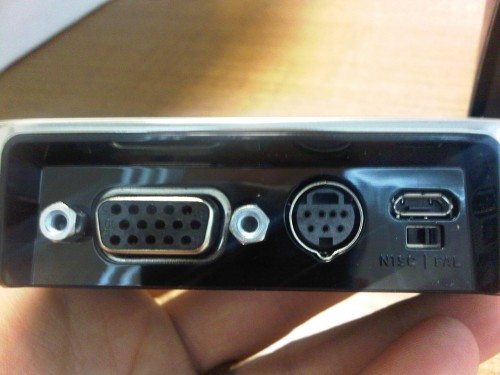 Never miss one of our posts again. Sent MON, WED, and FRI with the latest gadget reviews and news!
There are 24 different supported animations and 55 transition styles you can use to awe your audience. RIM was very smart by only making the newer devices compatible. Why, you ask? Well consumers that want the BB presenter will have to upgrade their handheld, therefore bringing in more revenue for RIM.
With all the major points covered, there are pros and cons to almost all devices. The main pro for this device is the fact that it is the fact that is is very simple to setup and use. You do not need to carry your laptop. You can even edit your PowerPoint right from your Blackberry.
The cons on the other hand are not to hard to determine either. First of all like I mentioned before, it is only compatible with the newer devices. And at $199 it seems to be a bit high priced for the everyday consumer. This device is definitely geared toward the professional on the go, or even a student that may have alot of presentations to do for class.
My over all opinion of this device is that the BB Presenter is absolutely a handy tool of you are traveling alot. The display images are great. I personally do not see myself using this device all that often. But like I said it is geared toward the on the go professional. Now if RIM decided to integrate an actual projector into the Presenter then I may be a but more likely to use it more often, and that would be pretty AWESOME. But until then, it is a solidly made device, a great idea, but not all that practical. I like the idea behind it but I just don't see the BB Presenter taking off like RIM is hoping.
Product Information
Price:
$199.99
Manufacturer:
RIM (Blackberry)
Pros:

Easy setup
You don't need your laptop
Edit right form your BB

Cons:

Expensive
Only works with newer Blackberry devices