We use affiliate links. If you buy something through the links on this page, we may earn a commission at no cost to you. Learn more.

I'm not like our gadgeteer buddy and real storm tracker Mark Rosengarten, but I do like to keep an eye on the weather. Especially during the winter months. On my iMac, I use Geektool to put an updating radar image of Indiana in the bottom corner of my screen, but now when I want to see a bigger picture, I'm going to use fullscreenweather.com. This is a new service from Weather Underground that enables anyone in the world to use the familiar Google Maps interface to quickly zoom in on the most granular data available from Weather Underground's network of over 16,000 personal weather stations. You can view temperature data, cloud cover and precipitation. Neat stuff! A screenshot and the full press release after the jump.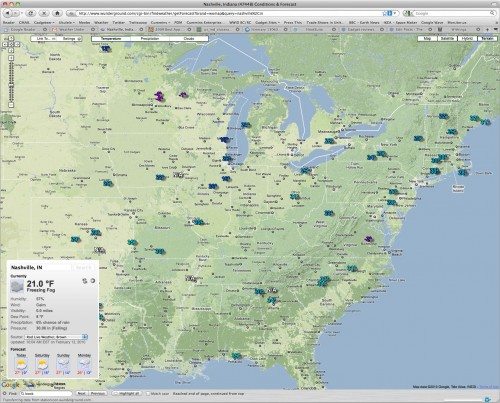 Weather Underground Launches fullscreenweather.com:
Ideal for Viewing on Touch Screen Devices such as the Apple iPad
SAN FRANCISCO, CA (February 12, 2010) – The world's most interactive weather map from wunderground.com has just gone full screen, as Weather Underground announced today the launch of fullscreenweather.com. The ultimate weather tracking tool, fullscreenweather.com enables anyone in the world to quickly zoom in on the Google Maps interface to view the most granular data available from Weather Underground's unmatched network of over 16,000 personal weather stations before zooming out and scrolling across the world to view the weather conditions affecting friends and family.
Launched in an effort to make weather tracking easier and more interactive, fullscreenweather.com also allows users to select and view a high-resolution precipitation layer (radar) or cloud layer (satellite) plotted on the map—both of which can be animated. Additionally, severe weather alerts that have been issued for the locations in view on the map are displayed in the bottom corner of the screen and can be clicked upon to view the full alert weather statement.
"At Weather Underground we continually embrace the latest technology trends and adapt to meet our users' changing needs," said Weather Underground President, Alan Steremberg.  "Our Full Screen Weather map provides a simple yet engaging way for people to view weather information across a multitude of devices."
Perfectly suited for viewing on any PC or laptop, this engaging new product was developed with touch screen technology firmly in mind.  Apple iPad users will be able to use the scrolling and zoom functions and touch any specific weather station to view details.
For more information or to schedule an interview with Weather Underground, please contact Emily Boak Moylan, The Rosen Group at 212.255.0945 or [email protected].
About Weather Underground:
The world's first online weather service, Weather Underground is committed to delivering the most comprehensive, reliable weather information possible. The company's state-of-the-art technology monitors conditions and forecasts for locations across the world. With over 16 thousand users contributing local observations from personal weather stations, Weather Underground is able to provide up-to-the-minute weather conditions for the most finely targeted areas. In addition to serving free online weather information to over 18 million unique users every month, Weather Underground delivers custom-designed weather page solutions to an array of businesses and media clients – both online and in print.