The Gadgeteer is supported by readers like you! If you buy something through links on our site, we may earn an affiliate commission. Thank you! Learn more.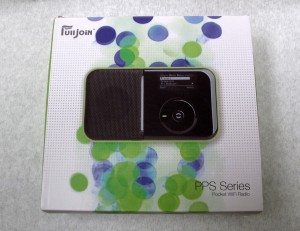 I remember in grade-school staying up late with the lights off in my room listening to Toledo Goaldiggers hockey games on my portable black RCA transistor radio.  I remember picking up a St. Louis station from my then home in Toledo and thinking how cool that was.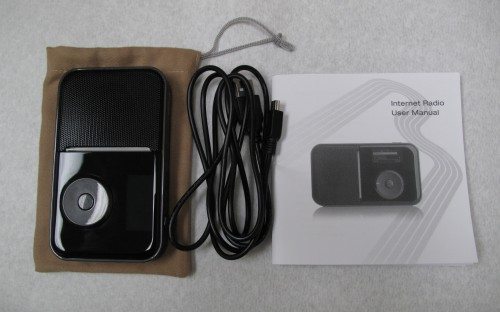 Enter the Wi-Fi radio, in this case the FullJoin Wi-Fi Radio. Now I can hide in my room at night and listen to stations from almost anywhere in the world! (… if I can just get my kids to stop finding me when I'm hiding…)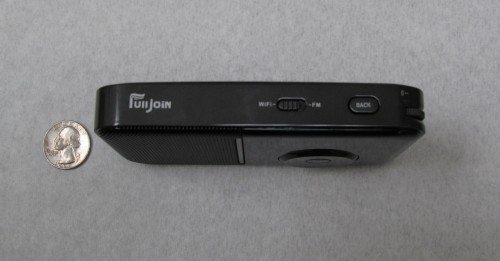 The unit charges by plugging it into a computer USB port; no other charging method is available, but this way there is one fewer cord to lug, and you will likely use your computer to "program" stations into the radio. The radio takes 5 or 6 hours to charge fully, but claims to run 15 hours on a charge.  I haven't come close to running down the first charge yet.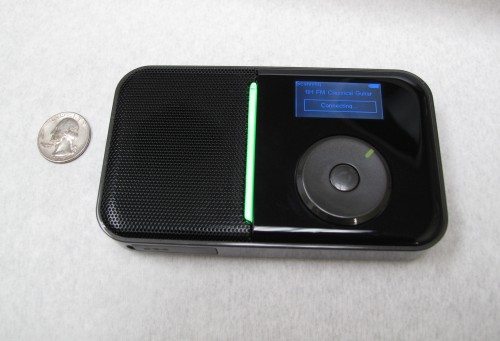 As you would guess, the radio works  by picking up a Wi-Fi signal, either from your own router or any other available network.  The first thing you need to do to use the Internet Radio function is connect to a network.  The radio will scan for available networks when turned on.  (There is also a Scan for Networks function under settings for any time you wish to scan for networks again;  for instance if you take the radio to another location or if the network you are using weakens).  If an unsecured network is not available you will need to connect to a secure network.  The radio will remember up to three networks and appropriate setting in its memory,  so if you use the radio in the same place each time you do not need to continue to connect to your network again and again.
Connecting to secure networks is where I had difficulty.  The radio will ask for a security key based on the setting on the router.  Two of the networks I tried to connect to use WPA, so the radio asked for the WPA passphrase.  I could NOT get the radio to connect using my WPA passphrases (and I know they work as I've connected two different laptops  using same passphrases). I could only get the radio to connect if I unlocked the network. The radio can pick up other forms of encryption such as WEP64 and WEP128.  Passwords are entered into the radio using the spin dial on the front of the radio.  You also use this to choose various options, as you would with the wheel on an iPod.
The radio is made by Shenzhen Full-Join Technology Co out of China, which from their website seems to be a relatively new company, especially with regards to consumer products.  Their website seems a bit hastily put together, with a number of incorrect English translations.  I have included the url for a stateside and Canadian supplier though. The radio station selection portal and its technology are handled by a British company called CSR.
The most fun is choosing the radio stations you want to listen to and perhaps store as favorites.  To do so you log on to what is called CSR's vTuner on your computer (csr.vtuner.com).  There is an easy to find number called a MAC address stored on the radio, which identifies your unique radio.  Once this is entered and accepted you are able to set up a login email/password combination of your choosing to use for further logins to browse, add or change stations on your radio. The selection is truly overwhelming (as anybody who spends any time browsing radio on their computer already knows).  At my last login there were over 13,000 radio stations and almost 7500 podcasts available through this portal.  There are likely podcasts you will look for that won't be available on vTuner;  most of the other podcast aggregators I have used have more podcasts available, but with 7500 you should be able to find something that interests you!
The sound from the radio is ok, but I preferred to use my own headphones as the radio has a 3.5mm jack. The radio isn't cheap at $160.  With the price on netbooks so low I imagine many would just opt for one of these to get your internet radio fix; but,  if you want something you can fit in your hand  or pocket easily then this would certainly qualify.
Oh, did I mention the unit also has an FM radio feature as well?  When I can listen to music from South Africa or Mali or a talk show from the Middle East it hardly seems fair to make the poor radio play a tune off the new Mariah Carey cd on the FM though…
Support The Gadgeteer
:
The Gadgeteer is supported by readers like you! If you buy something through the links on our site, we may earn a small affiliate commission. Thank you! Learn more.