We use affiliate links. If you buy something through the links on this page, we may earn a commission at no cost to you. Learn more.
A few years ago, making scrapbooks from photos seemed to be a national obsession.  Women especially seemed to spend hours (and untold dollars) preserving photos and family memories while exercising their artistic abilities.  I made a few scrapbooks in my day, and they are big, heavy, and hard to store.  Picaboo is an online service that can make creating scrapbooks faster, easier, and cheaper.  They allow you to quickly convert your digital photos into scrapbooks for yourself or for friends.  You can have Picaboo print them, you can share your books online with specified friends, and your friends can even purchase printed copies of your books.
To use Picaboo, you must first install a program on your computer.  Sorry Apple fans, it's for Windows only.  Since I'm a Windows fangirl, I was happy to give Picaboo a try when Julie offered it to me.  The software installed quickly and easily on my Windows Vista computer, but it added a shortcut to my desktop AND added the software to my startup programs, leaving it resident in memory always.  I do not like this – perhaps it's just because I do not think I'll ever have a photo book need so urgent I can't waste time clicking on a shortcut icon.  Actually, this memory-resident program is also a messaging service for your circle of friends within the Picaboo family.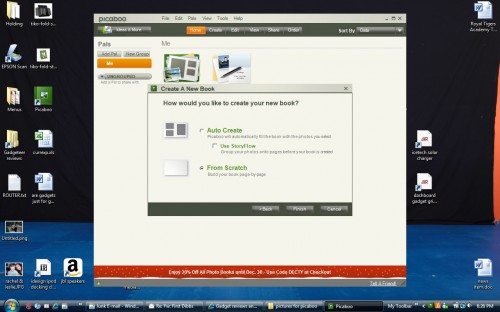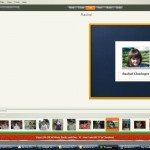 After I installed the program, I began the creation process.  I first had to choose to make a photo book or a card.  Since I'd already sent out my Christmas cards, I decided I'd make a book.  Once your choice is made, you can choose a pre-designed theme:  wedding, baby, kids, travel, etc.  Next, you are shown all your picture folders to make your selections for inclusion in your book.  The photos are not uploaded to the Picaboo website at this point, but they are displayed in a sideways-scrolling bar at the bottom of the Picaboo window.  Picaboo can automatically build a book from the photos you've selected, but I preferred to arrange them myself.  Name your book, and then select the style and color for your book's exterior.  I stuck with the Classic Linen in navy blue, but there are a variety of leather covers in various colors and finishes.  You can even design a custom cover with your own photographs on the front and back cover.  Pricing varies greatly.  The Classic linen starts at $9.99;  the Custom cover starts at $29.99;  the leather covers have the largest price variation, with starting prices ranging from $39.99 for the Classic leather to $349.99 for the flush mount leather.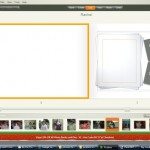 You simply drag photos from your pre-selected set and drop them onto pages to populate the book.  With the Classic style I chose, you must have one photo and a small text box for the first page.  These show through the cutout in the front cover, as you can see in the top photo.  This title page is limited to only a plain background, but for all other pages you can choose from a variety of backgrounds to fit your preselected theme, or you can choose from any other theme if you like mix-and-match backgrounds.  The only other decoration you can add to your pages is photo corners.  Styles vary from traditional photo corners like you may have seen in your grandparents' photo albums, to cute little beach balls, bows, dots, or other pictures to fit your theme.  Sorry folks – I'm boring, so I chose a rice-paper style background and no photo corners for my album.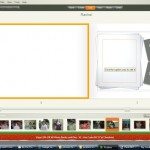 There are a wide variety of page layouts that allow you to customize each page with photos and or text.  You can vary your pages from a single full-page photo, to multiple pictures (with or without text), to a full page of text.  Because of these many formats, you can even use Picaboo to create a product catalog, if you wish.  Again, I'm boring, so I didn't choose text.  I did choose a variety of layouts for my different pages.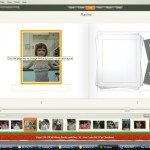 As you add each picture, you can use the Picaboo picture editing tools to adjust brightness and contrast, rotate your picture, zoom in, or adjust how it is centered in the allowed area.  You can remove red eye, and you can even convert your pictures to black-and-white or sepia tone.  Picaboo will warn you if your picture resolution isn't high enough for the photo layout you've selected.
You can redo pages as often as you wish, and you can even re-order the pages during your book creation.  You can insert pages or delete pages until you get your book just as you want it.  When you are finished, click "Buy this Book" and your photos and design gets transferred to the Picaboo site.  This can take a while, depending on how many pictures you have and their size.
When you get to checkout, you'll be given another chance to change your book style or color.  You see that the default for the Classic linen is the large (11 X 8.5 inch) format for $29.99, and you can change it to the medium (8 X 6 inch) format for $19.99.  You can even choose a medium format in softcover for $9.99.  I placed my order, and paid extra for 2-day air shipping.  My order was placed on a Saturday night, and I received a shipping notice the following Monday afternoon.  My package arrived two days later, just as promised.
I have ordered similar photo albums from another vendor, and I also had those made in the Classic navy linen style.  I thought using the similar style and color would make a good comparison.  I think both companies had nice covers.  They were both sturdy and nicely constructed.  I think the photos in the Picaboo book were richer and deeper.  I like nice, rich colors, so I liked the photos in the Picaboo book better.  You can see the front cover in the top picture.  I will attach some pictures of some of the interior pages so you can see some of the page layouts I chose, and you can see the quality of the printing and the color for yourself.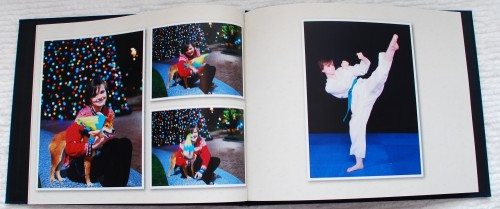 Picaboo offers a nice, simple method of designing photo albums at a price that is comparable to other places I've used.  Although I didn't order them, Picaboo also allows you to design greeting cards that can be used for holiday cards, baby or wedding announcements, or anything you can think of.  The ordering process for cards seems to be very similar to that for books.  You can choose themes, backgrounds, photo corners, edit your photos.  Picaboo offers a service that not all similar photo companies offer.  I mentioned above that Picaboo was installed as a memory-resident program.  It serves as a photo book sharing and messaging service.  When you create your photo books, you can set up "Pals" by entering the email addresses of people you'd like to share that book with.  Those people will be notified that you have a new photo album, and the included link will let them view your photo album without having to install the Picaboo software on their computer in any standard browser.  This sharing service is free to you and your friends.  The messaging service will notify you when someone in your friends group shares a book or card with you, or when someone leaves a comment for a book or card.  Friends that you share your designs with can order copies of them directly from Picaboo.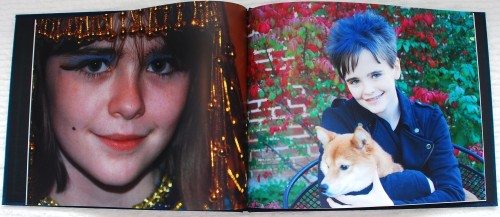 As I mentioned earlier, you can use Picaboo to design a product catalog.  If you share a Picaboo-designed catalog with clients, they would be able to order copies.  If you do not wish them to order, you can simply use a PDF creator to make a PDF version of your catalog.  You can put the PDF file on your website for client use.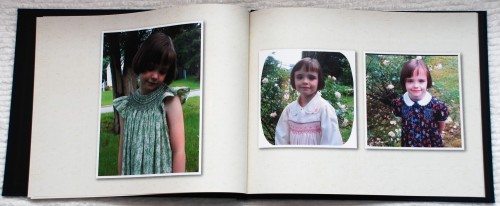 Picaboo prints their books on acid-free, archival-quality paper.  Even the cheaper Classic books are printed on 100-lb paper, and heavier papers are used for the more expensive types of books.  The books are printed at 300 dpi, and they have a limit of 1752 pixels wide for the photos you upload.  You may use very high resolution photos, if you like, but there is a limit of 300 MB total for a book design.
I like my Picaboo photo album a lot.  It's a high-quality, archival keepsake of my daughter at various ages.  I'll keep Picaboo in mind when I want to make another photo album or do some custom-designed Christmas cards next year.
Product Information
Price:
Varies greatly; from $10 for a softcover 20-page book, to multiple hundreds for a large, highest-quality leather book
Manufacturer:
Picaboo
Pros:

Easy-to-use tools to design beautiful books and cards.
Heavy, archival-quality paper to preserve your memories.
Wide price range provides a product for every user.

Cons:

Requires a program to be installed on your computer.
Works for Windows only