We use affiliate links. If you buy something through the links on this page, we may earn a commission at no cost to you. Learn more.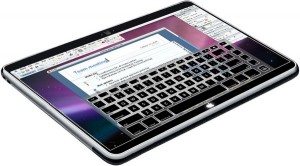 I don't know what it will look like. I don't know how big the screen will be. I don't know how long the battery will last and I don't even know how much it will cost. But, despite not knowing any of those things, I do know that I'll be buying one. It's not a question of if, it's a question of when. The moment it's officially announced, I'll be slapping down my Visa to order one. I don't even have to think about it. Am I too much of an Apple fan girl to know any better? No. I just know that when it comes to Apple products, that they are game changers and I want to get in on the game as soon as possible.
The buzz the last few months has been all bout the Barnes & Noble nook eBook reader. But in my opinion, as soon as the iTablet or whatever it will end up being called comes on the market, my favorite eBook reader will change from my iPhone to the Apple tablet. The same goes for my favorite handheld game system (which also happens to be an iPhone) and maybe even my favorite couch surfing device which is a Macbook Pro. I'm not so sure about the last one as I prefer a real keyboard. But we'll see…
I've been We've all been waiting for this device for years and if we believe all the rumors about a special event to be held next month, that wait is almost over. Will you buy one?