We use affiliate links. If you buy something through the links on this page, we may earn a commission at no cost to you. Learn more.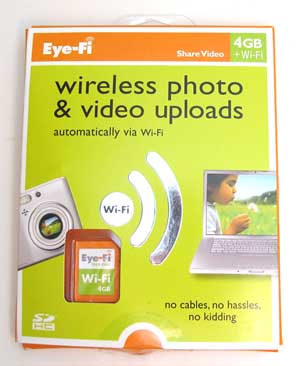 This is a Sponsored Post written by me on behalf of EyeFi. All opinions are 100% mine.
This past summer, Shari reviewed the Eye-Fi wireless SD card. After her review, I kept meaning to pick up one for myself so that I could see how well it would work with my new Canon G11 digital camera. As luck would have it, one was recently offered to me and I jumped at the chance to do my own review. Let's see if I liked it too.
Hardware Specs
4GB SDHC Memory card
Built in 802.11 b/g
Wi-Fi security: Static WEP 64/128, WPA-PSK, WPA2-PSK
Range: 90+ ft outdoors & 45+ ft indoors
Uses host camera's battery for power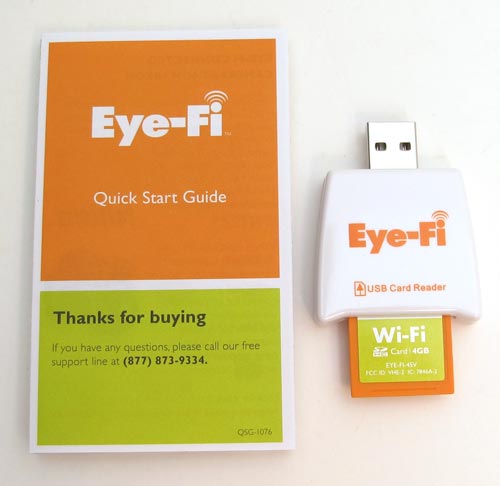 Package Contents
A 4GB SD Eye-Fi Share Video memory card with built-in Wi-Fi
Eye-Fi Manager software (on the SD card)
Free USB card reader for easy setup
Quick Start Guide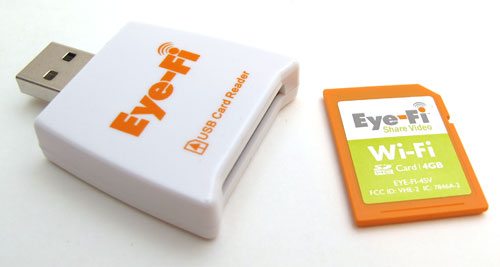 I'm always on the lookout for anything that can save me a little time – even if it's only a few minutes. The Eye-Fi cards do this by wirelessly connecting to your WiFi network and uploading newly snapped photos and videos from your SDHC compatible digital camera to your favorite online photo sharing sites and to a folder on your PC or Mac. The Eye-Fi card actually has a WiFi radio built into it, while still retaining the form factor as a regular SD card.
Setting up the card with your computer is super easy. They even include a USB SD card reader in the package, just in case you don't have one of your own.
If you use a Windows PC, software on the SD card will automatically launch in your browser to set up the card with your WiFi network. Mac users like myself, have to manually navigate to a folder to launch a, OS X app to start the browser setup tool. There really isn't much to it. You have to create an Eye-Fi account, point to your WiFi network, choose the local folder that you want to copy the images and videos to and setup any web based photo sharing sites that you want the images / videos to upload to. You can click the images above to see full sized screen shots of the process.
Then all you do is take the card out of the reader, pop it in your camera and start snapping pictures. If you're in range of your WiFi network, the images will start transferring to the local folders and photo sharing sites immediately.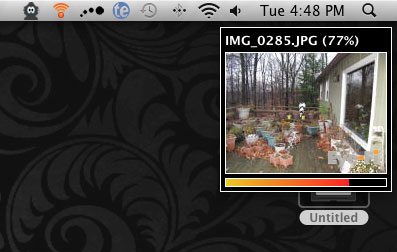 A small window pops up on your computer showing a thumbnail and status transfer bar for each image as it is being uploaded from the camera to the computer. Of course, you'll need your computer to be powered on and the camera to be powered on in order for the images to transfer. If you turn off your camera in the middle of a transfer, it will resume where it left off when you turn it back on. I tested this and it worked just fine.
For those of you wondering how long it takes to transfer images, I did a test where I took 10 pictures all set to the highest resolution on my Canon G11, which is 10MP, 3648 x 2736. It took about 40 seconds to transfer those pictures (a total of 23.5mb) to a local folder on my iMac.
You can set up notifications that will email, SMS, Tweet or send a message to Facebook when you transfer images. You can even setup notifications to alert you when an upload failed, resumed and completed.
There are several versions of the Eye-Fi cards, but I was sent the Share card.  The Eye-Fi Explore card has a Geotagging featured built in that uses WiFi networks to add longitude and latitude coordinates to your images so that you will always remember where you were when the image was captured. The Share card doesn't have this feature, but it can be added if you don't mind paying $14.99 for a 1yr subscription. Another feature that can be added to this card is hotspot access. Pay another $14.99 for 1yr and you will have the ability to upload your images to more than 10000 Wayport hotspots. With this feature, you won't need your computer with you to immediately upload your images – as long as you're near a Wayport hotspot.
The only feature missing for me would be a way to access the card from my computer, so that I could delete the images. I know I can do that through the camera, but I'd still like to do it through my computer too.
I'm loving this card because now when I'm shooting product shots for a review, the images will already be on my computer when I sit down to start working on them in Photoshop. I don't have to plug in a USB cable or remove the card from the camera and slide it into a card reader or the built-in SD slot on my iMac. I think it will save a little wear and tear on the camera. I also think it will come in really handy for vacations when I get too lazy to upload images to my Facebook or Flickr account. Now I don't have to do anything, it will just happen automatically. The card is also great for family members who are not very computer savvy. The person I live with like to take pictures, but is skittish when it comes to copying them to her computer. If she has an Eye-Fi card, she won't have to do anything at all because it can be setup to upload the pictures directly into iPhoto. The Eye-Fi Wireless SD card gets two thumbs up for me.
Watch this short video for a quick overview of the features:
Contest Opportunity! 12 Eye-Fi cards are being given away. You can enter by leaving a comment on this post or Tweeting a message containing the hashtag "#eye-fi" with a link back to this post. Example:
Check out The Gadgeteer's review of the #eye-fi https://the-gadgeteer.com/2009/11/18/eye-fi-share-video-wireless-sd-card-review/
Complete contest rules are here: http://izea.com/contest-rules-regulations/eyefi-contest-official-rules/
Update 02/05/15
I've purchased several Eye-Fi cards over the years and can't imagine not having them in my cameras. Since I take a LOT of images when I'm shooting products images for reviews, not having to remove the card to copy the images to my computer each time is such a time saver. Once in awhile the card will have a hiccup that requires me to reformat it before it will wireless copy files again. That's only happened a couple times in the last few years. I can live with that.

Product Information
Price:
$79.99
Manufacturer:
Eye-Fi
Pros:

Easy setup
Automatic upload to local folders and major photo sharing sites
Will resume transfer if camera or computer powers off

Cons:

Extra features like GPS and Hotspot cost $14.99 per year to add