We use affiliate links. If you buy something through the links on this page, we may earn a commission at no cost to you. Learn more.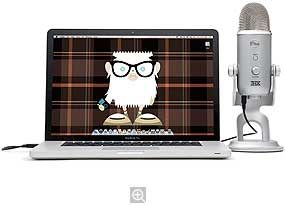 Continuing their tradition of snow theme product names, Blue Microphones is announcing today the Yeti, the world's first THX certified mic, USB for studio-quality recording at home. I still like and use the Blue Mic Snowflake microphone and can vouch for the fact that they make great quality gear. The Yeti will be priced at $149.99 and will be available beginning December 2009, at Apple, CompUSA, Fry's Electronics, Guitar Center and directly through Blue Microphone. Press release junkies can get their fix after the jump.
For Immediate Release
Blue Microphones Announces World's First THX Certified Microphone, the Yeti USB Condenser Mic
Featuring condenser capsules in a triple array, Yeti is the latest, most advanced addition to Blue's line of premium USB microphones
(Westlake Village, California –November 10, 2009) – Blue Microphones (www.bluemic.com), a leading innovator in microphone technology and design, announces Yeti, the first THX® Certified microphone. The latest addition to Blue's new consumer line, the Yeti is the ultimate USB microphone for professional recording.  The Yeti features:
The first USB mic to offer Blue's premium condenser capsules in a proprietary triple capsule array for the highest quality, most versatile audio recording capability
After rigorous lab testing, THX certification affirms the ultimate in recording and playback fidelity thanks to superior design and quality
Four patterns (Omni, Cardioid, Stereo, Bidirectional) for incredible versatility and superior results in any situation
Studio quality performance and features, with zero latency, amplified headphone monitoring, microphone mute, and hardware-based gain adjustment
Yeti is the first microphone to offer the quality and range of versatility to produce the best quality recordings in a wide range of situations, including podcasts, vocals, live or event recording, interviews, broadcasts, instruments, bands and more.
"Blue Microphones recognizes THX as a benchmark within the industry for professional audio production and playback. We, are honored to be recognized as their first partner for audio input," says John Maier, CEO of Blue Microphones.  "Blue strives to provide the highest quality sound for both professionals and consumers alike and we are proud to provide such recognized quality with the new Yeti, the world's first THX Certified microphone."
Building upon the technology foundation established by the award-winning Snowball USB microphone, Yeti adds four distinct pattern modes, a zero-latency headphone output with volume control for direct monitoring, adjustable microphone gain control and a mute button. The Yeti's angle can be adjusted on its custom-designed desk stand. Following suit with the rest of Blue's desktop products, the Yeti features driverless installation and works with both PC and Mac.
"The THX Certified Yeti from Blue Microphones provides aspiring artists a recording solution that combines quality, usability and convenience for a wide range of audio applications," explains Matthew Chrispen, director of certification at THX. "THX testing and certification ensures the fidelity of the recording always remains true to its source, allowing artists to accurately capture voice-overs, interviews and other sound elements with confidence."
The Yeti, MSRP $149.99, will be available beginning December  2009, at Apple,  CompUSA, Fry's Electronics, Guitar Center, other fine pro-audio and consumer electronics retailers and online at Amazon.com. For complete details, visit www.bluemic.com.
###
About Blue Microphones
Blue Microphones creates and markets award-winning microphones and accessories for audio professionals, musicians and consumers.  Founded in 1995, with headquarters in Westlake Village, California, Blue continues to lead the way with cutting-edge design and technological innovation. Our complete line of audio innovation ranges from our flagship recording tool, the Bottle, to our stylish Snowflake, the first professional quality portable USB mic. View our complete product line-up at www.bluemic.com
About THX Ltd.
From the big screen to your screen, THX ignites your passion for exciting entertainment experiences. Founded by George Lucas and recognized by audiences around the globe, THX is synonymous with the design and certification of world-class cinemas, premium audio systems, HDTVs, and blockbuster movies and games. Products featuring THX defy convention and define quality in their class, whether in the cinema, home or on the road.
THX and the THX Logo are trademarks of THX Ltd., which may be registered in some jurisdictions. All rights reserved.