We use affiliate links. If you buy something through the links on this page, we may earn a commission at no cost to you. Learn more.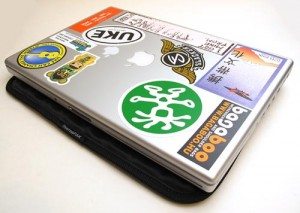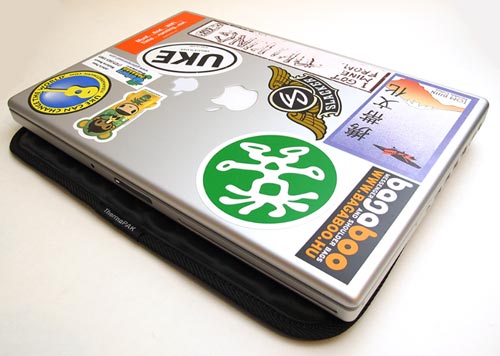 There are all types of laptop coolers on the market these days. There are coolers with fans that require an AC adapter, have fans powered by a USB port, have standoffs to keep the bottom of the laptop from touching any surface, others work on your desktop and still others that work on your lap. Today I am going to tell you about the ThermaPAK HeatShift Laptop Cooler. It doesn't have built in fans and can be used on a desktop or your lap.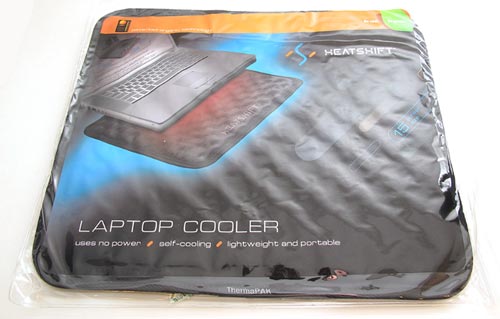 The ThermaPAK ships in a ziploc style plastic sleeve that you will probably want to hold on to for storing the cooler when it's not being used.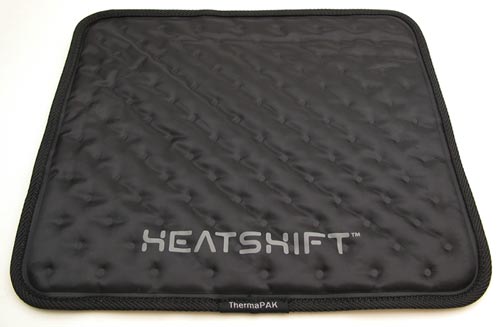 The HeatShift is available in 13″, 15″ and 17″ sizes for like sized laptops. I was sent the 15 inch version in Black, which has a footprint of 13.5″ X 11.5″ X 0.5″ inches and weighs in at 23 ounces. Each size is available in Black, Pink and White.
The top surface of the pad feels like the same slick nylon material that wind breaker jackets are made from.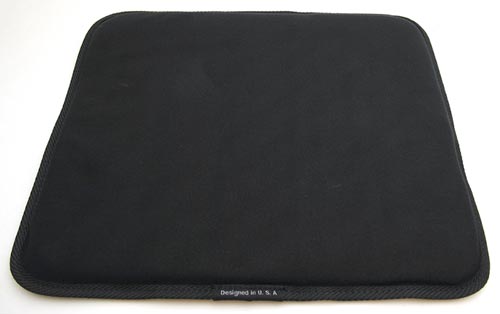 The bottom of the HeatShift is made of a soft fuzzy knit material that seems like a magnet for lint and animal hair. That's why I mentioned that you would probably want to keep the plastic sleeve. My advice is to keep the HeatShift in that sleeve when you're not using it. It will stay cleaner that way.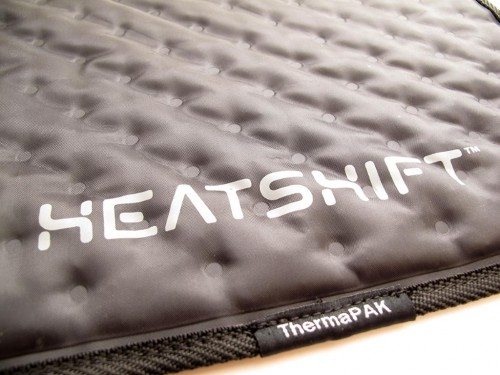 A closer look at the top surface (click the picture to see an even larger version) shows a quilted pillow type pattern. These grooved channels are supposed to enhance airflow from the bottom of the laptop to help keep it cool. Those channels aren't the only thing going for this laptop cooler though. The main ingredient is the material used to fill the pad. It uses a unique blend of phase changing material (PCM) created by the ThermaPAK research and development engineers that claims to cool laptops up to 6°C (11°F).
Phase changing material sounds pretty spacey doesn't it? It actually is. When the pad is cool, the material inside is in crystal form. When the pad warms up from the laptop's heat, those crystals change into a gel. You can definitely feel the difference by squeezing the pad between you fingers before and after. Before, it feels like it's filled with tiny rocks or rice and is stiff. After, it feels softer and more pliable.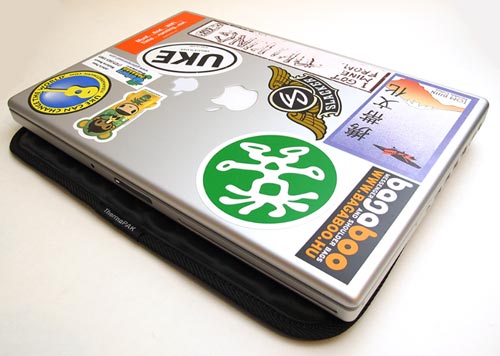 My first test with the HeatShift was in the waiting area of the IU Medical Center in Indianapolis, IN, for a full day of computing on my lap with a 15″ Macbook Pro. I found a semi-comfy chair with an AC outlet behind me and settled in to work from 7:45am – 3:30pm. I brought the HeatShift with me because I knew that without it, my lap would definitely become overly toasty.
After an hour or so, I could feel the warmth from the laptop though the HeatShift pad. It actually felt good due to the fact that I was sitting below a ventilation duct. That said, my lap never felt too warm even after 8hrs.
In order to provide some actual scientific data, I decided to perform some tests with the same Macbook Pro and the iStats Pro dashboard widget. Among other data, this free widget provides temperature data for different parts of the computer. Using the Macbook Pro (plugged into an AC outlet) to surf, email and write via WiFi using FireFox, with and without the HeatShift pad for 1 hour sessions, here are the test results.
CPU Temp

Base Enclosure Temp
GPU Temp

Desktop w/o HeatShift after idle 12hrs (test start)

85
72
85
Desktop w/o HeatShift after 1hr of use
124
85
113
w/HeatShift after idle 1hr (test start)

92
76
88
w/HeatShift after 1hr of use
130
85
119
w/HeatShift after idle 19hrs (test start)
90
72
83
w/HeatShift after 1hr of use
117
79
106
w/HeatShift after idle 20hrs (test start)

83
70
74
w/HeatShift after 1hr of use
122
77
112
Ok, those results were not unexpected. It appears that the HeatShift doesn't really help all that much according to my two tests. What's worse is that the numbers for the first test with the HeatShift showed that the laptop ran slightly hotter with it than without it. I also noticed that when using the HeatShift on my desk (instead of my lap), the crystals never turned into gel. Maybe HeatShift's benefits only kick into action after more than 1 hours of use…
Update: I conducted a 3rd test that more closely matched the long idle test that I had done before. When comparing the temperature of the laptop after 1hr of use with and without the HeatShift, it does keep my Macbook cooler. But at only a max of 8 degrees difference, it doesn't seem to be that significant. In the HeatShift's defense, it's really difficult to do heat measurement testing. Even though I tried to do keep the variables the same in the last two tests, there are many things that could skew the results.
In my opinion, the ThermaPAK HeatShift is only noticeably helpful when using it between your lap and the bottom of the laptop. It will keep your legs from becoming too hot. As far as keeping the laptop itself cooler, I would have to say that specific benefit remains to be seen. At least for me and my Macbook. I'd much rather use a product like this that doesn't have nosy fans, but I just wish it made a bigger difference in the temps.
Product Information
Price:
$29.99
Manufacturer:
ThermaPAK
Pros:

Portable
Helps keep lap cooler

Cons:

Cools but not significantly